Julian Assange's Extradition Hearing Delayed to at Least September, WikiLeaks Announces
WikiLeaks founder Julian Assange's extradition hearing is to be delayed until at least September, the organization has announced.
Assange, 48, has been held in England's Belmarsh prison since September after being removed from the Ecuadorian Embassy in London.
His legal team is looking to fight a request from the United States for him to stand trial over multiple accusations of violating the U.S. Espionage Act. He is also accused of a count of computer hacking.
The charges which Assange faces carry a total of 175 years' imprisonment.
His next hearing had been due to take place on May 18, when they were expected to last for a further three weeks.
However, his representatives had previously argued they had been unable to have "direct access" with him for the last month. WikiLeaks announced the delay in a Tweet today.
District Judge Vanessa Baraitser said the case would be moved to another Crown Court in September, once one with availability is sourced, the Australian reported. Hearings had last taken place at Woolwich Crown Court but may now move due to a lack of space in the schedule there.
Lawyers from both sides previously agreed to there being a postponement.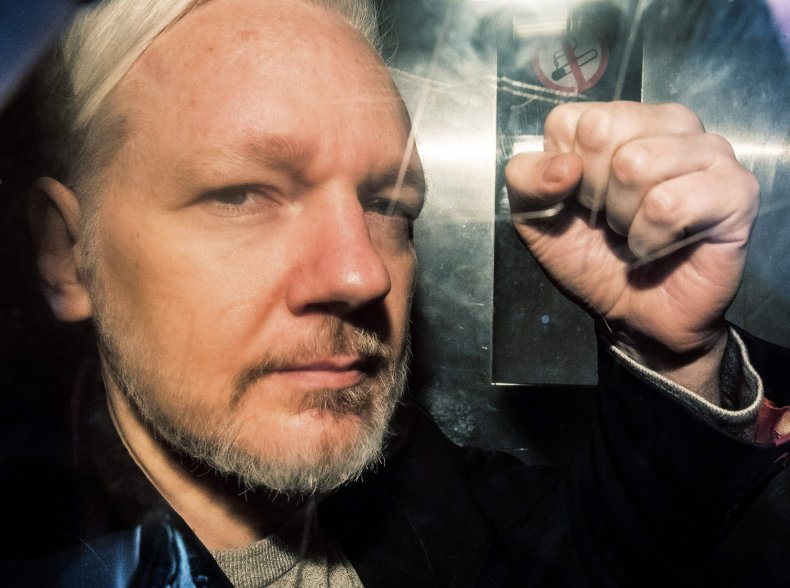 It is also reported that Assange did not attend today's hearing as he felt unwell.
Today's discussions were held via conference call due to the UK-wide coronavirus lockdown, which has seen strict social distancing measures put in place.
Newsweek has contacted WikiLeaks for comment.
The 18-count indictment against Assange was released by the Department of Justice in May last year.
It alleges he was complicit "in unlawfully obtaining and disclosing classified documents related to the national defense." These relate to thousands of reports, briefs and cables. The indictment described many of these as having being classified at "Secret Level."
The accusations were said to form part of "one of the largest compromises of classified information in the history of the United States."
Following its release last year, WikiLeaks said in a statement that the indictment was an "unprecedented attack on the global free press."
A group of protesters gathered outside Westminster Magistrates' Court today, campaigning for Assange to be released and to not face extradition.
Assange's partner, Stella Morris, has been among those calling for his release and has cited concerns for his safety due to COVID-19. An inmate at Belmarsh prison died last month after contracting coronavirus.
Assange has been at Belmarsh prison since last April, after having spent seven years in the Ecuadorian embassy, where he had claimed political asylum.