Julian Assange Told He Can Have Internet Back If He Behaves Online, Looks After Cat and Cleans His Bathroom
WikiLeaks founder Julian Assange, who has been holed up in the Ecuadorian Embassy in London since 2012, has been issued a new set of conditions by his hosts to regain his internet access.
According to an embassy memo published by Ecuadorian website Codigo Vidrio on Monday, Ecuador demands that Assange avoid interfering with "the internal affairs of other states" or damaging Quito's relations with other nations through his online activity.
The whistleblower has also been warned that his WiFi access might be disrupted again if he fails to keep his private bathroom clean or properly take care of his cat, The Associated Press reported. The document even said the pet could be confiscated and taken to an animal shelter if it was not adequately cared for.
WikiLeaks said Sunday that Assange would be reconnected to the internet but did not specify whether he had agreed to Ecuador's conditions. It is not clear if his agreement is dependent on his acceptance of the new rules.
The memo lays out a strict set of rules the 47-year-old must follow, which his lawyer Carlos Poveda told The Guardian represents "a prison regime."
Assange must now ask diplomatic staff to approve all visitors three days in advance and will only be allowed to use the embassy WiFi for his personal computer and phone. Assange and any visitors are not allowed to use or install any other equipment. The memo warned that the embassy retains to right to seize any item of Assange's equipment or ask British authorities to do so on its behalf.
The WikiLeaks founder has previously been granted significant freedom for his operations within the embassy. According to The Guardian, he established his own satellite internet access and even compromised the facility's communications system. This reportedly allowed Assange to intercept staff members' official and personal communications.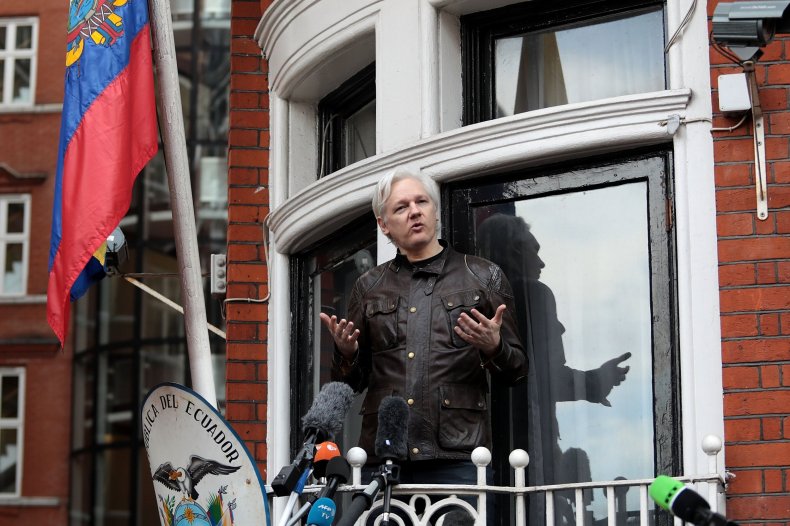 Assange has been living in the London embassy for more than six years. He sought asylum to avoid extradition to Sweden, where he faced allegations of sexual assault, accusations he denies.
Swedish investigators have since dropped the case, but Assange could still be arrested if he leaves the embassy under a charge of failing to surrender to a British court in 2012. The Australian has suggested he could then face extradition to the U.S., where he could be charged in connection with WikiLeaks' dissemination of classified American military documents.
Assange's internet access was restricted in March. The Ecuadorian government said he had breached "a written commitment made to the government at the end of 2017 not to issue messages that might interfere with other states" and had undermined the country's foreign relations.
The decision was made after Assange challenged the U.K.'s suggestion that Russia was behind the poisoning of a former Soviet intelligence agent and his daughter in the British city of Salisbury in March.
Assange's relationship with his hosts was already under strain after he voiced support for Catalonian secessionists last year, as activists sought to break away from Spain and establish a new independent state.