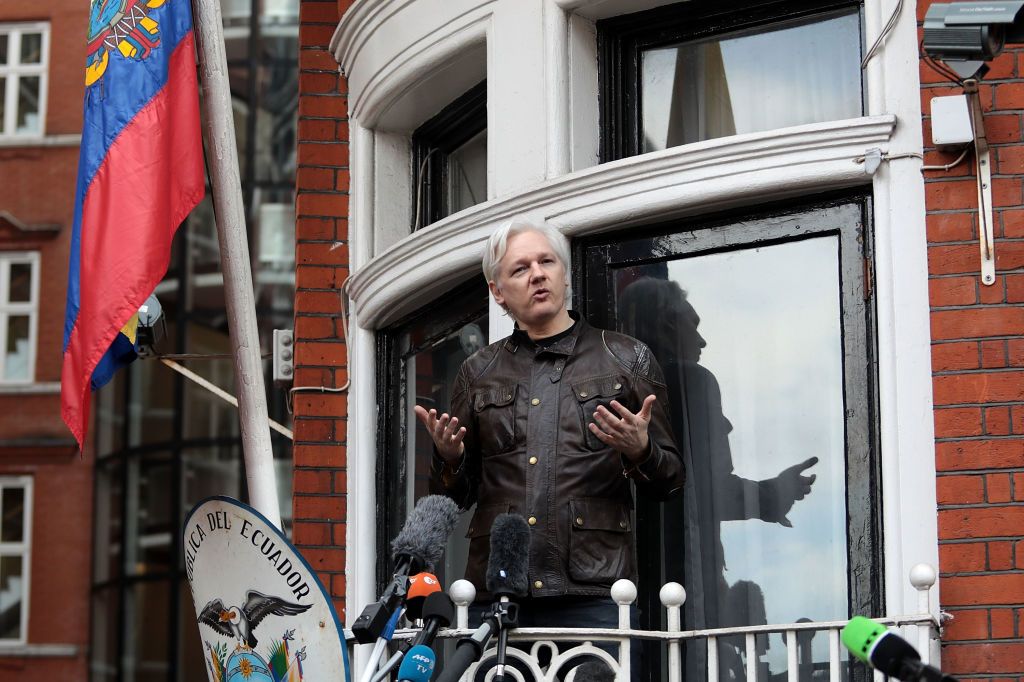 WikiLeaks founder Julian Assange issued a defiant statement after Sweden announced it was dropping its investigation into rape allegations against him.
"Today is an important victory for me and the UN human rights system, but by no means erases seven years of detention without charge...while my children grew up. That is not something I can forgive or forget," Assange told journalists from a balcony at the Ecuadorian embassy where he has lived for the last five years.
Marianne Ny, Sweden's director of public prosecutions, earlier said the investigation was dropped because Sweden had "exhausted the possibilities" for investigating the allegations against Assange.
But Ny stressed in her statement Friday that the investigation could be reopened before the statute of limitations on the case expires in 2020.
If Assange "went into British custody, then the Swedes may well revisit their decision … as extradition is suddenly easier", tweeted legal expert David Allen Green.
Assange failed to answer a bail hearing when he took refuge in the embassy, resulting in an active warrant for his arrest by London's Metropolitan Police, punishable by up to a year in prison.
Foremost of Assange's concerns is possible extradition to the U.S., where he he could be detained on espionage charges.
In his statement Friday, Assange threatened further leaks of U.S, classified information, after reports last month that U.S. officials were preparing charges for Assange's arrest.
"The U.K. has said it will arrest me regardless. Now the U.S. CIA director [Mike] Pompeo and the U.S. attorney general [Jeff Sessions] have said that I and other WikiLeaks staff have no rights and that my arrest and the arrest of other staff is a priority. That is not acceptable … Our publications are proceeding at speed and that speed in relation to [recent high profile leaks about the CIA] is accelerating."
The Trump administration's declaration that it intends to prioritize the arrest of Assange may surprise observers, after WikiLeaks released hacked Democrat emails that damaged the campaign of Trump's Democratic rival, Hillary Clinton. However, Trump has stated his intention to pursue "leakers," after a drip of damaging information about his presidency from U.S. officials.
Sweden's decision came on the same day as WikiLeaks released a fresh batch of documents on the technological capacity of the CIA.
Assange's lawyer Melinda Taylor told the Guardian: "I can't say [Assange] will stay in [the Ecuadorian embassy] indefinitely, but I would hope that [events] won't force him to do so."
Ecuador has offered Assange asylum should he be able to leave Britain.
Guillaume Long, Ecuador's foreign minister, pledged to help Assange Friday. "Given that the European arrest warrant no longer holds, Ecuador will now be intensifying its diplomatic efforts with the UK so Julian Assange gains safe passage [to] Ecuador," said Long.