Julian Assange and Stella Moris Get Permission to Marry in Prison
Wikileaks founder Julian Assange has been given permission to marry his partner in the British prison where he has been held since the U.S. took legal action to extradite him.
Assange had applied to the governor of London's Belmarsh Prison to marry Stella Moris with whom he has two children.
The couple said they had to resort to legal action because they had no response to requests that a ceremony could take place at the prison, which they claimed denied the human rights of the couple and their children.
Moris had linked the lack of response to the hostility towards Wikileaks by the U.S., where prosecutors have indicted Assange on espionage charges over the publication of leaked military and diplomatic documents.
Prisoners can make an application to be married in prison, which is considered by the jail's governor. If granted, the inmate has to pick up the cost not the taxpayer, The Guardian reported.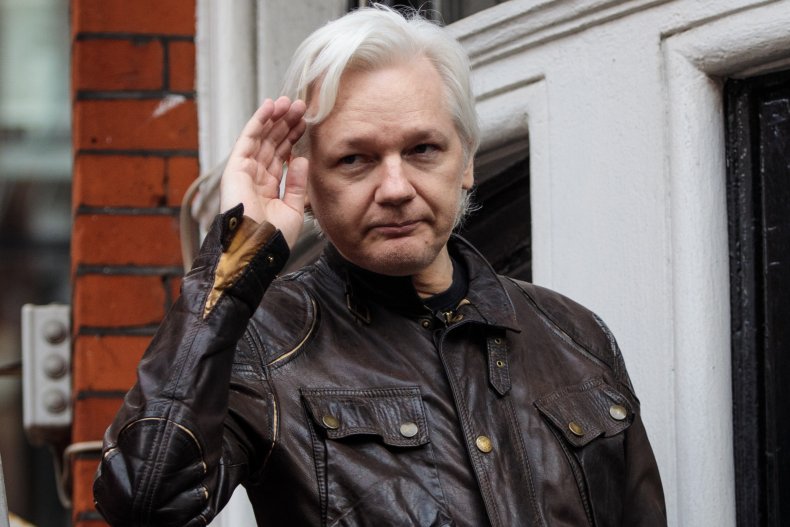 "Mr Assange's application was received, considered and processed in the usual way by the prison governor, as for any other prisoner," a spokesperson for the Prison Service said.
Following the decision, Moris tweeted: "Good news: UK government has backed down 24h before the deadline.
"Julian and I now have permission to marry in Belmarsh prison. I am relieved but still angry that legal action was necessary to put a stop to the illegal interference with our basic right to marry."
In a statement to the PA news agency, she said: "I am relieved that reason prevailed and I hope there will be no further interference with our marriage."
Moris is a South African-born lawyer who met Assange while on his legal team. She has spoken before of how she is raising their two sons on her own.
Assange, an Australian citizen, was arrested in 2019 after he spent five years in the Ecuadorian embassy in London.
He went there to seek political asylum to avoid extradition to Sweden over sexual assault allegations that he denies. He feared that he would be taken to the U.S to face questions over the whistleblowing website's publication of leaked documents.
He was jailed for 12 months for skipping bail but has been in prison pending a legal case mounted by the U.S. to extradite him.
Amid an ongoing legal wrangle, a British judge last month refused an American request to reverse a ruling that Assange should not be extradited to the U.S.
District Judge Vanessa Baraitser made her decision based on Assange's mental condition, saying that he was likely to commit suicide if held under harsh conditions in the U.S.
Meanwhile this week, Moris told an event in London that people should focus on what his case meant for free speech, the Evening Standard reported.
"I'm not saying like him," she told the Frontline club which champions media freedom, "I'm saying shut up about it, and defend him because he's being persecuted."
Newsweek has contacted Moris for comment.