Democratic presidential hopeful Julián Castro called Donald Trump Jr. a "coward" on Sunday for retweeting a post — deemed racist by Castro and others — that questioned the heritage of fellow 2020 contender Senator Kamala Harris.
"This is the game that these folks play," Castro remarked in a Sunday interview with CNN's State of the Union. "They put something out there—you notice what he did, he tweeted it out and then he deleted it, like a coward—so he could say, 'Oh, that was just a mistake.' But he knows what he's doing."
"He's giving voice to these racist utterances about Senator Harris," Castro said, adding that the baseless claims were "disgusting" and purposeful.
The tweet in question was shared Friday, as Harris finished a well-received performance in the second evening of Democratic debates. The online missive, originally created by fringe right-wing personality Ali Alexander, falsely alleged that Harris was not qualified to speak on behalf of black Americans.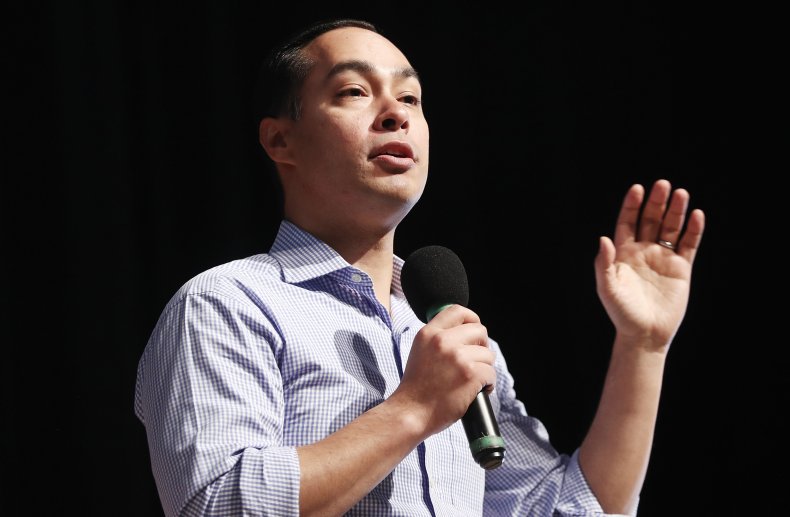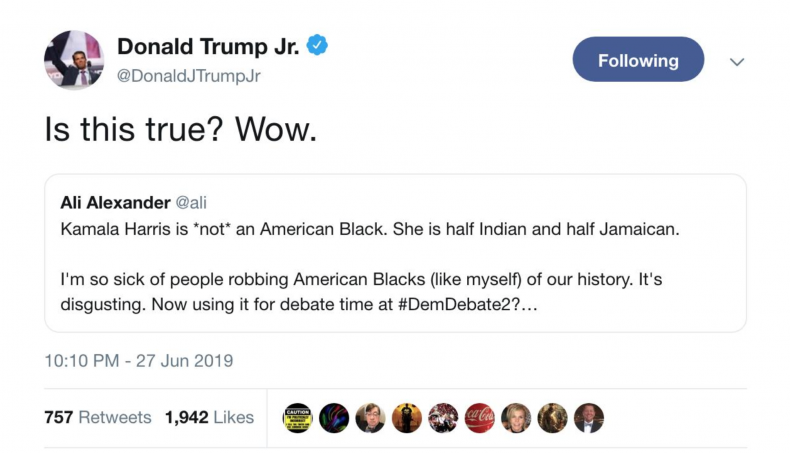 "Kamala Harris is not an American Black," the tweet read. "She is half Indian and half Jamaican. I'm so sick of people robbing American Blacks (like myself) of our history. It's disgusting..."
Trump Jr. re-shared the post with his 3.6 million followers, writing "Wow. Is this true?" before deleting it later Friday evening. His spokesperson attempted to reframe the narrative surrounding his amplification of the message in a statement.
"Don's tweet was simply him asking if it was true that Kamala Harris was half-Indian because it's not something he had ever heard before," Trump Jr.'s spokesperson told The New York Times. "And once he saw that folks were misconstruing the intent of his tweet, he quickly deleted it."
It should be noted that Harris' ancestry was hardly secret and did not require an online crowd-sourcing campaign to decipher. The daughter of a Jamaican father and an Indian mother, Harris was born in Oakland, California, and has been in the public eye for more than a decade, serving as the Attorney General of California before her election to U.S. senator in 2016. Harris has been open about her heritage in various interviews over the years.
The president's eldest son, who has often acted as a surrogate for his father's most controversial views, has a thorny history with elevating conspiracy theories on his social media platforms. The tweet also evoked his father's own racially charged birther campaign against former President Barack Obama, a contextual backdrop that a handful of other 2020 presidential hopefuls noted.
"The same forces of hatred rooted in 'birtherism' that questioned Barack Obama's American citizenship, and even his racial identity, are now being used against Senator Kamala Harris," former Vice President Joe Biden, who sparred with Harris on the debate stage, wrote on Twitter. "It's disgusting and we have to call it out when we see it. Racism has no place in America."
Sen. Elizabeth Warren, meanwhile, took aim at Twitter for providing a platform for allowing misinformation to proliferate.
"The attacks against Kamala Harris are racist and ugly," Warren tweeted Saturday. "We all have an obligation to speak out and say so. And it's within the power and obligation of tech companies to stop these vile lies dead in their tracks."
Senators Corey Booker and Bernie Sanders were more succinct—yet no less forceful—in their own condemnations of Trump, Jr's actions.
"Kamala Harris doesn't have shit to prove," Booker tweeted Saturday.
"Donald Trump Jr. is a racist too," Sanders wrote. "Shocker."