Julian Castro Saw America's Police Reform Moment Coming Before He Dropped Out of the 2020 Race
Julian Castro supports ending police brutality and reining in the use of deadly force "that leads to the disproportionately high number of black men who are killed by police."
But he may have been ahead of his time. Castro, the former 2020 presidential candidate and Obama-era HUD Secretary, was saying those things in the spring of 2019 when he had the most expansive police reform plan among the Democratic primary field when it was at its largest, a year before George Floyd's death by police sparked national protests and calls for police reform.
"George Floyd's murder sparked this movement because of how clear cut and poignant and inescapable it was that what happened to him represents what's happening to so many black men," Castro said. "The murder of George Floyd was so stark because there was no way people could equivocate on that. There was no shelter for the argument that he represented a threat in that situation."
Now, after dropping out of the presidential race, Castro, the only Latino candidate who ran for president, has seen the country move toward his early positions on police reform. He said the culture of policing must be rebuilt from the ground up. In a wide-ranging Newsweek interview, he offered his take on why the country was ready to grapple with the issue of police brutality now in a way it wasn't during the Democratic primary, pinpointed who is to blame for the deadly explosion of coronavirus cases in his native state of Texas, and speculated about the vice-presidential shortlist he's very familiar with from 2016.
After Floyd's death, activists intensified their push for abolishing police or drastically reducing department budgets.Asked if he supports the defund the police movement, Castro said he supports "reimagining public safety," including increased investment in mental health services and housing opportunities "to boost economic success and quality of life instead of over-policing."
Castro, however, also acknowledged the gargantuan task police reform represents for proponents, including battling police unions who often influence police contracts and wield political power in local elections and qualified immunity for cops that shields them from being held personally liable for violating constitutional rights in civil suits. So which is the biggest impediment to progress on police reform? Castro said they are facets of an even larger overhaul.
"It's the toxic culture that exists, an 'us vs. them' mentality that exists with police," he said, noting that greater transparency and accountability are necessary across the board. "Police unions are a huge problem, qualified immunity needs to be ended, and there are any number of use of force disciplinary policies that need to be changed, but overall it's that culture of impunity."
Castro has been coy about whether he will run statewide in Texas, telling The Atlantic it's "possible" amid "a new day" politically in Texas, where Democrats have a better shot. But because he occupies a middle ground of having a platform but no elected role or campaign, Castro has taken to Instagram Live with his twin brother, Texas Representative Joaquin Castro on weekends.
Topics so far have included bringing attention to the death of Vanessa Guillen, the U.S. Army soldier who was bludgeoned to death after she filed a sexual harassment complaint against Spc. Aaron David Robinson, the main suspect in her case. He shot himself and died Wednesday. Castro also cited a Newsweek article on Instagram Live, that said Texas daily coronavirus cases had surpassed the country of Italy when it was the epicenter of the crisis.
A record 8,181 Texans were hospitalized Sunday, a new high for the state.
As governors have faced both praise and blame for their leadership during the pandemic, Castro told Newsweek that Texas Governor Greg Abbott opened the state too early before Texas had the virus under control. He also said there was not enough testing and contact tracing in place when he reopened, and he didn't allow local communities to tailor their own safety measures.
"This is a failure of President Trump and Governor Abbott because they put right-wing politics over concern for public health and science," he said. "He made those three mistakes, that's why you've seen infections go up, that's why he backed down and closed the state back up."
The issues Castro prioritized during his campaign of diversity and inclusion also have come roaring into the headlines as the nation wrestles with its handling of race. He received plaudits during the primary for not just centering the Black community in his campaign trail conversations and policies, but also for choosing Maya Rupert as his campaign manager, a black woman. In the aftermath of Floyd's killing, many Democrats have called for a black woman to be Joe Biden's choice as a running mate, a complicating factor for Castro who backed Senator Elizabeth Warren for president, herself on the vice-presidential shortlist.
"The great news is Biden has a wealth of talented, effective potential VP partners to choose from," Castro said. "Of course, I'm a big fan of Senator Warren, but others have been mentioned who would be fantastic."
One woman whom he said would be "fantastic" is New Mexico Governor Michelle Lujan Grisham, the only Latina on the shortlist. He knows the pressure and demands and documents that must be submitted because in 2016 Hillary Clinton vetted him for the role. But there is a belief within Castro's inner circle—informed in part by his experience in 2016—that Latino candidates are always the bridesmaid and never the bride when it comes to going from the shortlist to being the nominee.
"I'm confident the day is coming where you're going to have a Latina or Latino president and we may have a VP before that," he said. His time traveling the country made him aware that the Latino community is maturing politically, understanding its potential in the country, which he says will impact U.S. politics in the coming years.
"What I saw during my campaign is that Latino political awareness is ripening in this Trump era," he said. "One of the byproducts of that is going to be great representation." Castro said he believed that in the future there won't just be one Latino running for president—a new generation of leaders will rise.
If you're talking to Castro, the subject of his twin brother comes up eventually. He was the recipient of a Twitter barb from his brother Joaquin who responded to a shirtless poolside photo with his family by saying, "Tell Julian he needs to gain some weight, drink a few protein shakes or something."
Asked about his brother, specifically the beard he has grown during quarantine, making the twins easier to tell apart, Julian Castro couldn't resist.
"It's an acquired taste, that's all I'll say," he said, laughing.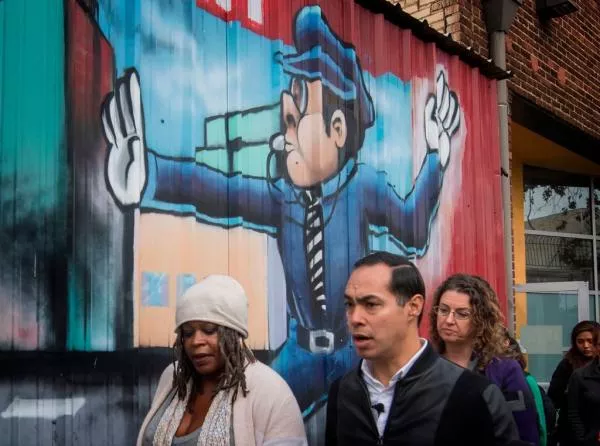 {{#isDisplay}} {{/isDisplay}}