Julian Castro Says His Brother Joaquin Will Shave Head If His Presidential Campaign Can Raise $100K in 24 Hours
Julian Castro wants to remain in the race for President so badly, he's willing to risk his identical twin brother's hair on it. Castro tweeted a fundraising challenge October 25, seeking to raise $100,000 in 24 hours.
Texas Representative Joaquin, the Democratic candidate's brother, seemed to find about the fundraiser at the same time as the rest of the Twitterverse.
Those two words seemed to be all Julian Castro needed to hear to begin a one-day donation drive, saying that if Joaquin shaves his head, he will claim the title of "better-looking twin."
Julian Castro has been open about his campaign fund woes. In an email to supporters, Castro said he needed to raise $800,000 by October 31 or he would be forced to drop out of the presidential race.
"If I don't meet this deadline," he wrote, "I won't have the resources to keep my campaign going."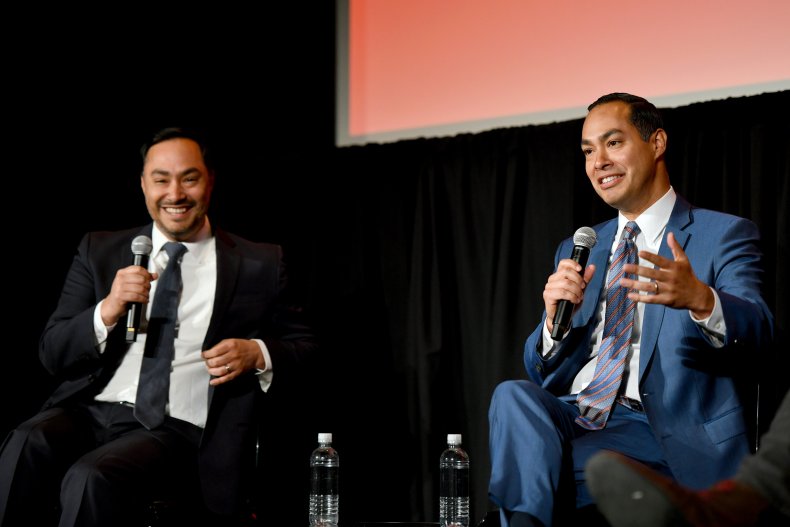 Castro's campaign raised $3.5 million between July and September, according to Politico, but ended that quarter with less than $700,000 in the coffers. The candidate is not doing well in the polls, either. In order to be invited to the next Democratic debate, Castro must garner at least three percent in a national poll or five percent in four state polls.
Getting to the next debate is important for Castro, which he says is his "only guaranteed opportunity to share my vision with the American people."
"If I can't make the next debate stage," he continued, "we cannot sustain a campaign that can make it to Iowa in February."
The idea seemed to amuse Twitter users, who peppered Julian Castro's timeline with images of money being thrown.
Others marked it down to the relationship Julian and Joaquin share as twins. Dale Freeman tweeted that people would "still mistake one of you for the other."
The Castro brothers have been mistaken for each other before, according to the Washington Examiner. In September 2019, MSNBC tweeted about Julian but featured a photo of Joaquin.
"You guys @MSNBC know that's actually me, right?" Joaquin tweeted. "I grew a beard. Do I need a face tattoo?"
The network deleted the tweet and posted a correction.
Texas resident Mike Martinez said that if Joaquin were to shave his head, that would be a "whole new level."
But some called Castro's attempt to raise money "desperate."
Twitter user @TammyTexoma called the bald brother plan Castro's "most desperate act yet," adding "this short little runt is at 0% in the polls."
Regardless of his detractors, Castro is still trying to get the funds he needs.
"I'm extremely proud of the historic and bold campaign we have built together," Castro tweeted October 21. "But this is a critical moment— if my campaign can't raise $800,000 by October 31st, my campaign will be silenced for good. Help us keep up the fight."