Julian Castro Trends as 2020 Democrats React to Last Latino Candidate Ending Presidential Bid
Julian Castro began trending on Twitter across America on Thursday afternoon as voters and the remaining presidential candidates reacted to the former Housing and Urban Development secretary's decision to end his bid for the 2020 Democratic nomination.
Castro, the last Latino candidate in the 2020 race, announced the end of his presidential campaign for the White House earlier this morning in a video message. His decision to leave the narrowing Democratic field comes roughly one month after Senator Kamala Harris suddenly ended her bid for the presidency despite being considered one of the top-tier candidates.
"I've determined that it simply isn't our time," the former San Antonio mayor said in the clip. "It's with profound gratitude to all of our supporters that I suspend my campaign for president today. I'm so proud of everything we've accomplished together. I'm going to keep fighting for an America where everyone counts—I hope you'll join me in that fight."
"I'm not done fighting," he added. "I'll keep working towards a nation where everyone counts, a nation where everyone can get a good job, good health care and a decent place to live."
Castro launched his campaign in January 2019 but has struggled to stand out in the 2020 Democratic primary field, which had nearly 30 candidates at its peak. His exit, which comes a month before the Iowa caucuses kick off, leaves just 14 candidates left: Michael Bennet, Joe Biden, Michael Bloomberg, Cory Booker, Pete Buttigieg, John Delaney, Tulsi Gabbard, Amy Klobuchar, Deval Patrick, Tom Steyer, Bernie Sanders, Elizabeth Warren, Marianne Williamson and Andrew Yang.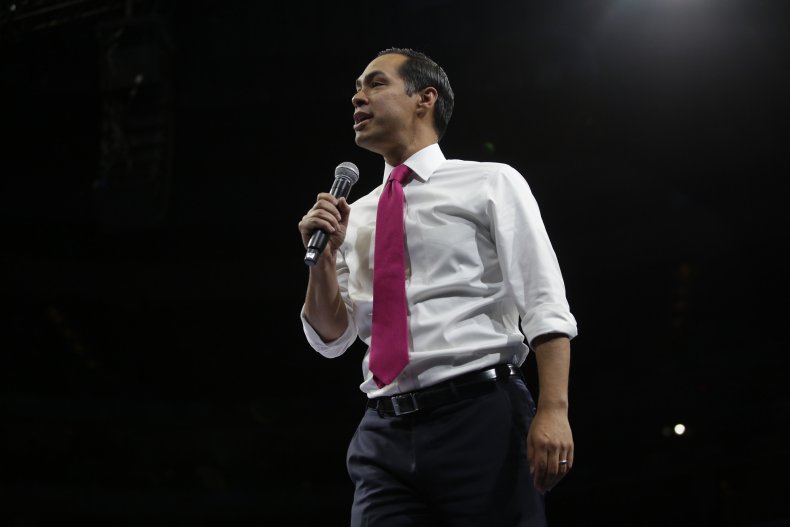 More than 100,000 Americans took to Twitter to weigh in on Castro's decision to leave the race, including Biden, Buttigieg, and most of the other remaining 2020 candidates. As of Thursday afternoon, "Julian Castro" rose to the third most-trending topic on the social media platform across the United States.
"My deepest gratitude to you, @JulianCastro, for your tireless efforts to elevate all voices, shed light on the struggles everyday Americans face, and fight for a humane immigration system. I look forward to your continued leadership in the fight to transform our country," Sanders tweeted.
"Thank you @JulianCastro for being a powerful voice, for proposing bold and progressive plans, and for using your campaign to help people who need it now. You made this race stronger—and you will continue to be a leader in our party and our country for many years to come," Warren tweeted.
"America is better because @JulianCastro has dedicated his career to lifting communities and expanding opportunities for all of us. I know he will continue to fight for an America where all belong—and we are thankful for his service," Buttigieg tweeted.
"It was a privilege to work with @JulianCastro during the Obama Administration, and a true honor to be in this talented field of candidates with him. He led his historic campaign with grace and heart and used his platform to lift the voices of others. Thank you, Mr. Secretary," Biden tweeted.
"I'm going to miss seeing my friend @JulianCastro on the trail. Thank you, Julián, for bringing your ideas and leadership to this race—your voice and campaign were invaluable in sticking up for underrepresented communities and pushing the field forward," Booker tweeted.
"@JulianCastro was a great mayor, a great cabinet secretary, and a great presidential candidate. He brought big, important ideas to the table, and I know he will continue to have an enormous impact," Bloomberg tweeted.
"Sec. Castro advocated for the poor and for immigrant communities too often ignored in today's politics. He will be missed on the campaign trail, but I know he will keep pushing for a more just and equitable America," Steyer tweeted.