Why So Civilized?: 'The View' Asks Julian Castro Why He Didn't Attack Trump, Biden in Debate
Democratic presidential hopeful Julián Castro challenged fellow Texan candidate Beto O'Rourke on immigration and declared "adios" to President Donald Trump during Wednesday's debate, but on Thursday morning the co-hosts of The View pressed the former U.S. Housing and Urban Development Secretary to be less "civilized" during the next debate.
Castro, the former Obama administration HUD secretary and San Antonio mayor, made his case for debate civility while appearing Thursday on ABC's The View. Co-host Sunny Hostin applauded Castro's "mic drop moment," when he warned Trump his days as president are numbered, but Joy Behar said the Democratic base wanted to hear Castro "say how horrible" Trump is and to attack Democratic frontrunners Joe Biden and Elizabeth Warren.
Castro countered by explaining, "we're not going to beat Donald Trump by trying to be Donald Trump" in terms of his aggressive name-calling on the campaign trail.
"I thought it was so civilized last night, especially compared to the way the Republican primary was back in the day where Trump was calling people names and were just awful," Behar said. "How come you guys were so civilized and didn't go after Trump more? You didn't even go after Biden or Warren, they are the frontrunners, you didn't go after Trump, you were very gentlemanly like."
"One of the questions people ask is, 'How are you going to beat Donald Trump, can you stand up to Donald Trump?'" Castro replied. "I think I showed last night that I can hold my own, that I can go into a setting like that and make my point and do it in a way that is not mean but is effective. If I'm the Democratic nominee and I go into a debate with Donald Trump that's what I'm going to do to Donald Trump. We're not going to beat Donald Trump by trying to be Donald Trump."
The View co-hosts noted Castro had the "most direct attack of the night" against O'Rourke, calling out the former Texas congressman for not joining several candidates' calls to decriminalize border crossings by abolishing Section 1325 of the Justice Department's immigration laws. Castro, Warren, New Jersey Senator Cory Booker and Washington Governor Jay Inslee have all pointed to that legislation as the root cause behind family separations at the border.
But Behar continued calling on Castro and the other Democratic hopefuls to attack Trump, saying the liberal portion of the voter base wanted to see an aggressive tone that matched that of Trump and the Republicans. Earlier in the show, Behar joked that Trump may deport O'Rourke, Castro and Booker for speaking Spanish onstage.
"But your base would like to hear you take on Trump, in my opinion, take him on and say how horrible he is," Behar said, prompting laughter and applause from the studio audience. "We want to hear it."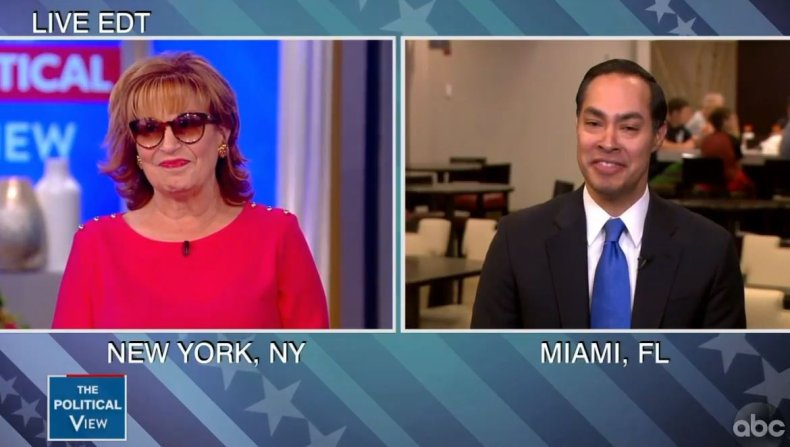 "What I want to do is to paint the strong compelling vision of the country that speaks directly to the voter and his or her family on health care, education, job opportunities that's what I tried to convey," Castro said, calling for platform substance rather than petty name-calling.
The View co-host Meghan McCain questioned Castro on his call to make crossing the border a civil infraction, rather than criminal. He rebuked her questioning if he was "calling for open borders," saying migrants are still subject to be deported within the civil court system and labeling the "open borders" fears a "right-wing talking point."
"This does not mean we're legalizing people coming across the border but it means we would end family separation, which is a cruel process," Castro explained. "How can we possibly say we have an 'open border' when we have 654 miles of fencing, thousands of personnel at the border, we have planes, boats, helicopters, guns and security cameras."
"We can't criminalize desperation," Castro added, noting there are already laws against trafficking on the books. "We should criminalize crime."
The View co-host Whoopi Goldberg noted Castro was dubbed the "breakout star" of Wednesday's debate by The New York Times and saw a 2400 percent search boost as it was broadcast.