Julianne Moore, Melissa Joan Hart Join Moms to Demand End to Gun Violence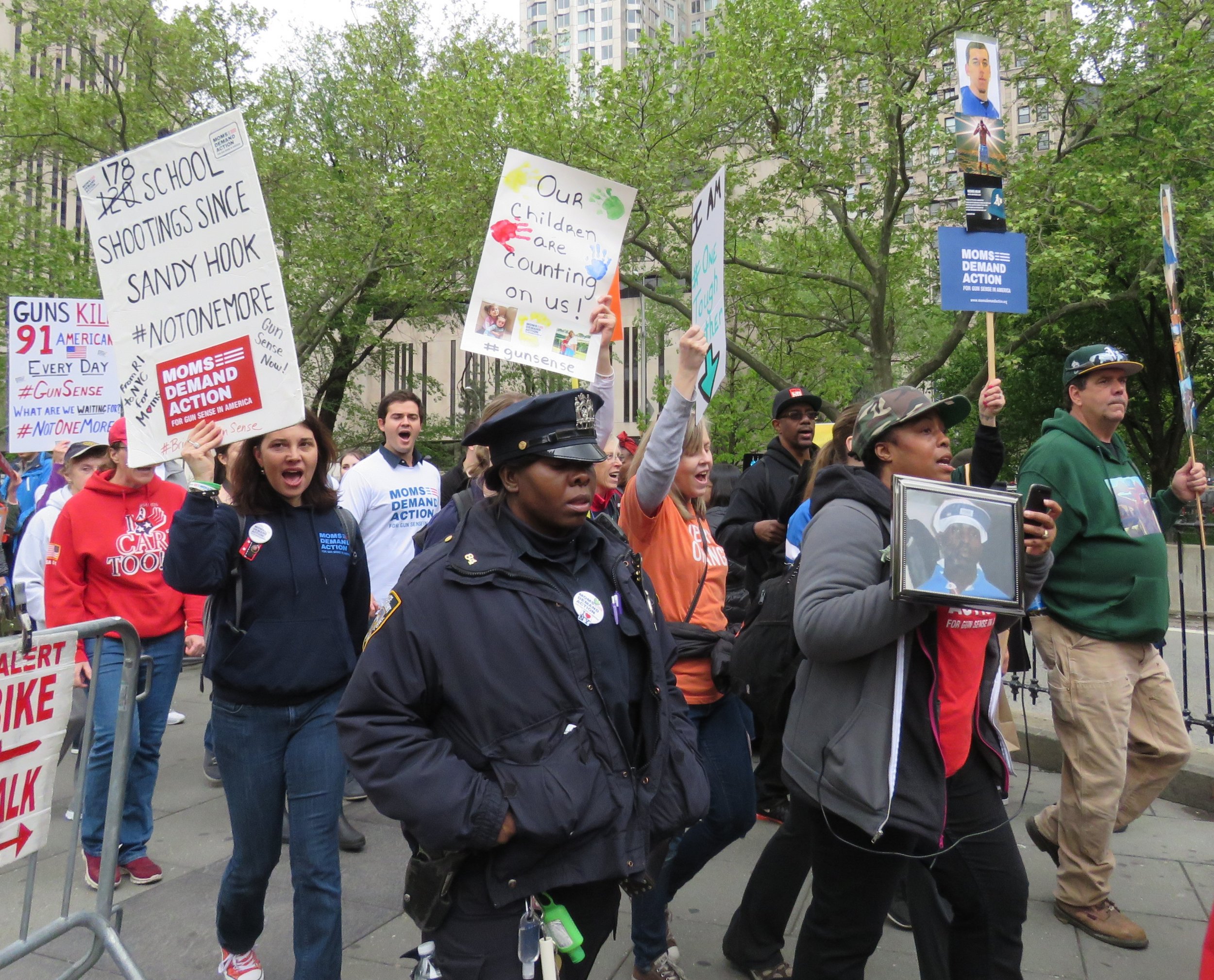 On the eve of Mother's Day, actresses Julianne Moore and Melissa Joan Hart joined hundreds of other activists in marching across New York City's Brooklyn Bridge to demand an end to gun violence in the country.
"I fervently believe this is not a partisan issue. This is not an anti-gun or pro-gun argument. This is not a Second Amendment issue, and does not deserve to be hotly debated as such. It is a safety issue," Moore told the crowd gathered in Manhattan Saturday afternoon.
The New York chapter of Moms Demand Action for Gun Sense in America, which advocates for reforms to reduce gun violence, organized the annual event, now in its fourth year, to spread the organization's message that the country needs stronger gun laws.
Hundreds of supporters—parents, children, celebrities and survivors of gun violence—marched from the base of the bridge in Brooklyn into Manhattan, chanting, "What do we want? Gun sense! When do we want it? Now!" They carried photos of gun-violence victims and signs that read, "Not one more," "Moms get it done," "Who is afraid of a background check?" "#OneToughMother" and "No guns, no gory."
Their last stop was at City Hall in Manhattan, where speakers encouraged marchers to continue fighting to end gun violence.
Related: Virginia Shooting Victim's Mom Will Demand Action on Mother's Day Weekend
While addressing the crowd gathered at City Hall, Moore recalled how she initially tried to shield her young daughter from the details of the December 2012 Sandy Hook Elementary School massacre in Newtown, Connecticut. But then, she said, she realized she personally wanted to take action to keep her daughter safe, which prompted her to join Moms Demand Action.
Hart, who marched across the Brooklyn Bridge for the first time Saturday, acknowledged she is a Republican who wants tighter gun laws, a view she said is met often with surprise.
"What we all support is simple gun-safety measures that will keep our children safe," said Hart, who has three sons. "This is so much more than one day. We're in this together. ...Nothing will stand in our way."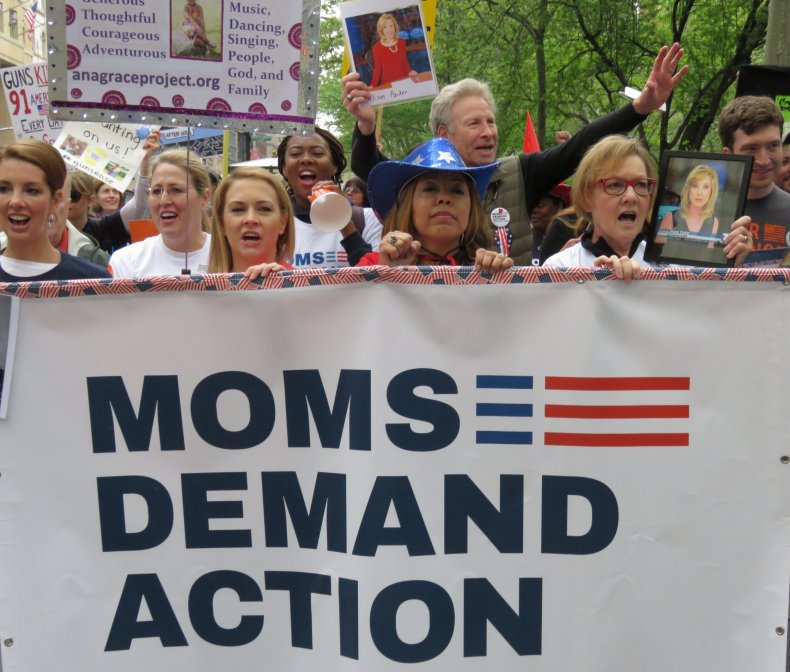 Four years ago, Shannon Watts founded Moms Demand Action, after 20 first-graders and six educators were fatally shot at Sandy Hook Elementary. Since then, the organization has put pressure on legislators and large companies to enact tighter gun laws, specifically criminal background checks for all firearms sales.
On Saturday, she called her followers a "group of fired-up moms who channel our anger into action.
"Moms are here. We are tough, and we are not going away," she said.
Barbara Parker, whose 24-year-old daughter, Alison, was fatally shot last August on live TV while conducting an interview in Moneta, Virginia, commended the crowd for demanding action.
"Not everyone here has lost a loved one to gun violence. But you know, unless there's change, it could happen to you," she said.
Earlier this week, Parker told Newsweek she and her husband, Andy, decided to turn their grief into action by pledging to do "whatever it takes" to reduce gun violence in the country and ensure politicians supported by the National Rifle Association aren't re-elected. Sunday will be her first Mother's Day without her daughter.
"Together we will do this," Parker added Saturday, "for your children, for all of our children."