Julie Andrews Wows Fans With Royal Curtsy: 'Meghan Should Have Taken Notes'
Social-media fans have praised actress Julie Andrews after a video of her offering a deeply reverential curtsy to Princess Anne at a British awards show has gone viral on TikTok.
A number of videos showing members of the royal family both giving and receiving curtsies have been widely shared in recent months. This comes after Meghan Markle caused controversy in her Netflix docuseries by saying she thought that it was a "joke" when she was first asked to curtsy to Queen Elizabeth II.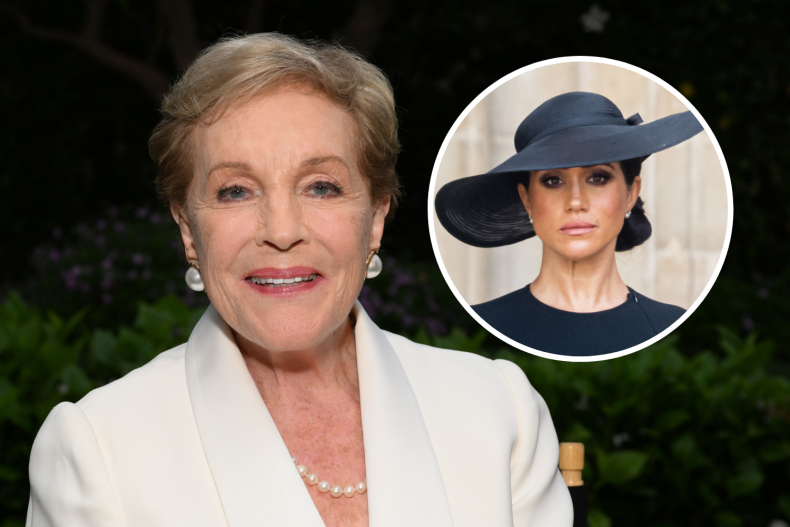 Andrews is no stranger to royalty, having met members of senior royal family throughout her working life. In 1948, the 13-year-old vaudeville singer performed the British national anthem for King George VI and Queen Elizabeth the Queen Mother at a royal command performance.
A video clip circulating on social media shows the Mary Poppins star accepting a British Academy of Film and Television Arts (BAFTA) special award for services to the British film industry from Princess Anne, the only daughter of Queen Elizabeth II and Prince Philip. It was posted to TikTok by user queenelizabethofhearts.
Anne was made BAFTA's president in 1973 and held the position until 2000. Today, the presidential role is held by the princess' nephew, Prince William, who took over in 2010 from film director Lord Richard Attenborough.
Introducing Andrews on the night of the special 1989 tribute, Anne said the actress had "not only been an example to others in her profession," but also a "tremendous ambassadress for Britain wherever she has performed and wherever she has been."
The princess ended her introduction by referencing one of Andrews' most-famous movies, Mary Poppins. Anne said: "I think on this occasion there is only one word that I could possibly say—Supercalifragilisticexpialidocious."
Upon receiving the famous golden BAFTA statue, Andrews' offered Anne a deep curtsy, something TikTok commenters praised, after Meghan Markle's recent controversy.
"That was lovely...and that curtsy!" posted one user.
"[Meghan Markle] this is how it's done! Love HRH Princess Royal Julie Andrew's is a classic," wrote another. A third added: "That curtsy!! Meagan should have taken notes!"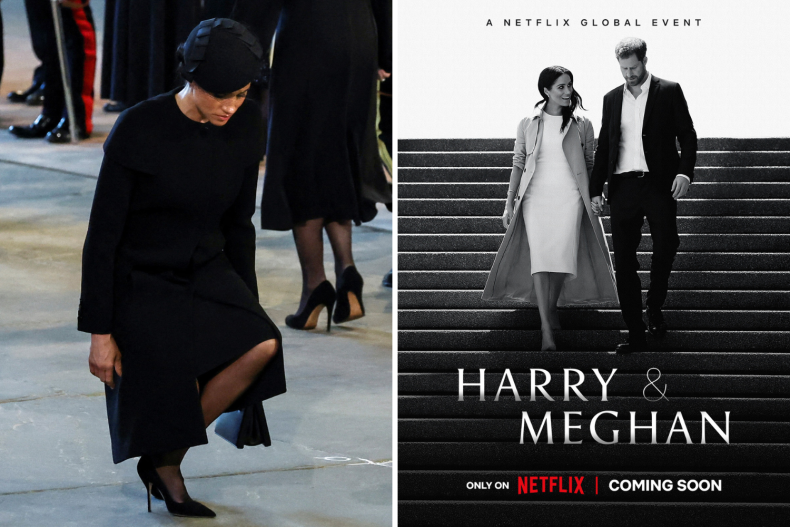 Meghan has spoken publicly about curtsying on two occasions. During her interview with Oprah Winfrey in 2021, she said Sarah "Fergie" Ferguson (ex-wife of Prince Andrew) helped coach her, moments before she was introduced to the queen.
"Fergie ran out and said, 'Are you ready? Do you know how to curtsy? Oh, my goodness, you guys,'" Meghan told Winfrey. "I practiced very quickly and went in, and apparently, I did a very deep curtsy, and we just sat there and we chatted and it was lovely and easy and I think, thank God, I hadn't known a lot about the family. Thank God, I hadn't researched. I would have been so in my head about all of it."
Meghan retold a version of this story in the Netflix series Harry & Meghan, which was released in December.
"We were in the car and we were going to Royal Lodge for lunch, and he [Harry] was like, 'Oh, my grandmother is here, she's gonna be there after church,'" the duchess recounted.
"We were in the car, driving, and he's like, 'You know how to curtsy, right?' And I just thought it was a joke."
"How do you explain that you bow to your grandmother?" Harry told viewers. "And that you would need to curtsy, especially to an American. That's weird."
Meghan then recreated an exaggerated "medieval-times"-style bow, which earned her criticism for appearing to mock British customs.
Curtsies are customarily offered from female members of the royal family to the monarch. Though this is observed within the royal family and households, members of the public are not required or expected to offer the gesture, though some choose to do so.
In his memoir Spare, Harry remembered Meghan's curtsy in a more positive light, calling it "flawless." The duchess was last seen making a public curtsy to the coffin of Queen Elizabeth at her state funeral in September.
James Crawford-Smith is Newsweek's royal reporter based in London. You can find him on Twitter at @jrcrawfordsmith and read his stories on Newsweek's The Royals Facebook page.
Do you have a question about King Charles III, William and Kate, Meghan and Harry, or their family that you would like our experienced royal correspondents to answer? Email royals@newsweek.com. We'd love to hear from you.