Columnist Dropped After Suggesting Harry, Meghan Name Baby 'Georgina Floydina'
A U.K. journalist claims she was fired after saying Meghan Markle and Prince Harry could have called their new baby Lilibet "Georgina Floydina."
Julie Burchill told followers on Facebook, "I've been sacked"—British slang for fired—two days after using George Floyd's memory to mock the couple's second child.
However, a source at The Daily Telegraph disputed the claim, telling Newsweek she was never staff to begin with and was not on a freelance contract.
They said she was a contributor and added: "It would be wrong to infer we won't use her as a contributor again."
The source at The Telegraph suggested the comments had been made on Twitter and it was therefore an issue for the social media platform, not for the newspaper.
On the Facebook post, Burchill wrote: "I've been sacked by the Telegraph—it's been a lovely five years, and I'll always be grateful to them for ending my Wilderness Years.
"However, I'd be lying if I said that I hadn't often moaned to my husband recently about them always rejecting my *edgy* column ideas and giving me more pedestrian ones—which I've done splendidly anyway. I hope you can see my archive here. Onwards and upwards!"
The columnist's Twitter account also no longer exists in the aftermath of the online outburst, which saw her suggest Lilibet Mountbatten-Windsor's first words might be "Free Palestine."
Burchill is writing a book, Welcome to the Woke Trials, about cancel culture, which was itself canceled by original publisher Little, Brown, only to be picked up by Edinburgh-based independent Stirling Publishing.
The debacle follows Piers Morgan resigning from ITV's Good Morning Britain after saying he did not believe Meghan's comments about suicide in her Oprah Winfrey interview.
It subsequently emerged the Duchess of Sussex had made a formal complaint to ITV, due to the implications of his words for mental health in general.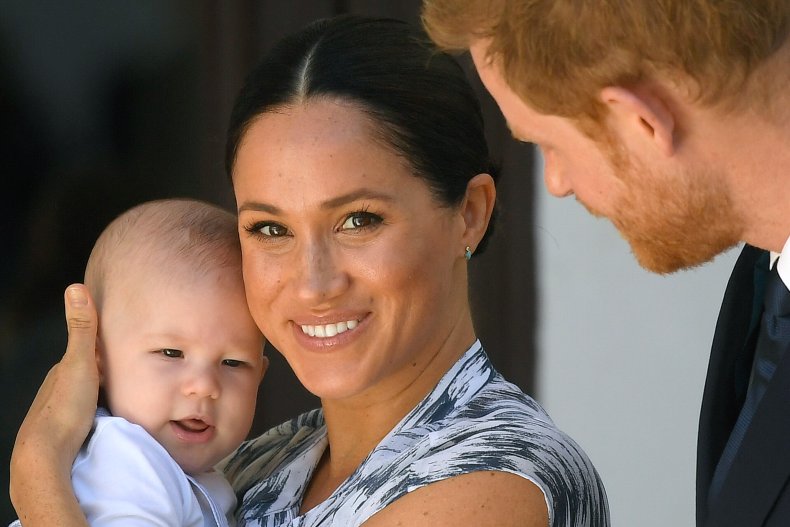 In Focus
Prince Harry and Meghan Markle and their baby son Archie Mountbatten-Windsor meet Archbishop Desmond Tutu at the Desmond & Leah Tutu Legacy Foundation during their royal tour of South Africa on September 25, 2019 in Cape Town, South Africa.
Launch Slideshow

3 PHOTOS
Following her original Twitter post, made within 45 minutes of the announcement, Burchill was condemned on Twitter.
U.K. racial equality activist Dr. Shola Mos-Shogbamimu wrote: "Archie was compared to a Chimpanzee at birth. Lilibet, at birth, is used to poke fun at racial killing of #GeorgeFloyd.
"This is Racist. She's referred to as 'IT'. The utter disrespect & dehumanisation of #HarryandMeghan children because of their proximity to 'Blackness' is Racist."
Actress Kelechi Okafor wrote on Twitter: "What a nasty thing to say about a newborn baby. Archie had the same treatment when he was born and likened to a chimpanzee. Brits swear they're not racist but things like this keep happening??
"Likening baby Lilibet to George Floyd is to hone in on the fact she isn't fully white. The same people will pretend they never considered Meghan to be Black and thus their unexplainable hatred of her has nothing to do with race."
Omid Scobie, co-author of the bombshell Meghan and Harry biography, Finding Freedom, wrote: "The fact that credible outlets still employ this individual speaks volumes about the state of our media landscape."