Julie Chen Moonves Signs Off 'Big Brother' Episode Using Her Husband's Last Name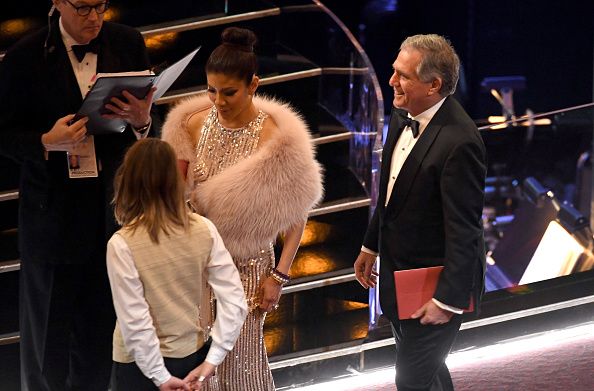 CBS Big Brother host Julie Chen signed off the Thursday night show with an unfamiliar tagline. "From outside the Big Brother house, I'm Julie Chen Moonves," the host said in obvious support of her husband, former Chief Executive of CBS, Les Moonves. Moonves stepped down from his position at CBS Friday after multiple allegations of sexual harassment surfaced, CNN reported Friday. Chen normally ends her nights on Big Brother only using her last name.
Chen is also a host on The Talk, though she did not appear on the show this week. She released a statement Monday detailing her decision to take time off. "I am taking a few days off from The Talk to be with my family," she said. "I will be back soon and will see you Thursday night on Big Brother."
The host has not expressed any feelings on Moonves departure past her Monday statement. When news broke of Moonves allegedly harassing women, Chen tweeted her support for her husband.
"I have known my husband, Leslie Moonves, since the late '90s and I have been married to him for almost 14 years," she tweeted on July 27. "Leslie is a good man and a loving father, devoted husband and inspiring corporate leader. He has always been a kind, decent and moral human being. I fully support my husband."
The allegations against Moonves broke in an August article written by The New Yorker. Six women told the magazine Moonves had pursued them inappropriately. Not only did Moonves allegedly harass women, but some claimed he had promoted other men within the institution who were responsible for similar, nonconsensual actions.
Chen's future on both The Talk and Big Brother are unknown now that her husband is no longer with CBS. Big Brother has yet to be renewed for a 21st season. The reason for the delayed renewal is unknown.
The show's production came under fire when houseguests behaved poorly, from sexual harassment claims to the continued use of the N-word on the show's live feeds.
Chen has not signed a contract to continue her role on the show, spoiler Twitter account @realvegas4sure shared Sunday. Chen has yet to make a statement about her future on either Big Brother or The Talk.
The Talk co-host Sharon Osborne spoke of Chen's absence on the Monday episode. "I want to say whatever times I've had of hardship over the past eight years, Julie has always been there for me," she said. "She's been a friend. She's been someone who I admire and respect greatly. It's very embarrassing and upsetting to have to talk about her husband, but we do. We feel it's right. I know nothing about the man, other than that he's Julie's husband and he was the head of the biggest network in the world and the most powerful man in TV."