'Julie and the Phantoms' Cast: Who Stars in the Netflix Show?
Julie and the Phantoms is the new teen show on Netflix that teaches us it is never too late to follow our musical dreams—even if we have been dead for decades. The musical dramedy has a cast led by Madison Reyes as the eponymous Julie, who starts a band with three ghosts who had been trapped inside their demo CD 25 years ago. The show, which is from High School Musical director Kenny Ortega and is based on a 2011 Brazilian series, also stars Charlie Gillespie, Owen Joyner and Jadah Marie, while the supporting cast is led by Broadway star Cheyenne Jackson.
Who stars in Julie and the Phantoms?
Julie - Madison Reyes
Who is Julie? A teen aspiring pop star whose passion for music wanes after the death of her mother. Early in the show, she is kicked off her school music program and is all ready to give up when she discovers an old CD in her mom's old studio that changes her life.
Who plays Julie? 16-year-old Madison Reyes, who is making her TV debut in Julie and the Phantoms. Not only is the show her debut, but it is also the first audition she ever did. "I found out about Julie and the Phantoms through my school," she told Refinery29. "At first I was nervous to send my video in, but after talking to some friends, I sent it in and got a callback. From there it was just figuring out when I could fly to L.A."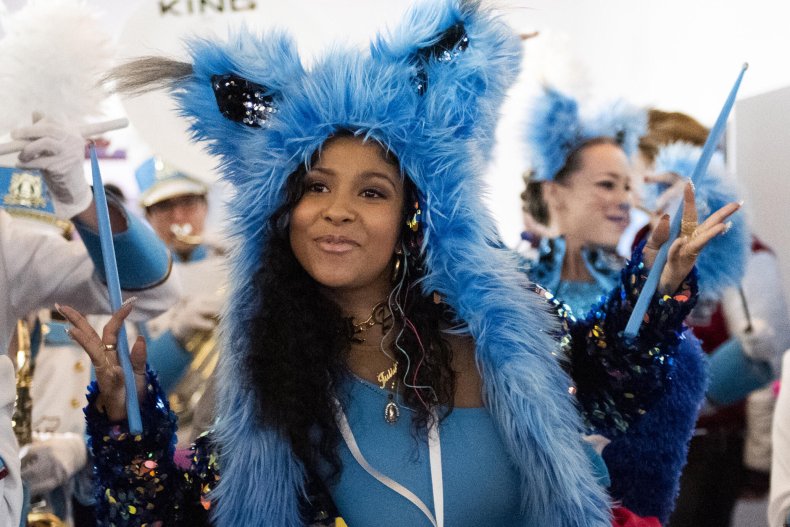 Creator Kenny Ortega said of the actor to Entertainment Tonight: "[The casting director] called me one day and said, 'Sit down and get ready.' They did this with me with Zac Efron [on High School Musical]... They said, 'We think we found your Julie'. And I'll never forget it. I turned on my computer and punched her video and there she was... never having been in front of a camera or in a recording studio or ever having worked professionally. Just this 14-year-old high school freshman in Allentown, Pennsylvania, that, for me, had the magic."
Luke - Charlie Gillespie
Who is Luke? That demo CD contains the spirits of a trio who died the night of their debut after eating tainted hot dogs. Luke is the band's guitarist and singer.
Who plays him? Charlie Gillespie, recently seen in a two-episode arc of the Charmed reboot and the John Travolta movie Speed Kills.
Speaking to Hollywood Life, the soon-to-be 21 years old (his birthday is September 16) actor detailed how he got into the spirit of his ghostly character. "He's this electric guitarist, and I've always wanted an excuse to really start jamming out on the electric guitar," the actor said. "As soon as I got the script, the next day I was at the store renting an acoustic guitar so I could get closer to him. Because of that, I started doing these little open mics all around Los Angeles...which is where Luke would have been back in the 90s. To keep it short, I liked how he rocked."
Alex - Owen Joyner
Who is Alex? The band's gay drummer, who is the first explicitly queer character that out director Ortega has been able to put into one of his projects.
Who plays him? A former Nickelodeon star, Owen Joyner appeared in the network's 100 Things to Do Before High School and Knight Squad.
The 20-year-old actor said of his Julie and the Phantoms character to Hollywood Life, "Even though he's a ghost, I think he deals with a lot of problems that a lot of teens deal with nowadays.
"I think younger kids will be able to resonate with them a little bit. I think that through his little romances and stuff, Alex grows as a human being and finds a way to lean on his friends to help pick him up and get him through his tough times."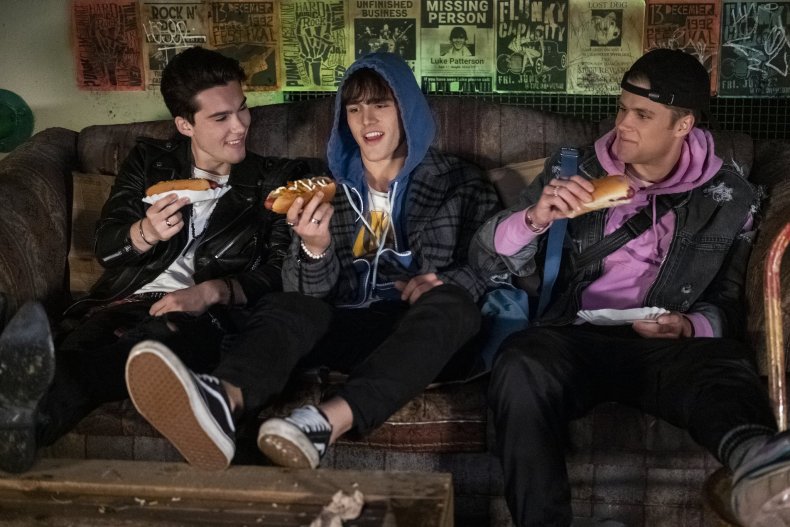 Reggie - Jeremy Shada
Who is Reggie? The band's bassist, of whom the actor who played him said: "[he's] a golden retriever in human form. He's that lovable goof."
Who plays him? Jeremy Shada, the real-life bass playing star whose voice may be recognizable to Cartoon Network viewers as he voiced Finn on Adventure Time. The 23-year-old also provided voices for Voltron and Team America.
Cheyenne Jackson - Caleb Covington
Who is Caleb? Julie and the Phantoms' villain is Caleb a 1940s showman guest whose (no spoilers here) path crosses with the Phantoms.
Who plays him? Cheyenne Jackson, the Broadway and TV actor appeared in the likes of 30 Rock, American Horror Story and Glee.
Also starring in Julie and the Phantoms are:
Carlos Ponse - Julie's father
Sonny Bustamante - Julie's brother
Willie - Booboo Stewart
Victoria Caro - Kayla
Vicky Lambert - Mrs. Kelly
Jennifer-Juniper Angeli - Emily
Julie and the Phantoms is streaming now on Netflix.
'Julie and the Phantoms' Cast: Who Stars in the Netflix Show? | Culture