Julie White: From Replacement to Tony Nomination in 'Gary'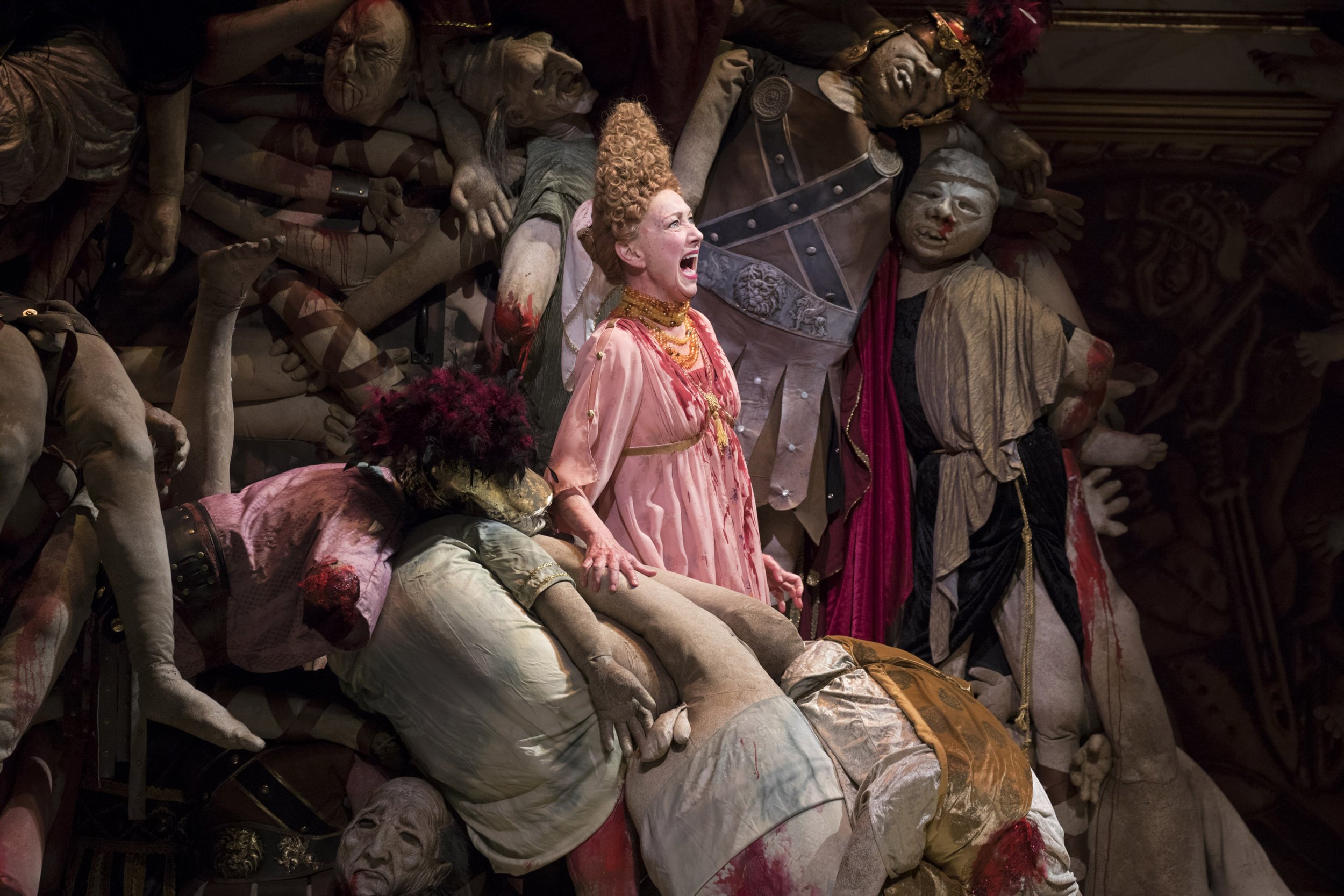 Broadway shows need talent, a good script and a lot of luck to succeed. Gary: A Sequel to Titus Andronicus seemed to have all those things. An all-star cast — Nathan Lane, Kristine Nielsen and Andrea Martin — Tony Award–winning director George C. Wolfe and a quirky original script by Taylor Mac. Then, just as previews were about to begin, Martin broke four ribs in an accident. That's when the show's luck seemed to have run out.
Rehearsals are limited in time by union rules, and often the littlest mishap — a cold, a case of laryngitis — can set things off balance. So a leading actress dropping out can set off alarm bells and press a few panic buttons.
Lights up on Julie White, a knight in shining four-inch heels who is a Tony winner and now-three-time nominee. It may not be the modern-day 42nd Street equivalent of Ruby Keeler going on the save the show, but it was pretty close.
In what has to be one of the most seamless casting transitions in memory, Nielsen, originally cast in the production as Janice, took over for Martin, while White took Nielsen's role of Carol. White is hardly a newcomer to Broadway or to success; she won a Tony for her diabolical performance as Diane, the driven talent agent in The Little Dog Laughed by Douglas Carter Beane.
White's history with Gary involves appearing in a one-act version of the show produced during a play festival at Pace University. From there, the production went to Second Stage Theatre and then to Broadway.
Given her place in the early stages of the show, White, like many actors in such a situation, was involved with the creation of her character. She claims her big contribution was in a scene involving the ordering of a salad: "Doug had written this lunch scene in Los Angeles restaurant, and he had it about them making very complicated sandwich orders. And I said, 'Doug, no one eats a sandwich anymore. They all eat salad.' I have a friend who makes so many requests about her salad and I sort of reeled them off, and he and Scott [Ellis, the director] talked a bit and came back and said, 'Do you feel comfortable just improv-ing on something you said about that salad instead of the sandwich?' It was everything on the side and a whole bunch of lemons. So I just took it to the extreme, and it did make it into the play."
Gary resides in that extreme, existing in a post-apocalyptic world of sorts. It begins at the end of Titus Andronicus, one of the bloodiest and most gruesome plays in the history of theater. Bodies are piled everywhere. Three characters who are briefly mentioned in Titus are brought center stage — à la Rosencrantz and Guildenstern Are Dead — to mull things over, clean up the mess and, in this case, to turn Shakespeare's dross into Broadway gold.
In Titus Andronicus, title character Gary is a clown who is believed to have been hanged (apparently it didn't take). White says that he "gets the idea to change things and get promoted to fool, which is really a step up in the world of Shakespeare." He has the makings of an Elizabethan J. Pierpont Finch, if you will, a real go-getter.
"The fool speaks truth to power. He represents the artist in society," White says.
Lane's presence made White's transition relatively easy. They had known each other and almost worked together before. But now that it has happened, she says, "I went onstage with him I was like: Where have you been all my life?"
Then there is George C. Wolfe. I had a 20-minute conversation with Wolfe once; it lasted about five minutes, but he packs so much in. "He does talk fast," White says, "but there is only so much you can absorb. You take what you can use."
She recalls her first rehearsal: "In that first rehearsal, I did my prologue, which is in verse. Script in hand. I asked a thousand questions — 'Why am I saying this?' 'Who am I talking to?' — But mainly I was just trying to say it out loud. We rehearsed that for about an hour. And Wolfe said, 'OK now we're moving on to the stuff with Gary and Janice, and we won't need you for the rest of the day.' And I was like, 'What?! I've only got five days, man!" (As actors say, she does do "upset" really well.)
The whole rehearsal process was crazy, White says.
"We only have so many hours. So I had people help me learn the lines," she says."Normally, you sit around a table. You read the piece, and you talk about it. You get the design presentation so you get an idea of what the world is going to be like."
Not this time: "I just walked in: There is the set, there's costumes."
And she was off. She would read a line, make a decision and go with whatever interpretation came out.
White soldiered through it all, and she says that her TV experience helped. "I've done a lot of TV. And there is no rehearsal in TV, you just go do it. That's how television normally is. You're kind of under the gun like that."
Again Nathan Lane helped. I asked White what makes Lane so great to work with. White's answer is simple: "He gets it. I didn't have any time to sit around the table and discuss this play or the character. To marinate my choices; I had to learn my line and make some choices. And everything I threw at him, he laughed at. He got tickled, which was fabulous. If you make Nathan Lane laugh, you are on the right track. I said to myself, I am going to make Carol the most upset person ever. Carol thinks she is in hell."
And Carol is an outsider, even here.
"Carol is not rich, not poor," White says, then slips into her character: "'They don't even have a word for my class (pronounced clahss). Just sort of middle.…'[beat] I just invented a class.'
Janice is there to clean things up. She is super sensible. She sort of reminds me a little bit of Hillary Clinton. Gary is like: If we just keep cleaning this up, people pretend like it didn't happen. We've got to do something utterly different. And we help him.
"The language, a lot of it is this beautiful rhymed couplets. And the maid and the clown are speaking this Cockney. It's unbelievable!"
Complicating this production even more, White says, is the newness of the play. "It's a play that had never been done. So Taylor needed time to work on it. He needed to change things. So after we kinda learned it, we started messing around with it. Things were cut. Things were added. You learn a lot from an audience: what's working, where they seem to be losing the story, what needs to be clearer, bigger, better different. So then we changed the play. This stuff I barely had a grasp of we'd tinker with."
For the first time in a long time, I think she exhales, and she says, "It was a ride."
After four days of rehearsals, Gary had its first preview. She survived. (Of course she did: She got that Tony nomination, but if she hadn't she could have stayed on — as part of the scenery.) I'd heard that Lane has given her a shout-out during a curtain speech that night. When I ask her about this, her voice catches a little. "Yes, oh yes. He did, He made a curtain speech. Oh my God. It was so lovely. We are definitely bonded now."
Oddly, Lane is the only cast member not nominated for a Tony, and again one sees how well White does upset: "I don't know. I know it's a packed category and he won last year for Angels in America, but he is this play. He is Gary. And what he is doing is extraordinary."
The critical reception for the play has been all over the map, but the best, I think, was The New York Times, which called Gary a "defiant and beautiful mess," and it was meant as a compliment. You just don't see plays like Gary on Broadway very often, it at all. Everything is prepackaged, workshopped and tested. And very tidy. So messy can be refreshing in itself.
The audience reaction varies from show to show, she says, and the actors can sense that: "Some people are like, 'Dammit, I like Nathan Lane in Neil Simon comedies,' But some get on for the ride and have this really extraordinary, intense experience. You do laugh, it is very funny, but then it gets very meaningful."
She relates the story of an audience member who said, "I never cry. Sometimes, I sort of maybe I tear up. But something happened to me and I started crying and I cried for the last 10 minutes of the show."
"It is moving," says White. And a mess and a ride — a ride that will go straight on till Tony time.
You can see Julie White in Gary: A Sequel to Titus Andronicus at the Booth Theatre in New York. For More information go to GaryOnBroadway.com.