Trump-Like 'Julius Caesar' Complaints Prompt Delta Airlines and Bank of America to Withdraw Funding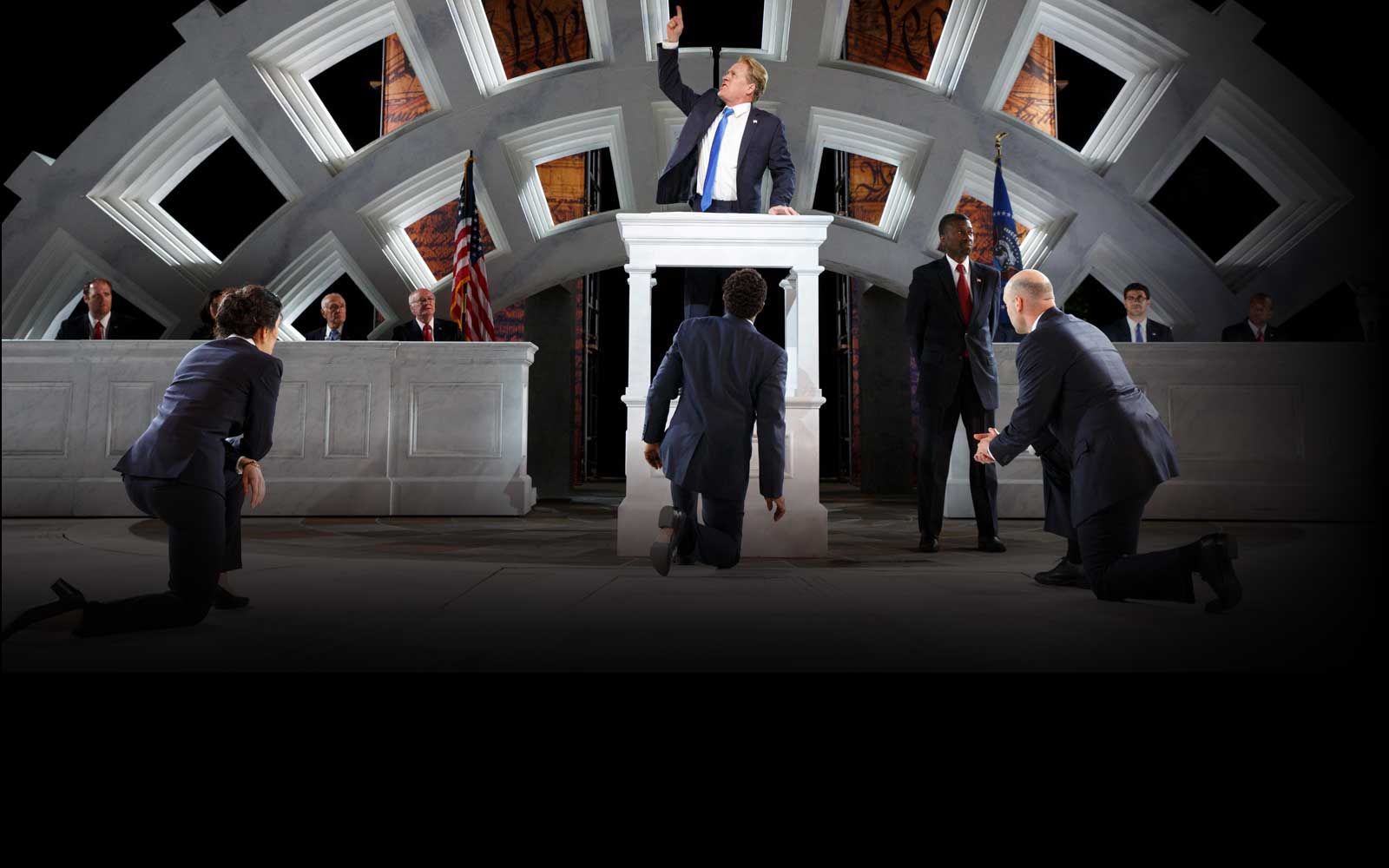 Updated | Delta Airlines and Bank of America (BofA) have withdrawn funding for the New York Public Theater and its production of Julius Caesar after controversy over the play's modern-day take on Shakespeare.
Running as part of Shakespeare in the Park, artistic director Oskar Eustis adapted Shakespeare's classic to modern times, representing Julius Caesar as a modern politician, a president with a flamboyant blonde hairstyle.
The play had provoked outrage from supporters of Donald Trump for its evident similarities to the U.S. president.
Delta Airlines announced its decision to withdraw funding in a series of tweets, initially in response to complaints being made pro-Trump supporters and, later, to pro-Public Theater supporters who were disappointed with Delta's decision.
"No matter what your political stance may be, the graphic staging of Julius Caesar at this summer's Free Shakespeare in the Park does not reflect Delta Air Lines' values. Their artistic and creative direction crossed the line on the standards of good taste. We have notified them of our decision to end our sponsorship as the official airline of The Public Theater effective immediately," the airline wrote.
Bank of America followed, publishing a statement announcing the withdrawal of funds for the Julius Caesar production: "The Public Theater chose to present Julius Caesar in such a way that was intended to provoke and offend. Had this intention been made known to us, we would have decided not to sponsor it."
At Sunday's performance, the audience received a leaflet explaining the bank's position on the play. "While Bank of America values the right of artistic expression, they do not condone this summer's interpretation of Julius Caesar and its depiction of political violence in a modern context," read the leaflet, pictured and shared on social media.
Shakespeare's play deals with the historic event of Julius Caesar's assassination in 44BC. A group of conspirators killed the Roman army general, fearing Caesar was amassing too much power and believing the only way to save the democratic Republic of Rome from becoming an empire was to kill him.
The Public Theater's depiction of the play appeared to have troubled Donald Trump Jr., the president's first son, who shared a Fox News article titled "NYC Play Appears to Depict Assassination of @POTUS" on Twitter and commented: "I wonder how much of this 'art' is funded by taxpayers? Serious question, when does 'art' become political speech & does that change things?"
Trump Jr's outrage was echoed by many pro-Trump social media users who had called for a boycott of Delta Airlines, Bank of America and American Express, three of the theater's corporate sponsors.
American Express provided a statement to Newsweek via email: "We offer access to hundreds of entertainment options for our Card Members. The Public Theater puts on many shows. Our sponsorship does not go toward the funding of the production of Shakespeare in the Park and we do not condone this interpretation of the play."
In presenting the play, the Public Theater said on its website, "Shakespeare's political masterpiece has never felt more contemporary."
"Julius Caesar is about how fragile democracy is. The institutions that we have grown up with, that we have inherited from the struggle of many generations of our ancestors, can be swept away in no time at all," director Eustis wrote.
After Delta and BoA withdrew support, several Twitter users and people in the arts called for increased private donations to the theater company. Beau Willimon, the creator of the Netflix series House of Cards, was among them.
"Now I know where not to bank & who not to fly with. Actions like this create a culture of fear. We must support free expression, not punish" Willimon wrote on Twitter on Sunday.
This article has been updated with a comment from American Express.