Julius Jones Execution Date Set by Oklahoma
Oklahoma has set an execution date for Julius Darius Jones—a week after a parole board recommended his sentence be commuted.
His is among seven executions set by the Oklahoma Court of Criminal Appeals on Monday. They would be the first death sentences carried out by the state since a series of botched executions prompted a moratorium on capital punishment almost seven years ago.
Jones' execution is scheduled for November 18. Last week, the Oklahoma Pardon and Parole Board voted 3-1 to recommend Jones' sentence be commuted to life in prison. But a commutation is ultimately up to Republican Gov. Kevin Stitt.
"The court's setting of an execution date underscores the stakes and the urgency involved with Julius Jones' commutation application," Rev. Cece Jones-Davis, who directs the Justice for Julius campaign, said in a statement to Newsweek.
"After a thorough review and a multiple hour hearing, the Oklahoma Pardon and Parole Board voted 3 to 1 to commute Julius's sentence to life. We urge Governor Stitt to review the application in a timely manner and bring long-averted justice to this very tragic situation by accepting the recommendation of the Oklahoma Pardon and Parole Board."
Jones' attorney Amanda Bass added that the parole board's vote acknowledged that Oklahoma "is at risk of executing an innocent man."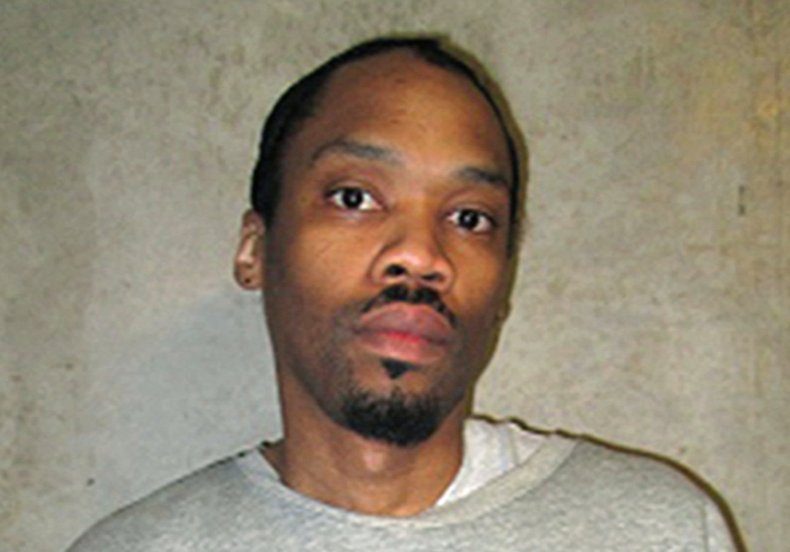 "The request is now on Governor Stitt's desk," Bass said. "Given the setting of a November 18 execution date, it is our hope the Governor adopts the Board's recommendation and commutes Julius's death sentence. Oklahoma must not allow an innocent man to be executed."
Jones, 41, was convicted of first-degree murder in the 1999 killing of businessman Paul Howell.
But he has always maintained his innocence, alleging he was framed by the actual killer, a friend who was also convicted for Howell's murder but served a reduced sentence after testifying against Jones.
State prosecutors say the evidence against Jones is overwhelming and had urged the parole board to reject his commutation request. But Jones and his supporters have argued that his trial attorneys failed him and that racial discrimination played a role in his trial and sentencing.
"I am not the only young Black male whose public defenders were overmatched, whose juries were biased, who were chewed up and spit out by a system that packs our prisons with people who look just like me," he wrote in a letter to the parole board.
In recent years, Jones' case has drawn nationwide attention and a petition calling for clemency has amassed more than six million signatures.
It was also explored in a documentary series, The Last Defense, produced by actress Viola Davis that aired on ABC in 2018.
Celebrities who have advocated for Jones include Kim Kardashian West and James Corden, who highlighted Jones' story in a recent episode of The Late Late Show.
The other executions scheduled are John David Marion on October 28; Bigler Stouffer on December 9; Wade Greely Lay on January 6; Donald Anthony Grant on January 27; Gilbert Ray Postelle on February 17; and James Allen Coddington on March 10.
Oklahoma's attorney general John O'Connor asked the court to set the execution dates after a federal judge ruled last month that six of the inmates could no longer take part in a legal challenge to the state's execution protocols. A seventh did not challenge the protocols.