Julius Jones Live Updates: Jones' Mother Says 'Today is A Good Day' After Execution is Halted
Julius Jones, a 41-year-old Black man, was granted clemency by Oklahoma Governor Kevin Stitt on Thursday.
Jones was set to be executed on Thursday at 4 p.m. local time for for the 1999 killing and carjacking of Paul Howell but Stitt announced that he "determined to commute Julius Jones' sentence to life imprisonment without the possibility of parole."
Since his conviction, Jones has maintained his innocence, claiming that he was framed by his friend from high school, Christopher Jordan, who was a co-defendant in the 1999 case.
Prior to the decision by Stitt, Jones' family has pleaded with Oklahoma Governor Kevin Stitt to grant him clemency.
"He is innocent, and please send him home. In Jesus's name, I ask you," Jones' mother Madeline Davis-Jones, said in a recent video message.
The live updates for this blog have ended.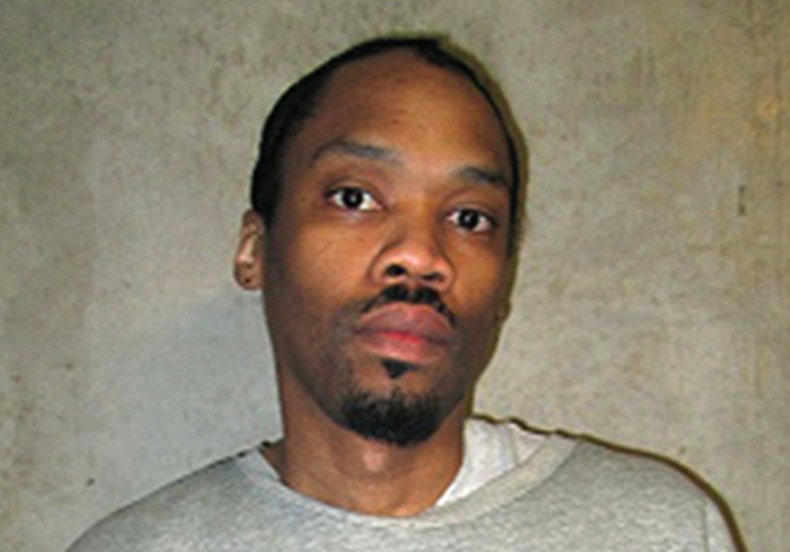 Julius Jones' Mother Says 'Today is a Good Day' in Response to Stitt's Decision
The mother of Julius Jones, Madeline Davis-Jones, issued a statement on Thursday after Oklahoma Governor Kevin Stitt halted the execution of her son.
"For over twenty years, I have been haunted by the idea of watching my baby boy die in an execution chamber for a murder that occurred when he as home with his family. I am grateful that after today's decision by the governor, that can no longer happen," the statement said.
Davis-Jones continued, "I still believe that every day Julius spends behind bars is an injustice, and I will never stop speaking out for him or fighting to free him. But today is a good day, and I am thankful to Governor Stitt for that."
Family of Paul Howell Responds to Halted Execution
The family of Paul Howell issued a statement on Thursday in response to Governor Kevin Stitt's decision to halt the execution of Julius Jones.
Jones was convicted of murdering Howell in 1999 and was previously sentenced to death for the crime.
Stitt announced on Thursday that he was commuting Jones' sentence from the death penalty to life in prison without parole.
In a statement obtained by The Oklahoman, Howell's family said, "We know Governor Stitt had a difficult decision to make. We take comfort that his decision affirmed the guilt of Julius Jones and that he shall not be eligible to apply for, or be considered for, a commutation, pardon or parole for the remainder of his life."
According to The Oklahoman, in the statement, Howell's family went on to thank "the countless people in the Oklahoma Attorney General's office, the Oklahoma County District Attorney's Office and law enforcement agencies across the state for their tireless efforts and unwavering support for the last 22 years."
"We wish to thank our friends, supporters and advocates whose words, thoughts and prayers have kept us strong throughout this ordeal. Julius Jones forever changed our lives and the lives of his family and friends," the statement added, according to The Oklahoman.
Despite the statement from Howell's family, Jones has repeatedly claimed he is innocent.
Julius Jones Attorney Issues Statement in Response to Halted Execution
Julius Jones attorney, Amanda Bass, issued a statement on Thursday following the decision by Oklahoma Governor Kevin Stitt to halt the 41-year-old Black man's execution.
"Governor Stitt took an important step today towards restoring public faith in the criminal justice system by ensuring that Oklahoma does not execute an innocent man," the statement said.
Bass went on to say that while they "hoped" that Stitt would follow the Oklahoma Pardon and Parole Board's "recommendation in full by commuting Julius's sentence to life with the possibility of parole in light of the overwhelming evidence of Julius's innocence, we are grateful that the Governor has prevented an irreparable mistake."
Supporters React to Halted Execution
Following the decision by Oklahoma Governor Kevin Stitt to halt the execution of Julius Jones, numerous supporters shared their reactions across social media.
Kim Kardashian West, who was very vocal about halting the execution before Stitt's decision wrote on Twitter that she spent most of her day on the phone with Jones.
"He also wanted me to pass a few messages along that were really important to him. The most important is that you have to always make sure you are doing the right thing. Julius was hanging out with the wrong crowd and that landed him in the position he's in today," Kardashian West wrote. "I'm so grateful to everyone who used their voice and helped to save Julius's life today. Thank you to the parole board and Governor Stitt."
Actress Alyssa Milano had a similar response on social media, writing "Thank you to all the people on the ground who have been fighting this fight. Activism works. Advocacy works."
Actor Mandy Patinkin wrote, "Thank you every person who took time to raise your voice. Julius Jones will not be executed by the state of Oklahoma!"
Senator Cory Booker, who previously called for Stitt to commute Jones' sentence, said that Stitt made the "right decision" but noted that "the work goes on."
"We must continue to push for justice for Julius Jones and end the moral obscenity that is the death penalty. Thank you to the activists and advocates who made this moment possible," Booker wrote.
A video posted by Nuria Martinez-Keel of The Oklahoman shared a video of supporters reacting to the news at the Oklahoma State Capitol building.
Oklahoma Attorney General Responds to Gov. Stitt Calling off Julius Jones' Execution
Oklahoma Attorney General John O'Connor issued a statement following Governor Kevin Stitt's decision to grant Julius Jones clemency, saying that he knows that Stitt is "making what he believes is the right decision."
"The Office of the Oklahoma Attorney General respects the statutory authority of the Governor to make this decision," the statement said. "I appreciate the Governor's condition that Mr. Jones never be released from prison. However, we are greatly disappointed that after 22 years, four appeals, including the review of 13 appellate Judges, the work of the investigators, the prosecutors, jurors, and the trial Judge have been set aside."
The statement continued, "A thorough review of the evidence confirms Julius Jones' guilt in this case and that the death penalty was warranted. Our office will continue to work for justice and for the safety of all Oklahomans, including families like Paul Howell's. We recognize that the pain of losing a loved one never ends, and our hearts and prayers are with the Howell family."
Despite the statement by the state's attorney general, Jones has maintained his innocence in the case.
Execution Halted, Gets Life in Prison Instead
Oklahoma Governor Kevin Stitt announced on Thursday that he was commuting Julius Jones' execution to life in prison.
"After prayerful consideration and reviewing materials presented by all sides of this case, I have determined to commute Julius Jones' sentence to life imprisonment without the possibility of parole," Stitt said in a statement, according to The Oklahoman.
Stitt's decision comes after the Oklahoma Pardon and Parole Board voted twice to alter Jones' sentence.
Jones' execution, which was scheduled for Thursday at 4 p.m. local time, has now been cancelled following Stitt's statement.
Oklahoma Cancels Annual Tree Lighting Out of 'Respect'
Oklahoma City officials announced on Thursday the annual tree lighting festival in Bricktown has been cancelled out of "respect."
In a tweet, Oklahoma City's downtown management organization wrote, "The Oklahoma City Tree Lighting Festival planned to be held in @_Bricktown this evening has been canceled. This decision was made out of respect and with consideration for the entire Oklahoma City community."
According to KFOR news in Oklahoma, the tree lighting event was scheduled to take place at 5 p.m. local time, just an hour after the execution of Julius Jones is set to occur.
Politicians, Celebrities Call for Execution to Be Stopped
Numerous celebrities and politicians have called for the scheduled execution of Julius Jones to be stopped.
"We must stop the execution of Julius Jones. His case was a miscarriage of justice, we should not be cruelly executing anyone, let alone an innocent man. I urge @GovStitt to follow the recommendation of the Pardon and Parole board to grant him clemency," Senator Cory Booker wrote in a tweet.
Similarly, Missouri Rep. Cori Bush wrote, "Julius Jones is set to be executed today for a crime for which there is strong evidence he did not commit."
Bush continued, "An execution is final. There is no walking it back or undo button. @GovStitt, grant Julius Jones clemency and stop this inhumane execution."
Other politicians that called for the execution to be stopped included Reps. Federica Wilson, Bonnie Watson Coleman and Adriano Espaillat.
A number of celebrities have also showed similar support for Jones, such as Kim Kardashian West, who tweeted earlier this week that "My heart breaks for Julius and so many others who have suffered from such tragic miscarriage of justice."
Rapper J.Cole also shared Kardashian West's tweets and said, "Read this please. Then share. oklahoma is a day away from executing a man. The evidence that this man is innocent is overwhelming. So much so that the state parole board recommended to the governor that he not be executed. with 1 day left of his life, the governor hasn't acted."
Cleveland Browns quarterback Baker Mayfield, who previously played football at the University of Oklahoma spoke to reporters on Wednesday about Jones' execution and said "hopefully, God can intervene, and handle it correctly and do the things he needs to do."
Actress Kerry Washington also urged her followers to take action and to ask Oklahoma Governor Kevin Stitt to "release this innocent man."
Julius Jones' Attorneys File Emergency Motion Ahead of Execution
Attorneys for Julius Jones filed an emergency motion on Thursday, just hours ahead of his scheduled execution.
The motion argues that the drugs used during the lethal injection "pose a serious and substantial risk of severe suffering and pain to prisoners."
According to the court filing, Jones' attorneys cited evidence from the recent execution of John Marion Grant, which they said was "botched."
Jones' attorneys also argued that the filing of the motion "is timely under circumstances where the Governor has not acted on the clemency recommendation that, if accepted, would have obviated the need for this motion being filed seeking emergency relief today as it relates to Julius Jones."
Oklahoma Governor Kevin Stitt has yet to say if he will grant clemency for Jones and he is currently facing pressure from protesters, politicians and celebrities.
Clemency Petition Reaches Over 6.5M Signatures
A petition calling for clemency to be granted for Julius Jones has garnered over 6.5 million signatures as of Thursday morning.
The petition, which was created on Change.org by the Justice for Julius foundation, states that "At the time of the crime for which he was convicted, Julius was a 19-year-old student athlete with a promising future, attending the University of Oklahoma on an academic scholarship."
"It is clear that Julius' lawyer did not adequately defend him, and that explicit racial bias played a significant role in the process," the petition said.
In an update on Thursday, the petition's organizers wrote, "The only thing standing between him and the execution chamber is immense public pressure on Governor Stitt to do the right thing."
While many have called for Stitt to grant Jones clemency, as the Oklahoma Pardon and Parole Board has voted twice to change Jones' sentence to life in prison, the governor has yet to comment on the fate of the 41-year-old Black man.