Julius Jones' Mother in Heartfelt Plea For Oklahoma Governor to Stop Execution
Julius Jones' mother has pleaded with Oklahoma Governor Kevin Stitt to stop her son's execution.
Jones, 41, is scheduled to receive a lethal injection on Thursday. As his execution date approaches, calls are continuing to mount, urging Stitt to accept the recommendation of the state's Pardon and Parole Board to commute Jones' death sentence.
Demonstrators have rallied in support of Jones in recent days and thousands joined an online prayer vigil held last week.
And on Sunday, Jones' mother issued a heartfelt plea to the Republican governor to spare her son's life.
"Governor Stitt, please send my baby boy home," Madeline Davis-Jones said in a video posted on the Justice for Julius campaign's Twitter page on Sunday. "He is innocent and please send him home in Jesus' name. I ask you. Thank you."
Jones was sentenced to death for the 1999 killing of businessman Paul Howell during a carjacking. He has always maintained his innocence, alleging he was framed by the actual killer, a former co-defendant who was a key witness for the prosecution.
Earlier this month, the parole board voted 3-1 to recommend his sentence be commuted to life in prison with the possibility of parole, with some panel members saying they had doubts about evidence that led to Jones' conviction.
The board had also recommended Jones' death sentence be commuted in September.
A spokesperson for Stitt previously told Newsweek there was no word on when the Republican governor would announce his decision on whether or not to accept the parole board's recommendation.
Meanwhile, a federal appeals court last week rejected an appeal by Jones and three other death row inmates to stay their executions pending the outcome of a lawsuit challenging the state's lethal injection protocol.
The inmates had requested an injunction arguing that John Marion Grant's execution on October 28 showed the state has not resolved issues with its three-drug protocol.
Grant's execution ended a six-year moratorium on capital punishment in Oklahoma that was put in place in 2015 following three consecutive flawed executions.
Witnesses said Grant vomited and convulsed repeatedly after the sedative midazolam was administered during a lethal injection that experts described as "botched"—but prison officials denied anything had gone wrong.
Jones' sister Antoinette Jones earlier told Newsweek that "what happened to Mr. Grant was terrible, and furthers our resolve to fight for Julius' life."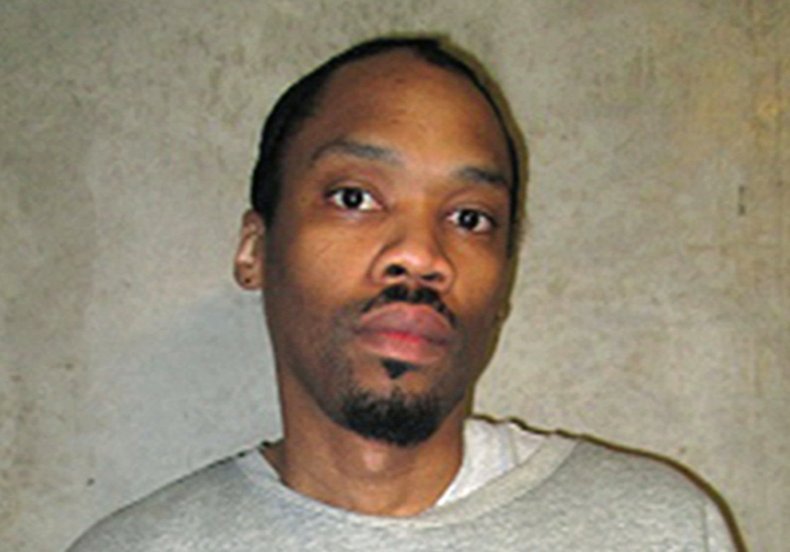 Five Republican Oklahoma lawmakers also recently joined a growing list of faith leaders, athletes and celebrities urging Stitt to stop Jones' execution.
Reps. Gary Mize and Preston Stinson, who represent parts of the Oklahoma City suburb of Edmond where Howell was killed, said there are too many doubts about Jones' guilt to move forward with executing him.
Joining them in their calls are GOP state Reps. John Talley, Logan Phillips and Kevin McDugle.
"The last thing the state should be doing is taking the life of someone who may be innocent," Mize said in a statement. "We can't move forward with an execution under these circumstances in good conscience. I hope and pray Gov. Stitt accepts the recommendation of his Parole Board."
Stinson added: "Our judicial system gives judges and juries the responsibility to determine guilt and sentencing. However, the Pardon and Parole Board also plays a role in this system, and in this case they have recommended clemency. For that reason, I am asking Gov. Stitt to take him off of death row and accept the recommendation of his Pardon and Parole Board."
The governor's office has been contacted for additional comment.