Julius Jones in Race Against Time As Unrest Grows in Oklahoma Over Imminent Execution
Julius Jones has hours to live unless Oklahoma Governor Kevin Stitt halts his execution.
Jones, 41, is scheduled to receive the lethal injection at the state penitentiary in McAlester at 4 p.m. CT on Thursday.
He was sentenced to death for the 1999 killing of businessmen Paul Howell, but has maintained his innocence for more than two decades. Jones alleges he was framed by the real killer, who testified against him and was freed from prison after 15 years.
But although Oklahoma's Pardon and Parole Board has twice recommended Jones' sentence be commuted to life in prison with the possibility of parole over doubts about the evidence that led to his conviction, his fate ultimately rests with Stitt. The governor, a Republican, has yet to announce whether or not he will accept the board's recommendation.
As the clock ticks down, Jones' family have been joined in their calls urging the governor to spare Jones' life by celebrities, athletes and lawmakers from across the political spectrum.
Meanwhile, law enforcement agencies have ramped up security at the state Capitol and the governor's mansion in response to rallies in support of Jones.
In a statement Wednesday, the Oklahoma Highway Patrol (OHP) said barriers had been placed along NE 23rd Street near the governor's mansion and the sidewalk in front of the mansion has been blocked off.
"OHP is tasked with protecting people and property on state grounds and we plan to do so with the professionalism and courtesy the citizens of Oklahoma have come to expect from our agency," the statement added.
On Wednesday, supporters demonstrated outside the governor's mansion, prayer vigils were held at the state Capitol and students from schools across Oklahoma City walked out in support of Jones.
The pastor of an Oklahoma City church was arrested during the protest outside the governor's mansion on Wednesday night.
At a news conference, Jones' mother, Madeline Davis-Jones, described her son's execution as a "lynching."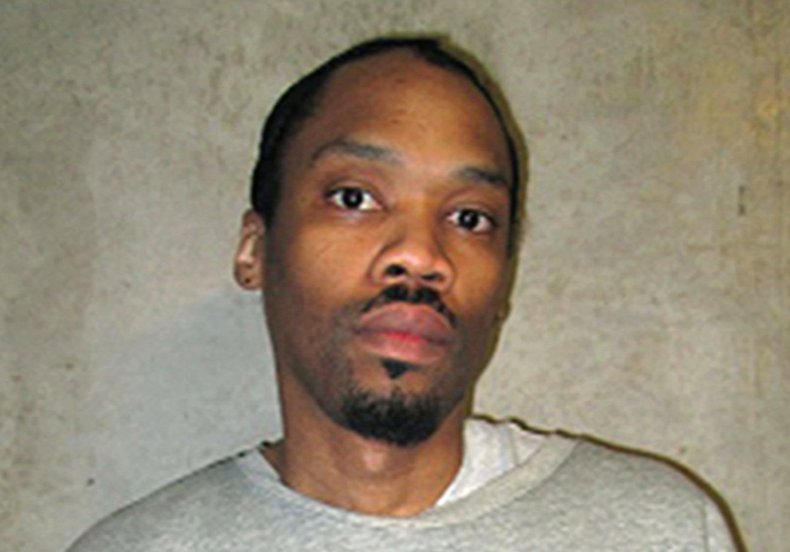 "If my child is executed tomorrow or any day, it should be without a doubt," she said. "Not even a little bit of doubt."
Jones' case received renewed attention after was profiled in The Last Defense, a documentary series produced by Viola Davis that aired on ABC in 2018. Since then, a petition calling for Jones' life to be spared has amassed more than 6.5 million signatures.
Cece Jones-Davis, who directs the Justice for Julius Jones campaign, wrote in a Wednesday update on the petition: "Julius' mother is the strongest woman in the world. Today, her eyes are closed in the back seat. I asked her how she was doing. She said, 'I'm empty inside. I feel invisible.' This life owes Black women more than this."
If Jones' execution goes ahead, he will be the second Black man put to death since Oklahoma ended a six-year moratorium on executions that was prompted by a series of flawed lethal injections.
Witnesses said John Marion Grant, 60, vomited and repeatedly convulsed on October 28 after the sedative midazolam was administered during a lethal injection that experts described as "botched," but the Department of Corrections said was carried out "without complication."
The governor's office did not respond to requests for comment.