4th of July Last Minute Travel Deals, Coupons and Discounts on Flights, Hotels, Car Rentals and Cruises
As Independence Day (July 4) approaches, many Americans will be preparing to take themselves on a vacation or to visit family and friends. According to the AAA, a record-breaking 46.9 million Americans traveled over 50 miles from home for the July 4 holidays in 2018.
However, according to Cheapair.com, people in the U.S. could be looking to pay an extra $220 more for a plane ticket when booking less than six days in advance. To help Americans navigate the price hikes, Newsweek has compiled a guide on the best last minute travel deals based on information from Coupon Follow, Groupon Coupon and HotelTonight.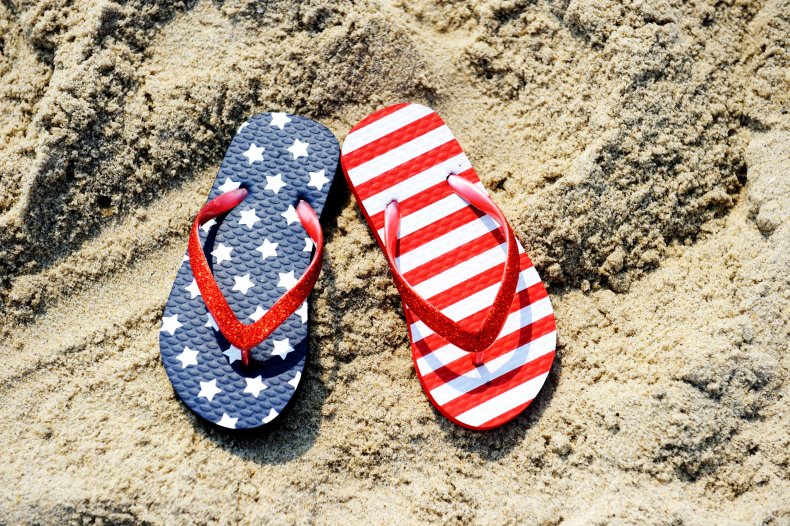 July 4 Flight Deals
CheapTickets.com: From July 1-7, use code NEWSWEEK16 for 16 percent off participating hotels at CheapTickets.com. The tip comes from Coupon Follow.
CheapAir.com: Now through July 4 only, use code NEWSWEEK for $10 off any flight.
Student Universe: Coupon Follow found that the website is offering $20 off all flights to Europe or $5 off flights anywhere else. Use code NEWSWEEK.
CheapFlightsFreak.com: Use code NEWSWEEK10 for $10 off through July 7.
IfOnly.com: Save $10 with code NEWSWEEK10.
CheapOair: Groupon is offering another exclusive promotion with this flights platform, with up to $52 off. Use code GROUPON52.
Travelocity: Use code MOB15 to save 15 percent off your first app purchase, according to Coupon Follow.
July 4 Hotel Deals
Orbitz.com: Use code NEWSWEEK10 for 10 percent off participating hotels with travel now through December. Max savings of $150 if you book between July 1 to 7, 2019, Coupon Follow told Newsweek.
Barnsley Resort: Situated in Adairsville, Georgia, guests can make the most of the "Independence Day Weekend Special," which includes luxurious accommodations, a $50 per night activity credit, and a commemorative Barnsley Resort 20th anniversary gift. The Independence Day Weekend Special starts from $329 per night, valid for July 4 through to July 7.
Hilton: According to Groupon Coupon, Hilton is currently having a sale through July 4, with $50 credit per night
Hotels.com: The website has an exclusive with Groupon. Use promo code 5OFF50US to get $5 off.
Accor Hotels: Save up to 25 percent off select hotels in North or Central America, according to Coupon Follow.
Booking.com: Save 15 percent or more at this travel website throughout the summer, according to Coupon Follow.
Hotels.com: Save up to 40 percent through to July 2.
CheapTickets.com: Through to July 14, save up to 15 percent.
The Saguaro Scottsdale: Don't be fooled by it being in Scottsdale, Arizona. The vibrant color palette of The Saguaro gives you a legit reason to wear shades indoors. It falls way below the Phoenix daily rate average, at $84 per night.
Hotel Derek: This Euro-style boutique hotel has a distinct Texan feel. It offers an open-pet policy and "pillow fight" package with 10 extra pillows for the fight, plus milk and cookies. Perfect for a family getaway. It's priced at $97 per night, below the Houston average of $116 per night.
The Swissotel Chicago: Eye-catching triangular building design as stellar as its Chicago-River-meets-Lake-Michigan location. Over $50 less than the average city daily rate at $90 per night.
Warwick Hotel: This elegant, upscale hotel in Philadelphia has charm abounds in the lobby, with its ornate chandelier, sky-motif ceiling and two fireplaces. Rooms are modern and comfortable, with windows that actually open. Less than the average daily rate in the city, you can book the Warwick for $102 per night.
According to HotelTonight, if you take Monday off and extend the weekend for a Sunday night getaway, hotel rooms are an average of 30 percent lower on Sunday nights.
July 4 Travel Deals
Tours4Fun: From now through July 7, save up to 20 percent off select National Park tours in the U.S. or Canada.
5 percent coupon: EXCLUSIVE5OFF
10 percent coupon: EXCLUSIVE10OFF
15 percent coupon: EXCLUSIVE15OFF
20 percent coupon: EXCLUSIVE20OFF
Carmel Car & Limo: Now through July 7, use code NEWSWEEK6 for $6 off your car rental according to Coupon Follow.
AirportParkingReservations.com: Take $5 off with code NEWSWEEK5.
Hertz.com: Save 25 percent when you pay upfront online for a car rental.
If you'd like something a little different, Coupon Follow has flagged cruises to Mexico starting at just $899 with free drinks and onboard spending credit when booked through CruiseDirect.com