July 2019 Sports Events: Women's World Cup, Gold Cup, Wimbledon, The Open and Everything Else on TV This Month
The NBA and the NHL seasons are over and the football doesn't resume until September, but that doesn't mean there's no sports to watch this summer.
The MLB season rumbles on, punctuated by the Home Run Derby on July 8, while the U.S. Women's National Team bids to clinch a fourth World Cup.
The Americans take on England in the semifinal, hoping to reach the final for the third consecutive time.
The Women's World Cup isn't the only hope of success for American soccer fans, as the men's team takes on Jamaica in the semifinals of the Gold Cup on July 3.
Meanwhile, the Copa America finalists will be determined on July 2 and July 3, with the final held on July 7.
Elsewhere, Wimbledon gets underway on July 1 and runs until July 14, with the Cricket World Cup final and the British Formula One Grand Prix scheduled on the same day.
Britain's blockbuster summer of sporting events continues a few days later when The Open begins in Northern Ireland.
The Formula One season also stops in Germany this month, while the IndyCar Series stages races in Toronto, Iowa and Ohio.
Last but by no means least, the Tour de France starts on July 6 and the World Aquatics Championships begin a week later in South Korea.
Here, Newsweek has put together a calendar to ensure you don't miss any of the action in July.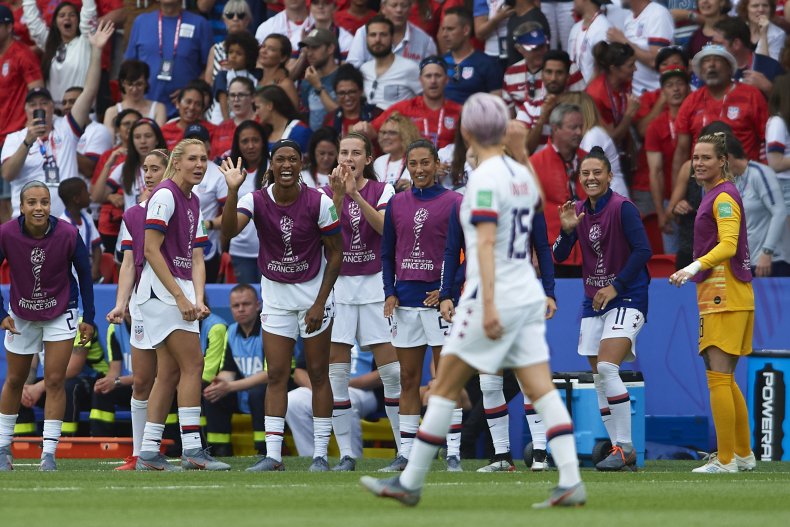 July 1-14
July 2
Soccer—Women's World Cup semifinal USWNT vs England, Fox Sports
Soccer—Gold Cup semifinal Haiti vs Mexico, Fox Sports 1
Soccer—Copa America semifinal Brazil vs Argentina, ESPN+
Cricket—World Cup pool stage Bangladesh vs India, Willow TV and Hotstar
July 3
Soccer—Women's World Cup semifinal Netherlands vs Sweden, Fox Sports
Soccer—Gold Cup semifinal USMNT vs Jamaica Fox Sports 1
Soccer—Copa America semifinal Chile vs Peru, ESPN+
Cricket—World Cup pool stage England vs New Zealand, Willow TV and Hotstar
July 4
Cricket—World Cup pool stage Afghanistan vs West Indies, Willow TV and Hotstar
July 5
Cricket—World Cup pool stage Pakistan vs Bangladesh, Willow TV and Hotstar
Soccer—Copa America third place play-off, ESPN+
July 6-28
Road Cycling—Tour de France, NBC Sports
Soccer—Women's World Cup third place play-off, Fox Sports
Cricket—World Cup pool stage Sri Lanka vs India, Willow TV and Hotstar
Cricket—World Cup pool stage Australia vs South Africa, Willow TV and Hotstar
July 7
Soccer—Women's World Cup final, Fox Sports
Soccer—Copa America final, ESPN+
Soccer—Gold Cup final, Fox Sports 1
July 8
Baseball—Home run derby, ESPN
July 9
Cricket—World Cup semifinal, Willow TV and Hotstar
July 11
Cricket—World Cup semifinal, Willow TV and Hotstar
July 12-28
Various sports—World Aquatics Championships, NBC Universal
July 14
Cricket,—World Cup final, Willow TV and Hotstar
Formula One—British Grand Prix, ESPN2
IndyCar Series—Honda Indy Toronto, NBC Sports
July 18-21
Golf—The Open Championship, Golf Channel and NBC
July 20
IndyCar Series—Iowa 300, NBC Sports
July 28
Formula One—German Grand Prix, ESPN
IndyCar Series—Honda Indy 200 at Mid-Ohio, NBC Sports