'Jumanji the Next Level' Post-Credits Scene: Is There a Scene After the Credits?
Jumanji: The Next Level is now in cinemas, meaning that fans of the 2017 Dwayne "The Rock" Johnson movie or its 1995 Robin Williams-starring original have more jungle japes to look forward to.
In fact, the new sequel has a post-credits scene that not only continues the story of the current version of Jumanji, but also harks back to the 1995 original.
After the credits have started airing on Jumanji: The Next Level, viewers do not have long to wait to get the scene. In this post-credits scene, a boiler repairman (played by Lamorne Morris) visits the home of Spencer (Alex Wolff) and finds himself interested in a certain broken games console.
"Is that an old videogame console," we hear him say as he starts to approach the Jumanji system, "I'm a big gamer... I've never seen one like this before." Intrigued by this retro piece of tech, he starts trying to use the console and, as anyone who has watched the previous three instalments of this franchise will not be surprised to hear, he unleashes a little bit of havoc.
First, though, the post-credits scene cuts back to Nora's diner, where Spencer and the rest of the gang are sitting. Quicker than you can say "Jumanji," however, they hear those beating drums again and we know that the cursed video game has struck again.
The action then takes us to the snow outside, where some of the game's animals have entered the real world. We see the feral ostriches from earlier in the game stampeding down the road, suggesting a new sequel where the jungle creatures of the video game come into the real world.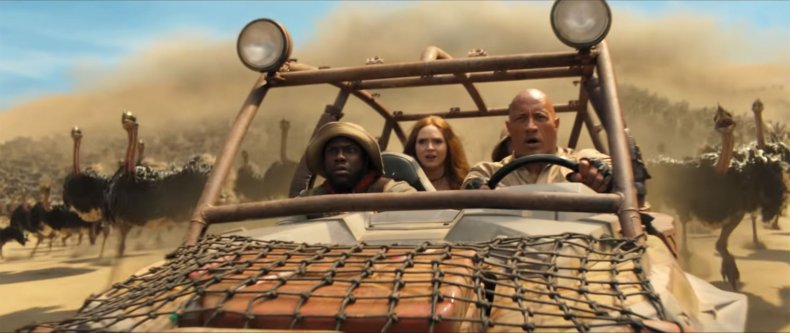 If that sounds familiar, that is because jungle creatures running havoc in the city was also the plot of the original Jumanji, making the third in the new Jumanji films not quite a reboot, but what Inverse calls a "de-boot"—that is, a movie that returns to the roots of the franchise while continuing with the current set of characters and scenario. For example, the cause of the outbreak of sinister safari creatures in the '90s version of the film was due to a board game rather than the vintage console that the game transformed itself into in 2017's Jumanji: Welcome to the Jungle.
After this early credits scene, fans expecting more footage should not wait around, as there is no second after credits scene. What there is right at the end of the credits, however, is an audio sting where people who have stuck around right to the end hear those Jumanji drums again and then the squawk of ostriches.
Jumanji: The Next Level is in cinemas now.