'Jump Force' Roster Adds 'Black Clover's Asta
Bandai Namco revealed the latest addition to the Jump Force roster, and it's the protagonist of the recently released Black Clover anime, Asta.
Asta brings his sword-wielding skills to the fight between good and evil, but the Black Clover representative's weapon isn't a normal blade. It's imbued with magic-negation powers, giving this young fighter (who lacks any magic in a world of magic users) a step up on his foes.
Black Clover 's second season is currently airing in Japan and streaming on Hulu, Funimation and Crunchyroll. It tells the story of Asta, an orphan in a world of magic. His dream is to be a magic knight and eventually the Wizard King, the most powerful warrior in the land. However, Asta doesn't have any magic and is an outcast among the people. He inexplicably receives the magic negation sword during a fight, and goes on to become amember of the Black Bulls, a faction of outcast magic knights, saving the magic kingdom from various threats.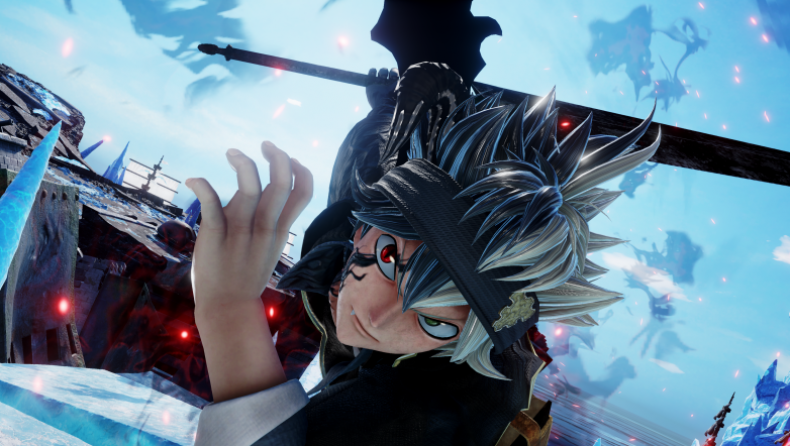 Now that a Black Clover representative is joining Jump Force, fans can expect at least one more character from that series to be added. It could be Asta's rival, Yuno, or his Black Bulls teammate, Noelle. With Jump Force releasing in mid-February, there are still some roster additions that Bandai Namco can reveal before then.
In addition to the Asta announcement, Bandai Namco also revealed a new stage for Jump Force. You can see some new screenshots from new Marinefold stage inspired by One Piece posted on the official Bandai Namco Twitter account below.
The addition of Asta brings the Jump Force roster to almost 30. Currently, the roster includes Kenshin and Makoto from Rurouni Kenshin, Ryo, Kenshiro, Yugi Muto, Goku, Vegeta, Frieza, Cell, Piccolo, Luffy, Naruto, Ichigo, Rukia, Aizen, Sasuke, Sanji, Sabo, Blackbeard, Zolo, Yusuke and Toguro from YuYu Hakusho , Killua, Gon, Kurapika and Hisoka from Hunter x Hunter , Pegasus Seiya and Dragon Shiryu from Saint Seiya.
Jump Force drops February 15 on PS4, Xbox One and PC.
What do you think of Asta's inclusion in Jump Force ? Who do you hope is added to the game? Let us know in the comments section below.