'Jump Force' Adds Jotaro and Dio from 'Jojo's Bizarre Adventures'
With two weeks left until the release of Jump Force , Bandai Namco revealed two new roster additions for the manga-inspired fighting game.
Jotaro and Dio, two characters from the Jojo's Bizarre Adventures manga and anime will be playable fighters in the upcoming February title. Gameplay of the two new characters wasn't released but quite a few screenshots did appear online.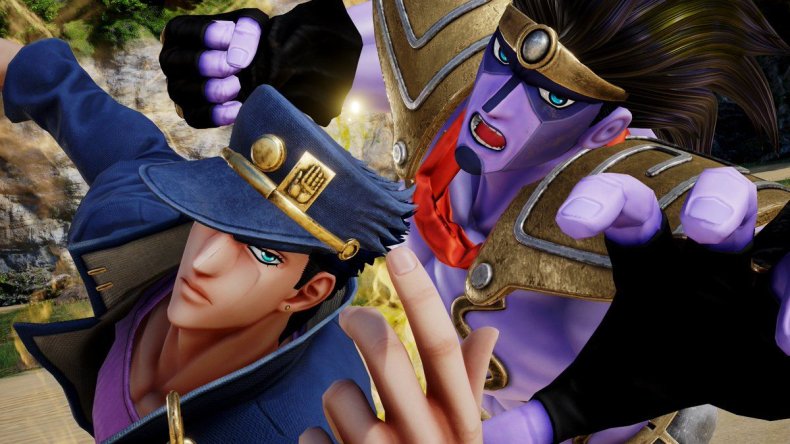 Take a look at the latest screenshots of Jotaro and his stand below.
And if you want to check out Dio and his stand in Jump Force, here's the latest screenshots from the Bandai Namco Twitter account.
Jotaro Kujo is the protagonist of Stardust Crusaders and is probably the most recognizable characters of the Jojo's Bizarre Adventures s eries. In the manga, Jotaro's mother has fallen ill due to Dio's return. His stand, an entity that physically manifests from its users, is named Star Platinum. Star Platinum is a close-range stand that excels in hand-to-hand combat and has superhuman strength and precision. In later parts of the manga, Star Platinum is even able to stop time.
Dio is the main antagonist of Stardust Crusaders and is a vampire as well as a stand user. His stand is called The World and is similar to Star Platinum in that it is a close-range fighter but has the ability to stop time, making it one of the most dangerous stands in the series.
The addition of Jotaro and Dio to the Jump Force roster brings it to a whopping 40 characters.
The roster includes: Goku, Naruto, Frieza, Vegeta, Sasuke, Luffy, Zolo, Ichigo, Rukia, Blackbeard, Kenshiro, Yusuke, Toguro, Pegasus Seiya, Gon, Hisoka, Kenshin, Asta, Deku, Makoto from Rurouni Kenshin, Ryo, Yugi Muto, Cell, Piccolo, Aizen, Sanji, Sabo, Killua and Kurapika from Hunter x Hunter , Dragon Shiryu from Saint Seiya. Trunks, Boa Hancock, Renji Abarai, Boruto, Gaara, Kakashi, Kaguya, and Dai from Dragon Quest.
Jump Force is set to release on February 15 on PS4, Xbox One and Steam.
What do you think of the latest additions to the Jump Force roster? Who do you still want to see join? Let us know in the comments section below.