Jumping Dog Stuns the Internet With Her Incredible 'Barkour' Skills
A dog who can jump to incredible heights has been wowing the internet with her incredible "barkour" skills.
Lexi, a pointer mix, says hello to neighbors and passers-by from the top of a six-foot fence in the back yard, which she scales with ease.
Her owner, Matt Waldman, from Kentucky, told Newsweek the five-year-old started displaying her athletic skills when she was around a year old.
He said: "She started jumping four years ago. She jumps to the top of my six foot privacy fence but could go way higher! She jumps everywhere she goes but mainly on the fence.
"She had natural ability and started doing it on her own. She got over one time and that's where I trained her to just stay on top and not go any further. Most people are very surprised, but think it's awesome."
Waldman shares Lexi's joyful jumping on social media, on his TikTok and Instagram accounts @lexithejumpingdog, where her videos rack up millions of views a-piece.
One shared earlier this month amassed 1.7 million views, as Waldman wrote: "Each day she says hi to the construction workers."
And another, posted in November, seen 3 million times, showed Lexi in an adorable Superman outfit, as Waldman joked: "Keeping our streets safe."
While a clip shared just a few days ago was captioned "barkour," a take on the word "parkour," which Waldman uses to describe her incredible talent.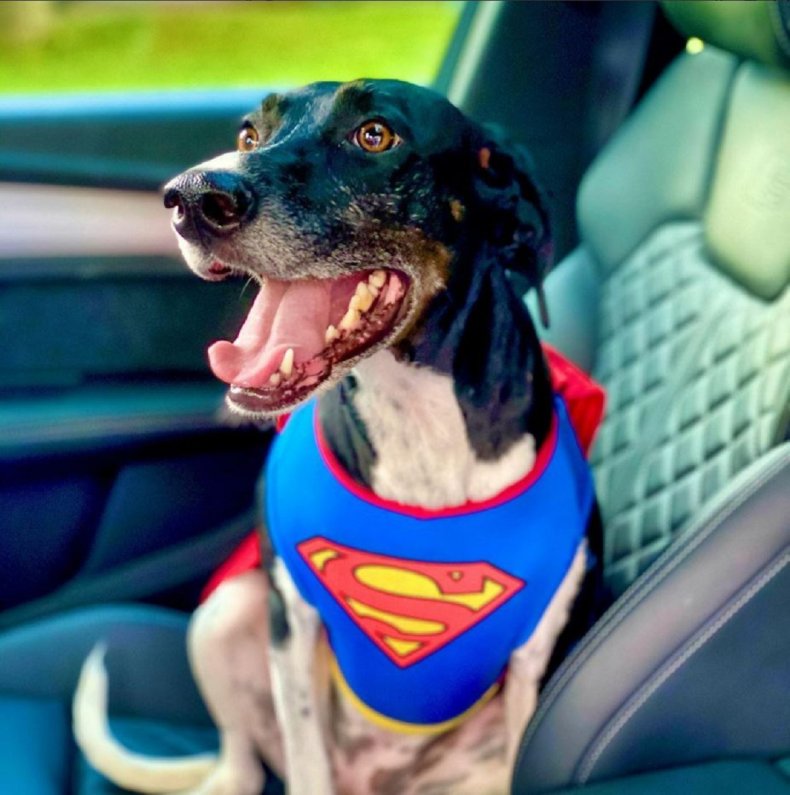 "I'm not sure if I came up with barkour or not! But it definitely fits her and people love when I make the videos with The Office 'parkour' episode sounds," he said.
Waldman is also the proud owner of another pooch, a shepherd mix named Max, who's 10, although he doesn't have the same athleticism as Lexi.
"My other dog isn't a jumper, but tries to keep up," Waldman joked.
Thousands of people have commented on Lexi's video, in awe at her talent.
Cruz Elizabeth wrote: "Lion King ain't got nothing on this guy here."
Ericka Craig asked: "Did I just watch a superdog movie."
Kieran Pearce joked: "The fence is just there for decoration at this point."
Elise pointed out: "I loveee how she can escape but simply doesn't."
Waldman also told Newsweek he wished to use his and Lexi's platform to campaign for justice for animals.
He said: "She wants to bring awareness to all of the animal welfare issues in the country and world. Over 1.5 million healthy dogs and cats are euthanized each year in shelters in the U.S. She wants to use her fame to spread awareness on that and invite more interest from policy makers and corporations."