Junction, Texas, Flood: One Person Still Missing, Bodies Found Amid Severe Flooding
One person remained missing in Junction, Texas, this week, amid severe flooding in the area. The Junction Police Department initially said that search efforts would continue on Monday, but authorities later said additional rain forced them to suspend operations.
The bodies of three others were found late last week and on Saturday, October 13, the San Angelo Standard Times reported.
"It's just not safe to be on the river now," said Kimble County Sheriff Hilario Cantu, according to KSAT-TV.
A flash flood warning was issued by the National Weather Service on Monday for parts of central Texas, including Kimble County, where Junction is located. Parts of central Texas were already hit with severe rains over the weekend and last week, priming the area for flash flooding this week.
The NWS said that because the soil was already saturated, additional rainfall could create flash flooding hazards. The flood warning was in effect through Tuesday evening, and the NWS said more than 4 inches of rain was possible in some areas.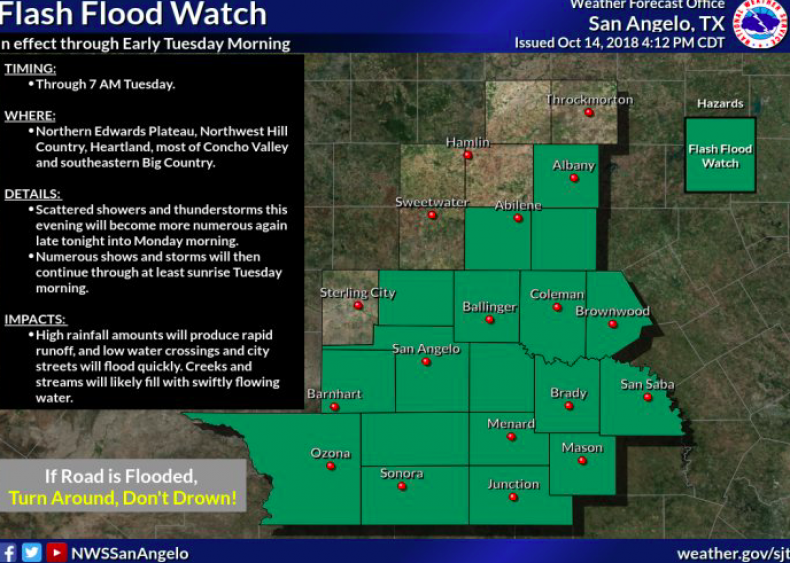 The four people who went missing disappeared October 8 after the South Llano River in Junction flooded. The floodwaters infiltrated an RV park along the river, KSAT reported.
Two of the missing were discovered late last week, some nine miles away from the South Llano RV Park. The other person was discovered on Saturday, near Yates Crossing. Authorities did not immediately identify the deceased.
The search for the fourth person was expected to resume when the weather improved, according to KSAT. The flash flood warning in central Texas extended to Brown, Callahan, Coke, Coleman, Concho, Crockett, Irion, Kimble, Mason, McCulloch, Menard, Runnels, San Saba, Schleicher, Shackelford, Sutton, Taylor and Tom Green until Tuesday evening.