June 2018: The Images That Defined the Month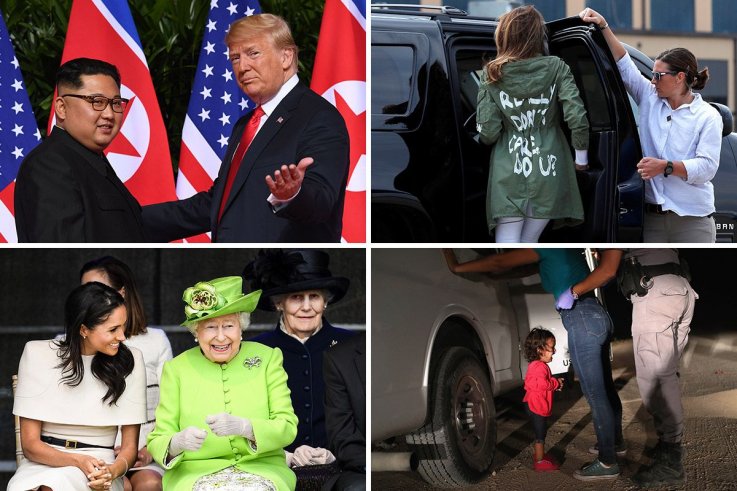 The old adage that a picture paints a thousand words felt especially true this month. Photographers around the world captured every emotion, from the distress of a child migrants to the jubilation of Saudi Arabian women driving for the first time.
The Trump family, as usual, seemed to provoke the most controversy. On June 8, world leaders met in Canada for the G7 summit, where Donald Trump caused an upset with his decision to raise tariffs on aluminum and steel.
His intractability was captured by photographer Jesco Denzel, whose photo shows Trump sitting cross-armed while Angela Merkel looks peevishly down at him. It was shared by Merkel on Instagram and subsequently went viral, with commentators comparing it to a classic Renaissance painting.
Trump made headlines again with his June 12 summit with North Korean leader Kim Jong Un in Singapore. Pictures show the two shaking hands, as they committed to work toward complete denuclearization of the Korean peninsula.
Later in the month, the tragic plight of migrant children being separated from their parents, thanks to Trump's harsh policy on migration, caused mass public outcry.
An image of a two-year-old Honduran girl pictured crying on a dark road, taken by Pulitzer Prize-winning photographer John Moore, particularly struck a chord. CNN said the picture was "the symbol of the immigration debate in America," and it was repurposed for a memorable cover of Time magazine.
Melania Trump received criticism over her attitude to this issue of child detention when she was pictured wearing a jacket with the phrase "I Really Don't Care. Do U?" written on the back after her trip to visit an immigrant children detention city in Texas.
Melania Trump's spokesperson told Newsweek that "There was no hidden message," behind the jacket. She added: "After today's important visit to Texas, I hope the media isn't going to choose to focus on her wardrobe."
Other stunning images from this month show Saudi Arabian women getting behind the wheel, Meghan Markle stepping out with the Queen, Angelina Jolie in Iraq and World Cup fever. Join us as we relive this eventful month.