June 2017 Album Releases: Vince Staples, Lorde, Chuck Berry and Others We Can't Wait to Hear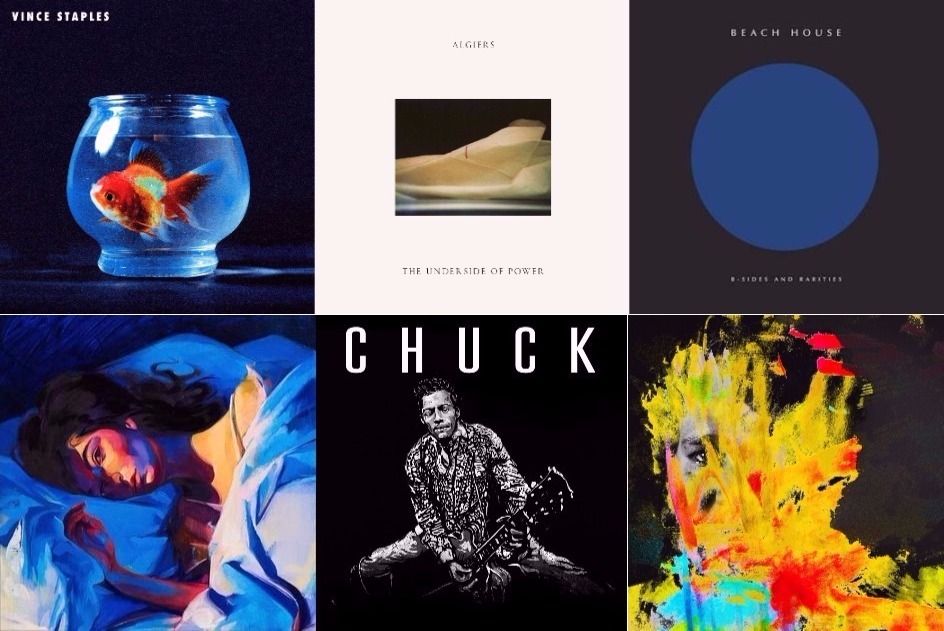 Nothing inspires us to roll down the windows, crank up the music and get down like the beginning of summer. If you've just endured an oppressive winter and a rainy spring, feeling those first tinges of warmth in the air is cause for celebration, and the month of June has the soundtrack covered. Here are some of the albums due out in the next 30 days that we can't wait to drop the needle on, from Chuck Berry to Lorde to Vince Staples and beyond.
Related: 'Sgt. Pepper's' at 50: Every song ranked
Chuck Berry, Chuck
Release Date: June 9
Label: Dualtone Records
In 2016, a slew of legendary rock icons died shortly after releasing their farewell albums. In 2017, the late Chuck Berry is basically doing the same in reverse. Berry completed the aptly titled Chuck, his final studio album, shortly before his death in March. Though it's his first album of new material in nearly 40 years, the rock-and-roll style is recognizably his own—there's a rollicking single called "Big Boys" and a sequel to "Johnny B. Goode" titled "Lady B. Goode." Of course, it's remarkable that there is a new Chuck Berry album at all. It's been 90 years since he was born, so this is the chronological equivalent of Justin Bieber putting out a new album in the year 2084. That album should be fun to listen to during the climate apocalypse. —Zach Schonfeld
2 Chainz, Pretty Girls Like Trap Music
Release Date: June 16
Label: GOOD Music
It's true, pretty girls do like trap music. But you know who else likes trap music? Everyone—or at least everyone looking to spend summer nights milly rocking and twerking to head-banging hip-hop beats. 2 Chainz recently released the first single from his new project, titled, "4 AM." Featuring twice platinum-selling rapper Travis Scott, and reminiscent of Chainz's previous work, the song offers a simple beat and catchy lyrics mixed with Scott's signature Auto Tune-induced sound. If the track list for the Atlanta rapper's upcoming album is any indication—songs include party-friendly titles like "Good Drank," "Saturday Night," "Sleep When U Die" and "It's a Vibe," to name a few—then fans should expect their summer to be loaded with an unlimited number of late-night thrills that turn into daytime adventures. —Janice Williams
Lorde, Melodrama
Release Date: June 16
Label: Republic Records
It's been nearly four years since Lorde introduced the world to her soothing and raspy voice with the release of her first album, Pure Heroine. After her lengthy absence, the New Zealand singer returns with a new body of work that will more than likely be a source of daily motivation for more than just avocado toast advocates, aka millennials. With singles like "Green Light," "Liability" and "Homemade Dynamite," which she first introduced during her Coachella performance in April, fans should expect to hear an album filled with quips about the ups-and-downs of being 20-somethings in modern-day society perfectly laced over dark and brooding beats. —Janice Williams
Michael Nau, Some Twist
Release Date: June 16
Label: Suicide Squeeze
My first inclination was to write here about how Michael Nau's new album, Some Twist, makes for some perfect, easygoing summer listening. This is certainly true, but then again I could just as easily picture daydreaming along to Nau's lambent songwriting touch in some snowed-in log cabin in the dead of winter. Songwriting as graceful and elemental as Nau's is ripe for any season, and though he's been at it for years with Page France and Cotton Jones, he's truly come into his own as a solo artist with this, his second release under his own name. —Ryan Bort
Roya, Roya
Release Date: June 16
Label: Burger Records
No label is more stocked with summer jams than Burger Records, and the Los Angeles psych-rock specialists are dropping Roya's self-titled debut album just in time. Fronted by Rahill Jamalifard of Habibi and featuring members of The Clean, Angry Angles and Grooms, Roya, who are based in Brooklyn, have actually been around since 2015. The two-year wait for an album was worth it, though. Their psychedelic post-punk sound is driving, seductive and the perfect prescription for whatever's ailing you as the sun shines the brightest. —Ryan Bort
Vince Staples, Big Fish Theory
Release Date: June 23
Label: Def Jam
Vince Staples went from promising up-and-comer to bonafide mainstream star with his 2015 album Summertime '06 and its hit single "Norf Norf," on which the then-21-year-old raps about hailing from the north side of Long Beach, California. Prima Donna followed a year later, and now, with Big Fish, his fourth album in four years, it looks like Staples is poised to challenge Kendrick Lamar as the king of California, and maybe even of the West Coast, and maybe even of the entire country. It goes beyond his ability to drop bars. In an interview with LA Weekly, Staples spoke of his desire to innovate, and how the album has a decidedly electronic bent. "All I can tell you is that it's current. It's tomorrow. It's next Thursday," Staples said. "We making future music. It's Afro-futurism. This is my Afro-futurism. There's no other kind." —Ryan Bort
Algiers, The Underside Of Power
Release Date: June 23
Label: Matador
We didn't know much about Algiers when we went to see them perform in New York City last month. We knew they were a socially and politically conscious group that could command a room with their intensity, but that was about it. Someone mentioned Rage Against the Machine as a possible comparison. This wasn't really the case. MC5 was more like it, but even that's kind of a stretch. In reality, the dark, swirling, soulful, reverb-washed rock of this East Coast four-piece defies comparison, which is about the rarest thing you can say about a band in 2017.
As for the political aspect, it's certainly present. "This album was recorded in a political environment that collapses the late 70s economic crisis and the looming onslaught of arch-conservative neoliberalism, via Thatcher and Reagan, into the late 1930s, a world riven by fascist nationalism and white power fantasies in the US and abroad," said bassist Ryan Mahan said in a press release. The Underside Of Power is Algiers's second album, but first on a label with the reach of Matador. Hopefully people to take notice, as we've never been in more desperate need of art that aims to engage—rather than distract from—America's political landscape. —Ryan Bort
Beach House, B-Sides And Rarities
Release Date: June 30
Label: Sub Pop
If you like Beach House's albums, chances are you will also enjoy Beach House's b-sides. The dream-pop duo knows how to set a mood. This is a career-spanning collection that dates as far back as 2005, when nobody knew who Beach House was and we were all listening to Bloc Party instead, for some reason that probably made sense at the time. "Our B-sides are not songs that we didn't like as much," the band writes, "just ones that didn't have a place on the records we were making." In addition to songs you haven't heard, there's a remix of "Norway," which might just be the best Beach House song. —Zach Schonfeld