Juneteenth Becomes First National Holiday Since MLK Day in 1983
Juneteenth is officially a federal holiday, so celebrate Friday (and/or Saturday)!
President Joe Biden signed a resolution on Thursday proclaiming the first national holiday declared since then-President Ronald Reagan named Martin Luther King Jr. Day a holiday in 1983. "Juneteenth National Independence Day" will be celebrated on June 19 each year. In 2021, the federal holiday will be celebrated a day early, as June 19 falls on a Saturday.
"This is a day that's profound in my view—profound in weight and profound in power," Biden said of the new holiday. "I'm especially pleased that we showed the nation that we can come together as Democrats and Republicans to commemorate this day with an overwhelming bipartisan support in Congress."
Want to know more about Juneteenth? Read here.
Juneteenth is the "longest-running African-American holiday," and it recognizes June 19, 1865, as the date that news of slavery's end reached slaves in Texas and other states in the southwest—formalizing their emancipation after the end of the Civil War a month earlier. It also came two years after President Abraham Lincoln signed the Emancipation Proclamation.
It began largely with church celebrations in 1866 but spread throughout the Black community, particularly in the South.
"This is a really, really, really important moment in our history, making Juneteenth a federal holiday," Biden said.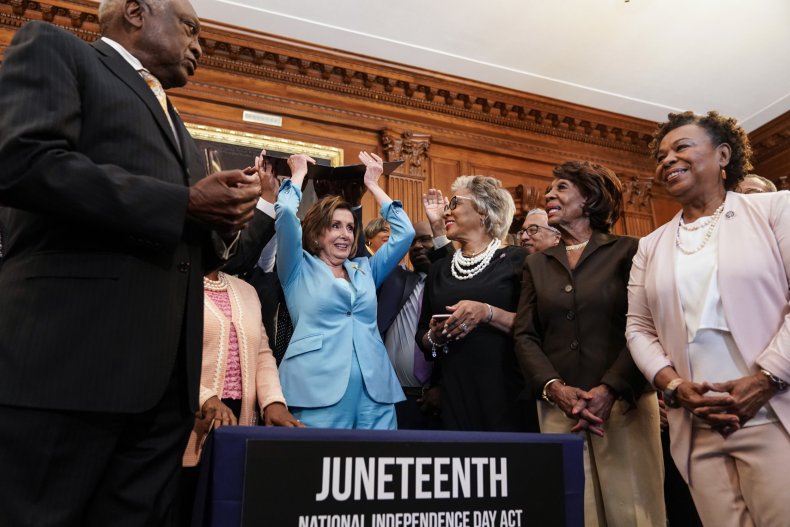 Vice President Kamala Harris, the first Black woman to hold the role, acknowledged the people who had been "calling for this day for so long."
"Your nation thanks you all," she said. "When we establish a national holiday, it marks something important."
Harris, tearing up, noted that the White House, where the bill was being signed, was built by slaves and Lincoln had been assassinated blocks away.
"It was an indeed important day," she said.
The Juneteenth resolution's bipartisan passage came this week in a divided Congress after years of resistance, with the Senate ultimately voting unanimously in favor of the legislation and just 14 Republican House members voting against it.
It will be the United States' 11th federal holiday, joining the ranks of President's Day and Thanksgiving, and the first new one created since Martin Luther King Jr. Day was established in 1983.
Under Senate Resolution 475, June 19 will be the next legal public holiday after Memorial Day.
On Juneteenth, federal government employees will get a paid day off, non-essential federal government offices will be closed and stock market trading could be suspended. Because the holiday falls on a Saturday this year, many public offices will close on Friday.
"To honor the true meaning of Juneteenth, we have to continue toward that promise of equality because we've not gotten there yet," Biden said.