Is Juneteenth a Federal Holiday in 2021?
June 19 marks a day of celebrations for African Americans across the U.S. as they commemorate the end of slavery in the country.
Celebrated since the late 1860s, Juneteenth, as the date has become known, has developed to be a nationally recognized day of festivity, with several cities planning events to commemorate the day.
Here's all you need to know about June 19.
What is Juneteenth?
June 19 is a day of celebration for African Americans across the country, as it marks the day in 1865 when Texas became the last state to announce the Emancipation Proclamation, bringing slavery to an end throughout the nation.
The Emancipation Proclamation had been issued on January 1, 1863 by President Abraham Lincoln but the last enslaved Black people in Texas learned of their freedom only over two years later, when Union General Gordon Granger arrived in Galveston to announce the Civil War had ended—Confederate General Robert E. Lee had surrendered approximately two months earlier—and that slavery had been outlawed.
The day, also occasionally referred to as Freedom Day, has been celebrated since 1866 and it has since developed from a local event mostly confined within Texas to a nationwide celebration recognized as a state holiday or special day of observance in 47 of the 50 U.S. states.
Is Juneteenth a federal holiday?
June 19 became officially recognized as a federal on Thursday, when President Joe Biden signed a resolution proclaiming June 19 as Juneteenth National Independence Day.
It is the first national holiday declared since then-President Ronald Reagan named Martin Luther King Jr. Day a holiday in 1983.
The federal holiday will be celebrated each year on June 19, but this year the celebrations will be held a day earlier as June 19 falls on Saturday.
"This is a day that's profound in my view—profound in weight and profound in power," Biden said.
"I'm especially pleased that we showed the nation that we can come together as Democrats and Republicans to commemorate this day with an overwhelming bipartisan support in Congress."
Vice President Kamala Harris, the first Black woman to hold the role, acknowledged the people who had been "calling for this day for so long."
"Your nation thanks you all," she said. "When we establish a national holiday, it marks something important."
Texas was first the state to designate the day as a holiday back in 1980, although the recognition is mostly symbolic. In October last year, meanwhile, New York Gov. Andrew Cuomo and Virginia Gov. Ralph Northam both signed into law bills proposing to make the day a holiday in their respective states.
While Juneteenth is widely celebrated across the U.S., these graphics from Statista based on a Gallup poll show Americans' familiarity with Juneteenth is still limited.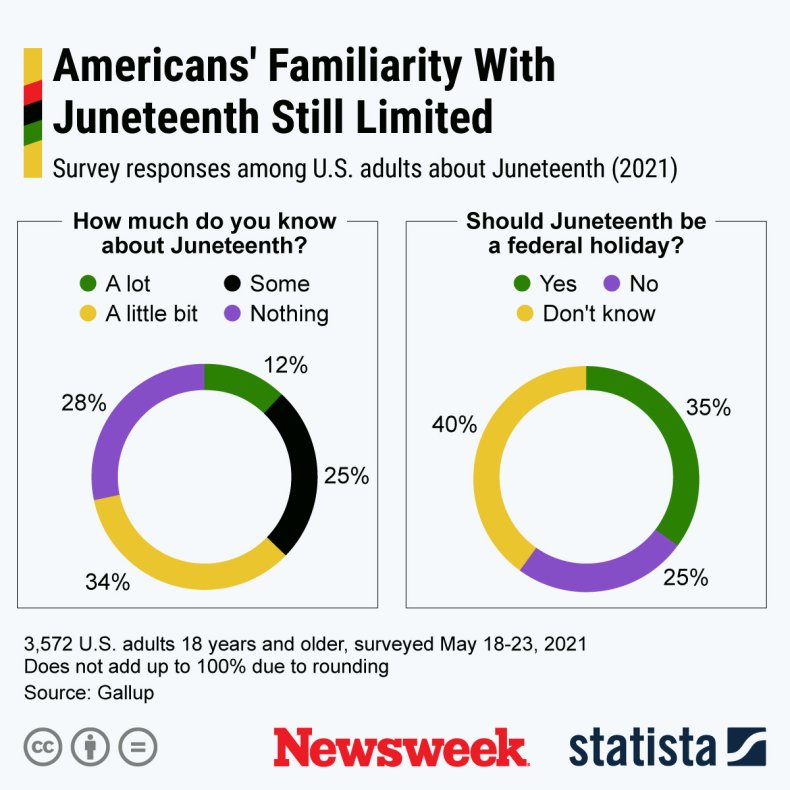 How is Juneteenth celebrated?
Initially mostly a day that was celebrated by families getting together and praying, Juneteenth celebrations have retained some of their original characteristics but festivities have grown in size. Food still plays a major role at family get-togethers, while cities such as New York, Los Angeles, Chicago, Detroit and Atlanta have begun holding parades and festivals to commemorate the day.
Galveston, which has long been a site of pilgrimage on the day for descendants of men and women who had been enslaved, remains a key site of the celebrations, with several events held in the city over the years on June 19. This year, Galveston will mark Juneteenth with a parade and will unveil a 5,000 square-foot mural on the spot where General Granger informed slaves of their newfound freedom.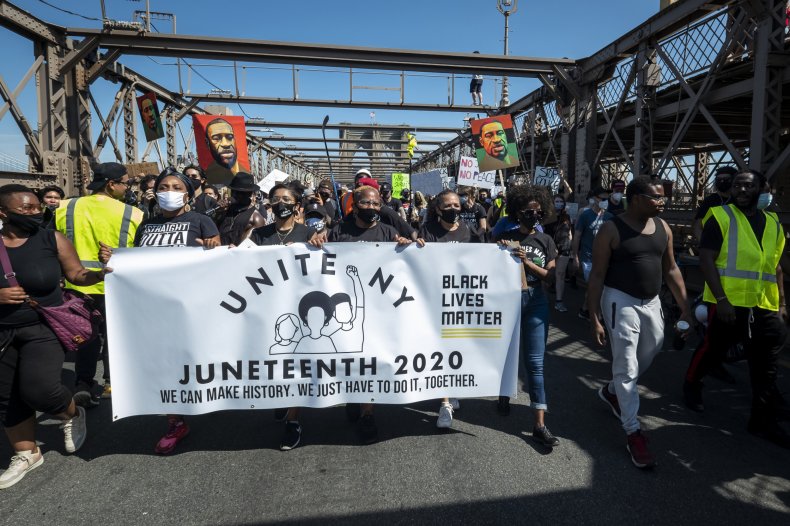 Update 6/16/21: This article was updated to include news that the Senate unanimously passed a resolution establishing June 19 as Juneteenth National Independence Day. An infogrpahic was added.
Update 6/18/21: This article was updated to include news that President Joe Biden signed a resolution proclaiming June 19 as Juneteenth National Independence Day.