Jungle Cruise was received mixed reviews from critics, despite the magnitude of Dwayne Johnson and Emily Blunt's stardom. Nevertheless, it has made a big splash on the box office both domestically and internationally.
The movie follows Skipper Frank (played by Johnson) and scientist Dr. Lily Houghton (Blunt) as they voyage down the Amazon river in search of the Tree of Life.
The story is inspired by the famed Disneyland ride of the same name.
How Much Has 'Jungle Cruise' Made at the Box Office?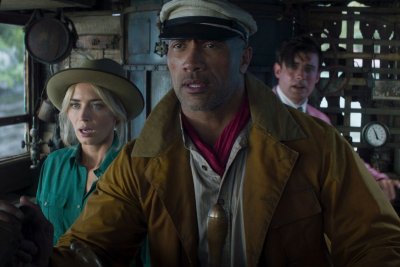 According to Box Office Mojo, Jungle Cruise has made $61,830,000 worldwide.
The movie was released on July 30 all over the world, meaning these numbers are just from its opening weekend.
Given COVID-19 restrictions are still in place in some countries, while others have rules around wearing masks in cinemas, earning this amount in the opening weekend is no mean feat.
This amount includes $34,200,000 in the U.S, and $27,630,000 around the rest of the world.
The movie was also released on Disney Plus, which adds an interesting element to the film's success.
This was also the case for Black Widow, the first film outing of Marvel's phase 4.
The film did not fare so well at the box office, with the National Association of Theatre Owners (NATO) announcing it had a 41 percent drop 24 hours after its first day in movie theaters.
In a statement, NATO said: "Why did such a well-made, well-received, highly anticipated movie [Black Widow] underperform?
"Despite assertions that this pandemic-era improvised release strategy was a success for Disney and the simultaneous release model, it demonstrates that an exclusive theatrical release means more revenue for all stakeholders in every cycle of the movie's life."
NATO also mentioned, compared to other Marvel movies and successful films released during the pandemic, the organization estimates the film could have opened to "anywhere from $92-$100 million."
After the movie's simultaneous release on Disney Plus and in theaters, star Scarlett Johansson began legal proceedings against Disney for breach of contract.
Johansson's lawsuit comes as she claims she was promised an exclusive theatrical window for Black Widow's release before it was released on Disney Plus.
She also claims in her lawsuit that part of her salary for the film would have from "box office receipts," which may have been impacted by the release on Disney Plus
In a statement, spokespersons for Disney claimed there was "no merit" to her lawsuit, after which her agent release his own statement.
Creative Artists Agency (CAA) co-chairman Bryan Lourd said: "Scarlett has been Disney's partner on nine movies, which have earned Disney and its shareholders billions.
"The company included her salary in their press statement in an attempt to weaponize her success as an artist and businesswoman, as if that were something she should be ashamed of.
"Scarlett is extremely proud of the work that she, and all of the actors, writers, directors, producers, and the Marvel creative team have been a part of for well over a decade."
What Is '

Jungle Cruise'

About?

Jungle Cruise follows a skipper and scientist as they head on a cruise down the Amazon in search of a tree which could bring healing to many.

Dr. Lily Houghton (Blunt) brings along her brother MacGregor (Jack Whitehall) while Frank (Johnson) has many things lined up for them, which he usually uses to frighten his tourists and give them the ride of their lives.

However, for Lily and Frank, love begins to blossom as they try to fight their foes, including eccentric German prince Joachim (Jesse Plemons) and a mythical soldier with a shocking past (Edgar Ramírez).