U.K. Voters Blame Government As Junior Doctors' Strike Begins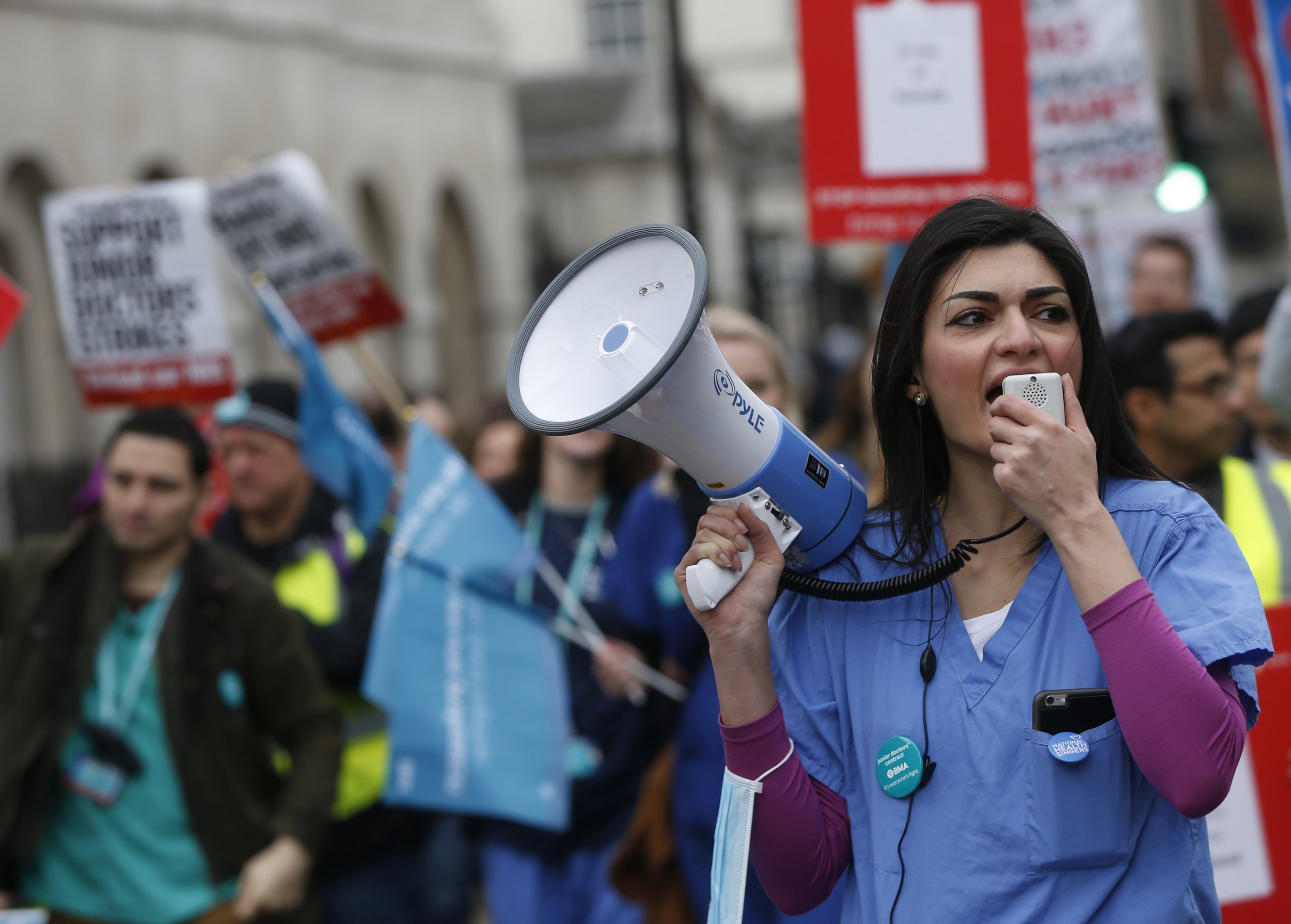 Britain's junior doctors begin strike action on Wednesday, as a poll shows voters overwhelmingly blame the government for the disruption.
Nearly 3,000 operations have been cancelled as a result of a 24-hour walkout by medical professionals starting at 0800 GMT. Emergency services will still be provided.
The strike is the latest chapter in a long-running dispute between doctors, represented by the British Medical Association (BMA), and the British government over the terms of a new contract. Changes proposed in November would have seen an 11 percent rise in basic pay for the doctors, but reductions in overtime pay and changes in the way unsociable hours are defined.
Progress has been made in talks since then but the issue of whether working Saturdays should attract a pay bonus remains controversial. Britain's Health Secretary Jeremy Hunt will be unwilling to make serious concessions on weekend pay as the new contract is part of changes being brought in by the government to enable a fuller range of health services to run seven days a week.
A poll released on Tuesday by Ipsos Mori found that 64 percent of Britons blame the government for the dispute running of for so long, compared to just 13 percent who blame the doctors and 18 percent who blame both sides.
Some 66 percent support the doctors in taking industrial action.
Doctors say that an unfair contract could prove to be unsafe for patients. "None of us want to be stood out here today," junior doctor Mark Gregory told the BBC's Today programme on Wednesday, "the issue is that the government's plans for a seven day NHS [National Health Service] will stretch a five day NHS that already has holes in its rota and it will make the rota unsafe for patients."
Critics of the strike say the NHS needs to modernize and become more flexible. Chris Hobson, Chief Executive of NHS Providers told Today that the government should consider imposing its new contract on doctors if it cannot get agreement.
Doctors have also accused Hunt of using misleading statistics to argue that care in British hospitals is significantly worse at weekends.
There are more than 50,000 junior doctors in the U.K., ranging from young medical school graduates through to relatively senior staff with around a decade of experience.
The starting salary for a junior doctor in Britain is just under £23,000 ($33,258), while those at the very top end of the scale could earn up to about £70,000 ($101,221).
Britain's health service has said it is doing everything possible to minimize the impact of the strike.