Stunning 'Juno and the Paycock' on Stage at Irish Rep as Part of Its O'Casey Season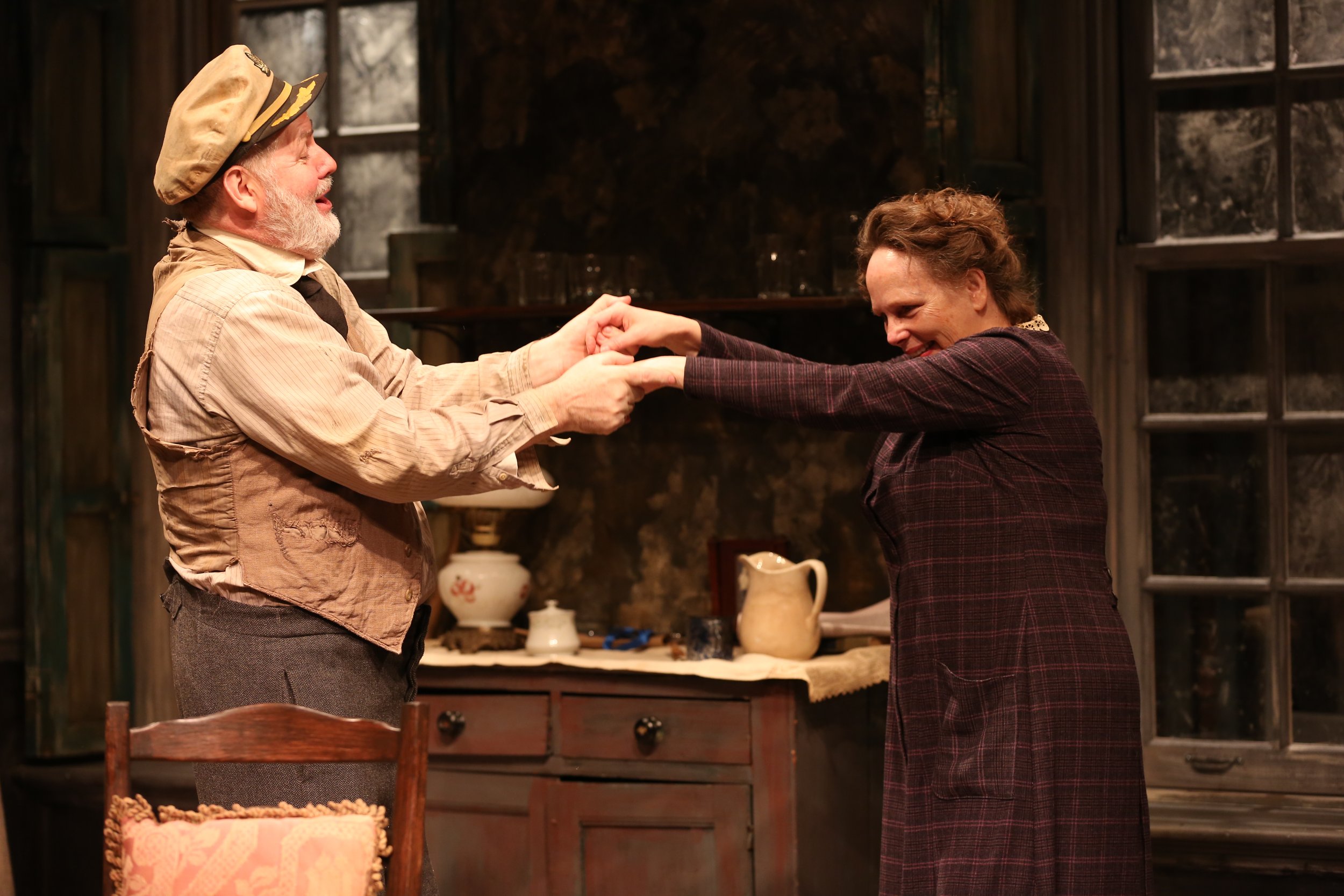 Not much violence occurs in Sean O'Casey's Juno and the Paycock, now playing at Irish Repertory Theater, but lives are wasted nonetheless. This realistic depiction of tenement life is expectedly grim—as tragedies are wont to be—but so well written and staged as to make it almost uplifting.
Realistic Irish plays are what Irish Rep does best, and this Juno is Irish Rep's best at its best. Neil Pepe, artistic director of the Atlantic Theater Company, makes his Irish Rep directorial debut; and he has not only put together a first-class production, he has made Juno a good partner to the theater's The Shadow of a Gunman. The two are now playing in repertory, soon to be joined by The Plough and the Stars. Those Saturdays (May 11, May 18 and May 25) when all three are performed on the same day should make for one very special event.
As much as some of O'Casey's characters would like to remain apolitical, that is never simple. His are not agitprop plays. Like his fellow countryman George Bernard Shaw, O'Casey has the ability to create well-rounded characters who embody a political cause or side. They are often hilariously funny, full of life, larger than life and then beaten down by life. Foremost among these characters is Juno, here played by Maryann Plunkett.
Plunkett may be best known to New York theatergoers from her work on Broadway—she won a Tony for her work in Me and My Girl—and more recently in Richard Nelson's Apple plays (as Barbara Apple) and Gabriel plays (as Mary Gabriel) at the Public Theater. She is an acting treasure whose subtle performances too often slip under the radar.
Plunkett fits into the role of long-suffering Juno—the only working member of this troubled family—so easily that it is hard to believe this is her Irish Rep debut. Her Juno can seem outwardly fragile while simultaneously taking on all the troubles of the world—well her world.
Ciarán O'Reilly, who directed the first play of the O'Casey season, is Jack Boyle, the titular "paycock." Boyle has been on the dole for God knows how long, but that does not slow him down a bit. He struts about the stage like an inebriated peacock. That is until the possibility of work nears; then his knees are subject to the worst of pains. O'Reilly is makes him an endearing and pathetic ne'er-do-well.
Boyle is Captain Jack to his friends though as one character says "a row on a river would make him seasick." He can spin yarns and down seemingly endless numbers of pints. He is almost a stock character in Irish literature: a lazy, but lovable drunkard, the kind Barry Fitzgerald got famous playing in Hollywood. It's probably no coincidence that Fitzgerald originated the role at the Abbey Theatre in 1924.
Boyle is enabled in his slothful existence by his friend Joxer, a weaselly rogue who can take any side of an argument, depending on who is giving it. He is somehow made appealing by Irish Rep regular John Keating.
The Boyles' son Johnny was injured in the Irish Civil War; his arm is gone, and his hip is useless. His is a classic case of post-traumatic stress disorder with a subcurrent of guilt thrown in—and it's not all that sub. He is played by Ed Malone, who plays the fatuous Republican Tommy Owens in The Shadow of a Gunman. Johnny is what Tommy could become: a casualty of a war that seems destined to never end.
A little light enters into the Boyles' dark lives through their daughter Mary. She is seeing Charles Bentham, a teacher who brings news that Jack's first cousin has left him an inheritance in his will. Before you know it, the Boyle house is refurnished, a brand-new expensive-looking gramophone is playing and life seems good.
Except that this is an Irish play, and that so often means nothing good can come of good fortune. As funny as the first half of the play is, the second is pure hell for the Boyles. O'Casey is masterful in depicting the subtle unraveling of their lives, elevating what could, in lesser hands, be melodrama to tragedy.
Juno is a masterpiece of 20th-century drama, and this production, with its great ensemble acting and expert direction, brings out its best qualities. Everything about Irish Rep's O'Casey season has met its high expectations, and one can hardly wait for April 20, when The Plough and the Stars starts performances.
Juno and the Paycock is playing in repertory with The Shadow of Gunman. For more information go to IrishRep.org.