What's Happening With Junot Díaz? Author Accused of Sexual Misconduct After 'New Yorker' Article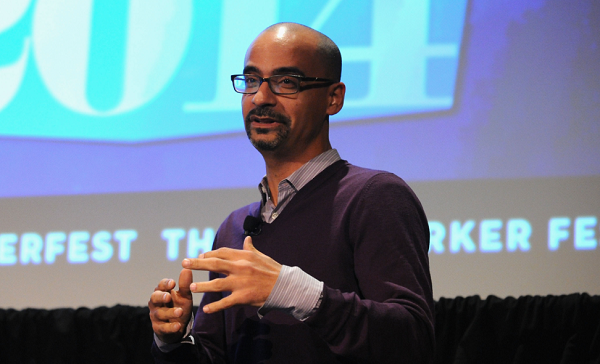 Just weeks after Pulitzer Prize–winning author Junot Díaz revealed his history as a victim of rape in a New Yorker article, now he is being accused of sexual misconduct.
Author Zinzi Clemmons accused Díaz on Twitter early Friday morning of forcibly kissing her while she was at graduate school. "As a grad student, I invited Junot Díaz to speak to a workshop on issues of representation and literature. I was an unknown wide-eyed 26 yo, and he used it as an opportunity to corner and forcibly kiss me. I'm far from the only one he's done this 2, I refuse to be silent anymore," Clemmons wrote.
Clemmons, whose 2017 book, What We Lose, won her national acclaim, said she told "several people" of the incident when it occurred. "I have emails he sent me afterward (*barf*). This happened and I have receipts," she added.
Díaz has not yet replied to a Newsweek request for comment.
Soon after Clemmons made her accusation, a number of other authors claimed they experienced verbal abuse and volatile behavior by Díaz, who has written multiple New York Times best-sellers, including 2007's The Brief Wondrous Life of Oscar Woa, which won him the Pulitzer Prize.
Her Body and Other Parties author Carmen Maria Machado also shared an alleged encounter with Díaz, claiming the 49-year-old became verbally aggressive during a Q&A for his This Is How You Lose Her book tour. Machado said Díaz became angry and yelled at her when she questioned his protagonists' "unhealthy, pathological relationship with women."
Meanwhile, acclaimed sci-fi novelist Monica Bryne accused Díaz on Facebook of volatile behavior toward her at a dinner after-talk in 2014. "He literally shouted the word 'rape' in my face. This is after knowing me for maybe ten minutes. His response was completely bizarre, disproportionate, and violent. I was speechless and felt sick. I would have, anyway, but this was also only two weeks after I'd been sexually assaulted in Belize," Bryne wrote.
Clemmons received an outpouring of support on social media after making the allegations. Several people suggested Díaz's article for The New Yorker on April 16, in which he details being raped, was his way of not only sharing the abuse he suffered but also addressing his own alleged misconduct.
Díaz described in the article the immense trauma he experienced throughout his adolescence and young adult life after being raped by an adult he trusted when he was 8 years old. "I was confused about why I didn't fight, why I had an erection while I was being raped, what I did to deserve it. And always I was afraid—afraid that the rape had 'ruined' me; afraid that I would be 'found out'; afraid afraid afraid," he wrote. "The rape excluded me from manhood, from love, from everything."