'Jurassic World: Fallen Kingdom' Trailer Breakdown: New Dinosaurs, Volcanoes and Jeff Goldblum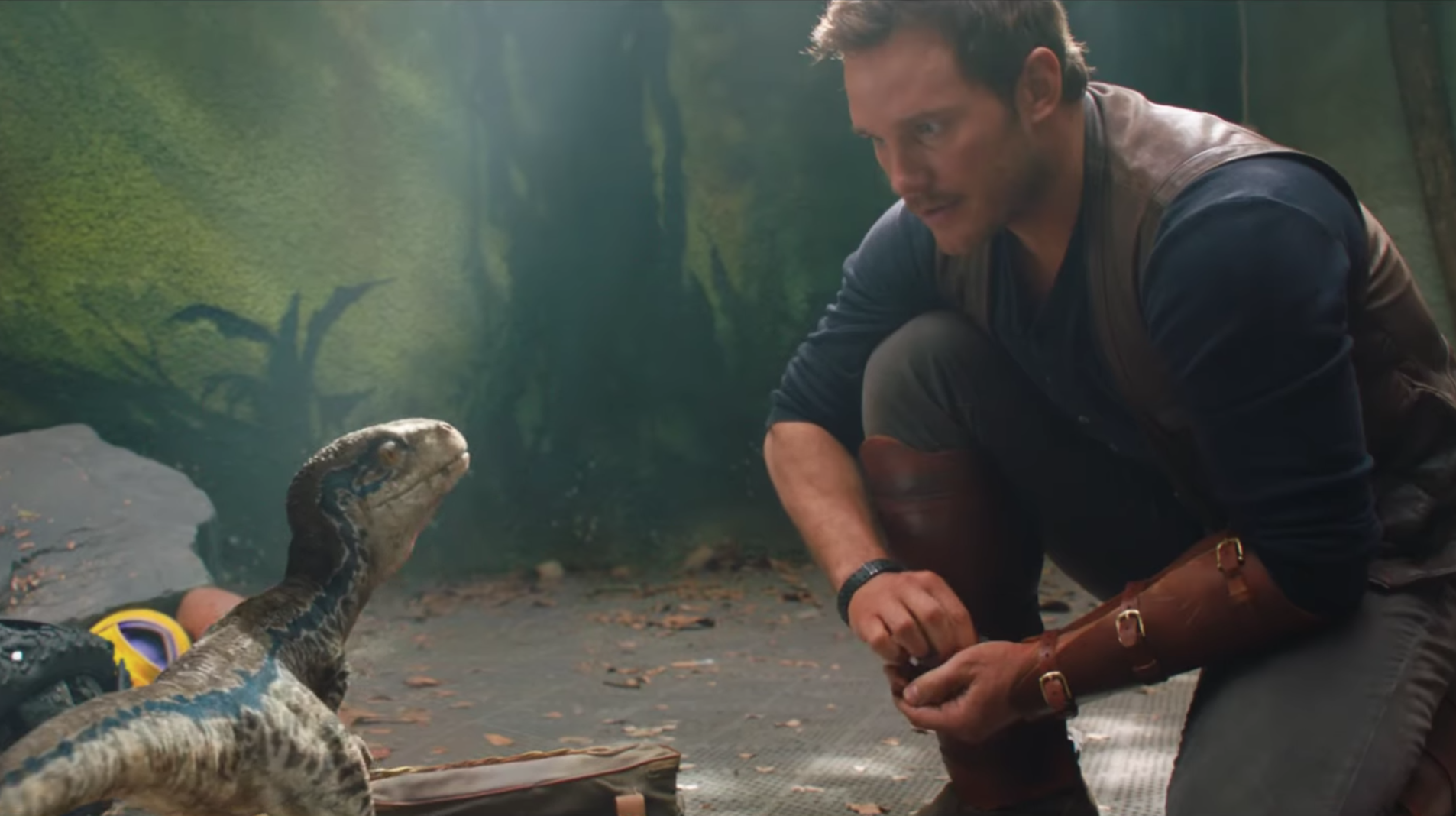 After a week of anticipation, thanks to Universal Pictures building up the appropriate hype, the first full-length trailer for Jurassic World: Fallen Kingdom dropped on Thursday night. And dino-lovers everywhere agree: It was worth the wait.
The trailer opens with romance—courtesy the Irma Thomas hit "Anyone Who Knows What Love Is"—but quickly gets straight to the action. Fans are introduced to a brand new dinosaur, Chris Pratt cuddles a baby raptor and most importantly, Jeff Goldblum returns as Dr. Ian Malcolm.
And that's just the first half of film, according to screenwriter Colin Trevorrow.
That's one action-packed first act! Here are six of the most exciting shots:
Jeff Goldblum's triumphant return.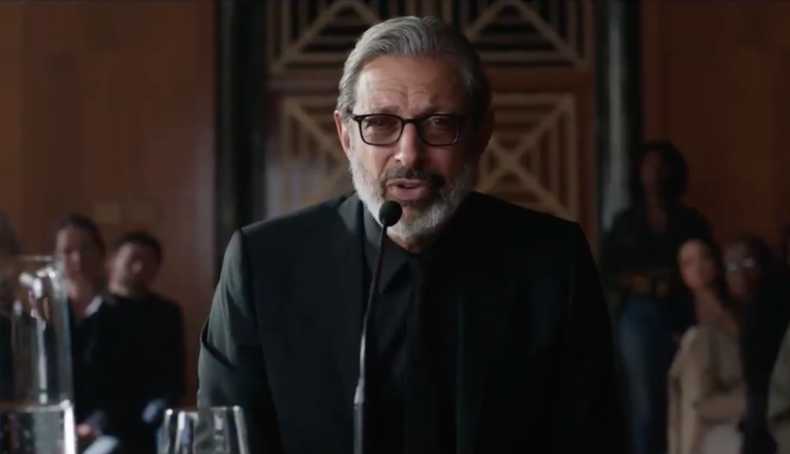 Dr. Malcolm is back! The glimpse we get of him in a courtroom might from his only scene in the film, but let's hope um eh ah Jeff finds a way into the rest of the movie.
This new horned, toothy guy.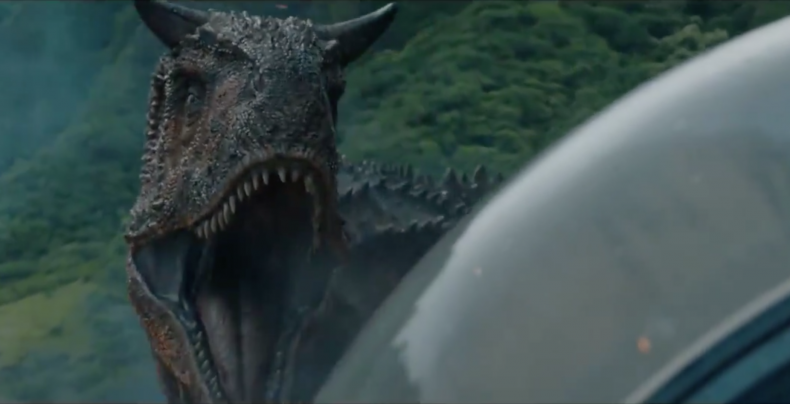 Why hello there! Who are you, Satan-looking dino? Oh, you're being eaten by a T-Rex? Never mind then. This is just one of several new creatures we reportedly going to see in Jurassic World: Fallen Kingdom.
Chris Pratt cuddles a baby Blue.
Listen, even if this movie is trash, Owen Grady's dino mothering will make it worth it. Look at how cute baby Blue the raptor is in this flashback! Oh, and apparently Blue is still alive, per a scene later in the trailer.
Isla Nublar is exploding.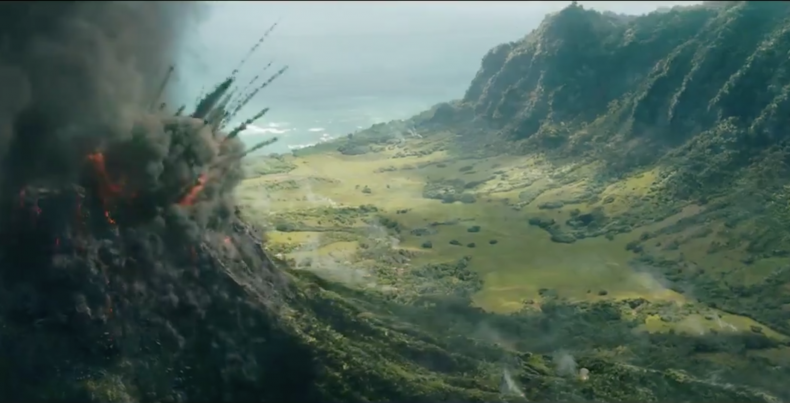 A '90s-esque monster movie combined with a '90s-esque volcano island movie. What more can you ask for?
Giant dinosaur stampede into the sea.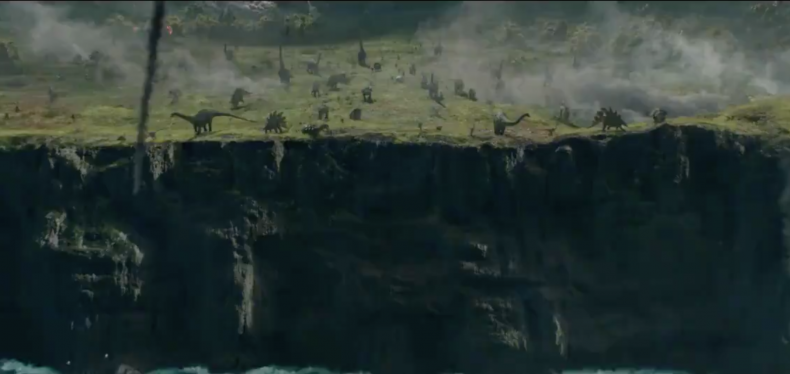 As action sequences go, a dino stampede is an oldie but a goodie that calls back to the original 1993 Jurassic Park. ("They're flocking this way!") But in Fallen Kingdom, the moment is jazzed up a bit by the ending: a swarm of dinosaurs falling straight into the ocean. That underwater shot could also be a hint that our aqua-loving sea monster from Jurassic World might return.
Bryce Dallas Howard (maybe) has a hot new boyfriend.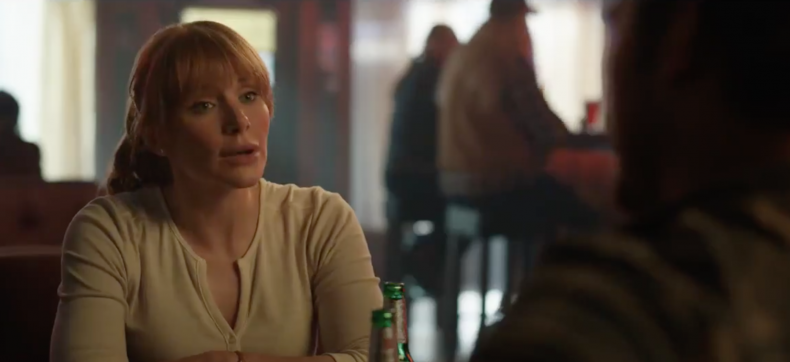 Owen (Pratt) asks Claire (Howard) if she's dating an accountant or a ventriloquist in that opening shot, making clear to the audience they are no longer together. But come on, we know that won't last. Not after she sees that footage of Pratt cuddling with his reptilian baby.
Jurassic World: Fallen Kingdom is directed by J.A. Bayona (The Impossible), produced by Steven Spielberg and Colin Trevorrow, and will hit theaters June 22, 2018.