Jeff Goldblum Returns as Ian Malcolm in 'Jurassic World: Fallen Kingdom' Behind-the-Scenes Video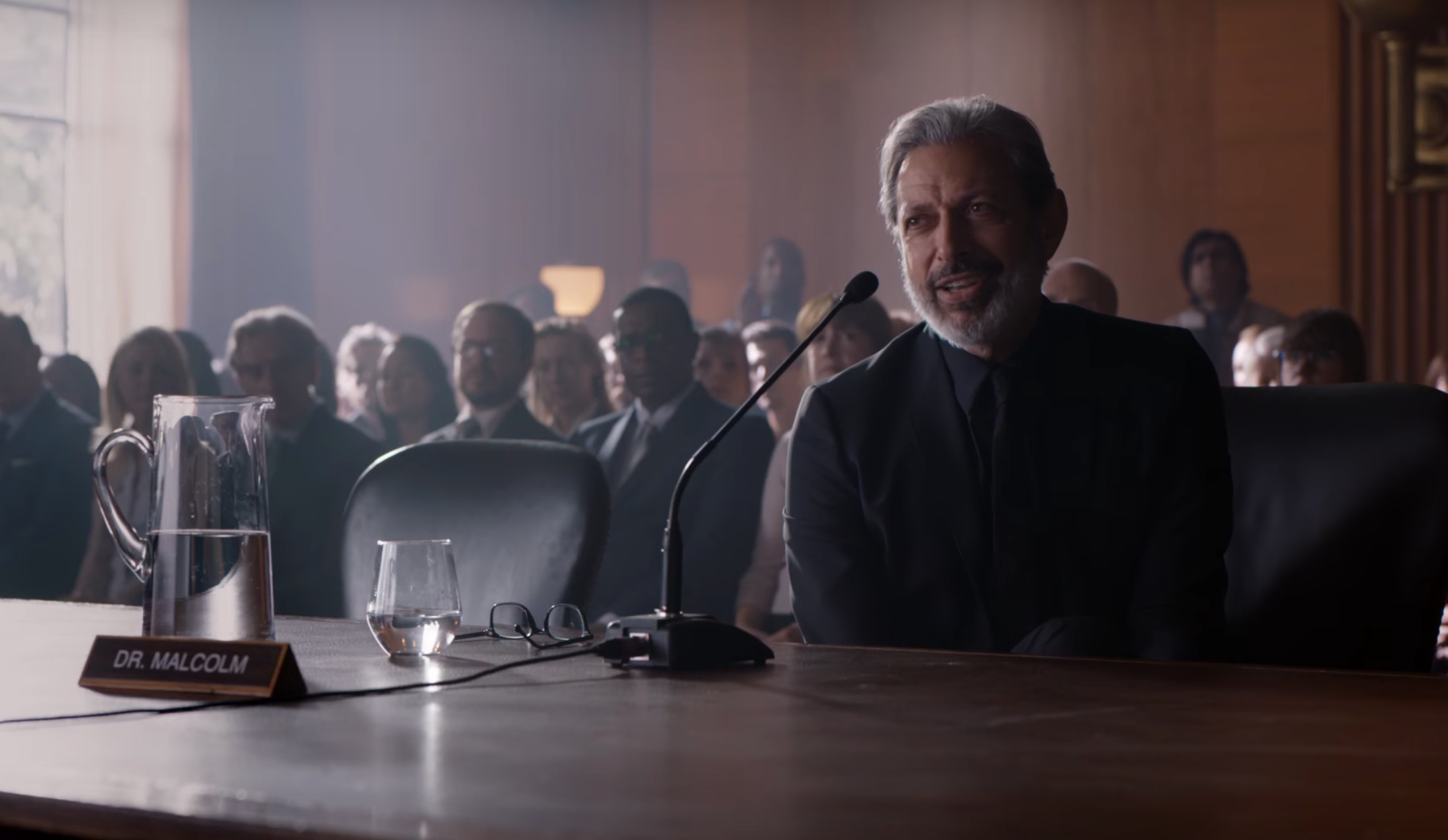 The Jurassic World: Fallen Kingdom trailer is slated to drop on Thursday, and fans are expecting big things from these dinosaurs. Universal Pictures has been hyping the first trailer all week, with numerous teasers and first looks. Continuing with the theme, they released a special behind-the-scenes video.
The newest clip is admittedly awesome, namely because it finally gives fans a look at the triumphant return of Jeff Goldblum as Dr. Ian Malcolm. A glimpse at filming a courtroom scene features Dr. Ian sitting on a panel behind his Dr. Macolm nametag, delivering the hint-hint/wink-wink line: "Here I am talking about dinosaurs again?"
Chris Pratt, who plays the Goldblum-esque starring role of Owen Grady in the reboot films, is just as excited as any fan to have Dr. Ian back. "Jeff Goldblum, not gonna lie, that's pretty awesome!" he says to the camera.
Fans first learned Goldblum would reprise his 1993 and 1997 role in the Jurassic World sequel in April. This announcement came only a year after Goldblum told Fandango he had no plans to return to the franchise that made him famous. There's no saying what changed his mind (money), but whatever it was (money), we're grateful!
It's already been a big year for Goldblum, who was highly praised for his comedic role in 2017's Thor: Ragnarok. The role also earned him some younger fans, so even Jurassic World lovers who weren't around for the original '90s hit are thrilled to see him back in dino-land.
Alongside Goldblum and Pratt, the film also stars Bryce Dallas Howard and B. D. Wong reprising their roles from Jurassic World who will be joined by newcomers Toby Jones, Rafe Spall, Justice Smith, Daniella Pineda, Ted Levine, Geraldine Chaplin and James Cromwell. The plot revolves around a volcanic eruption on the Isle Nublar (AKA the island with all the dinosaurs), which forces Owen Grady (Pratt) and Claire Dearing (Howard) to do everything they can to save the prehistoric creatures.
Jurassic World: Fallen Kingdom is expected to hit theaters June 22. Stay tuned for the trailer tomorrow!
Jeff Goldblum Returns as Ian Malcolm in 'Jurassic World: Fallen Kingdom' Behind-the-Scenes Video | Culture