Jury Awards $3 Million To Woman Who Lost A Toe In A 2013 Escalator Accident
A jury has awarded $3 million to a woman who lost her toe on a mall escalator in December 2013, according to ABC News 4. The woman, Aisha Siddiqui, who is an aspiring surgeon, lost her right big toe while on an escalator at Little Rock mall in Arkansas.
Siddiqui did not file her lawsuit against the mall until 2014, 10 months after her injury. At the time of the accident, Siddiqui was wearing a boot. The incident was captured on mall surveillance tapes. She released a statement acknowledging her decision to pursue a lawsuit.
"I never wanted to to be involved in a lawsuit, and I had to relive this horrible experience when I testified about it," said the statement by ABC News 4. "It was never about the money. I did this because they were telling me this was my fault and I knew it wasn't. My hope is that this will go a long way to helping keep public safety in the minds of companies responsible to protecting us all."
According to Siddiqui's attorney, Denise Hoggard, Siddiqui's foot somehow became lodged between the tooth-like rungs in the escalator step.
"She simply went to the mall, went shopping and came out without a toe," Hoggard said. "When her foot was lodged in there and was being drug forward, the machinery inside that escalator ground her toe up into hamburger meat."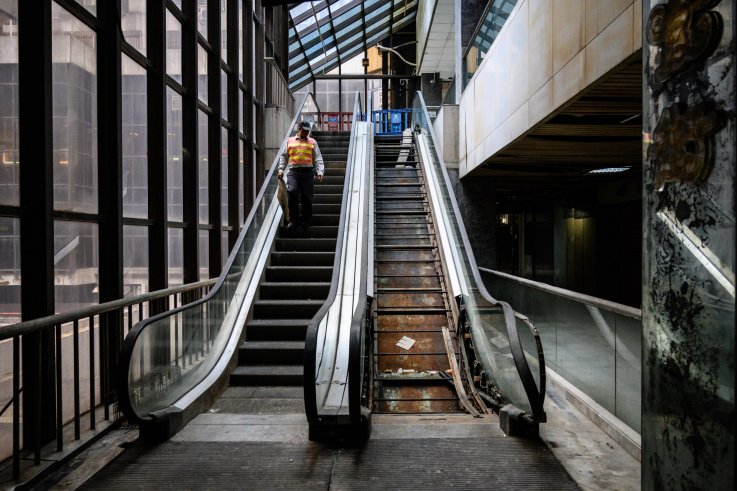 Five years after the accident, Siddiqui is still recovering. She's undergone two surgeries, which amounted to six months of recovery. Now, she and her lawyer claim her future medical career is at stake.
"We still don't know if she is going to meet the physical requirements of completing her rotations, because they require long hours on your feet," Hoggard explained.
Hoggard noted the mall did not initially claim responsibility for Siddiqui's accident, but the escalator, which was built in 1988, has been removed and upgraded. It now has an automatic stop sensor, which will prohibit other's body parts and items from getting demolished by stopping the machinery when an object becomes lodged in the steps.
This isn't the only time an escalator accident has made major news in 2018. In October, a cell phone video surfaced, which showed a major escalator malfunction in Rome which injured about 20 pedestrians, according to Vice. The escalator halted before speeding up to an unusually fast speed, which sent the riders flying down the stairs. The people, who were attending a soccer match, piled up on top of one another at the bottom of the moving staircase.
Jury Awards $3 Million To Woman Who Lost A Toe In A 2013 Escalator Accident | U.S.