El Chapo Trial: Michael Jackson Impersonator and Man Who Asked Drug Kingpin for Autograph Disqualified from Jury Selection
The trial of Mexico's Sinaloa Cartel kingpin Joaquín "El Chapo" Guzmán has kicked off in Brooklyn, New York, with the selection of possible jurors this week. However, some of them have been rejected for a number of reasons.
Some of the prospective jurors quizzed Monday included a Michael Jackson impersonator and a person who works near a deli that sells a bagel sandwich named after the drug baron. "I don't know why it's called the 'El Chapo,'" he told the court, "but it's delicious," according to The Daily Beast citing the Associated Press. Another man suffered a panic attack and was transferred to a hospital.
Given the reputation of "El Chapo" as a dangerous individual, jurors will remain anonymous. In the case of the MJ impersonator, prosecutors worried that he would be identified because there weren't many imitators of the "king of pop" in the city, AP reported. When Guzman's lawyer Eduardo Balarezo learned about what the prospective juror did for a living, he asked to "show us the moonwalk!," The New York Post reported.
At least 17 people were dismissed on Monday, as some of them said they feared of their lives if selected. One prospective juror told Judge Brian Cogan that Guzman's family were "making threats to the family of jurors." Meanwhile, Guzman's lawyers said the heightened security measures give a false portrayal that their client is indeed a violent man. CBS News reported that Guzman has pleaded not guilty to 17 counts of money laundering and drug smuggling.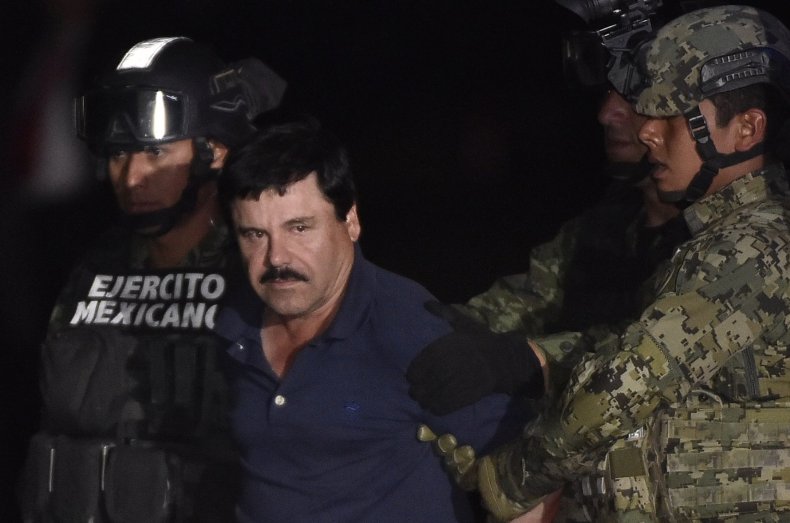 As jury selection resumed Tuesday, another man who asked the drug kingpin for an autograph was disqualified, according to Colombian newspaper El Espectador. The man who was born in Medellín, Colombia, said he was familiar with the history of drug-related terrorism, in reference to late Medellín Cartel leader Pablo Escobar, and confessed to being a fan of narco-trafficking shows. Even though he argued that his preference for such TV programs would not refrain him from being a good juror, the judge ended up tossing him after he requested a signature from Guzman after being quizzed.
According to Agence-France Presse, when the Colombia-born man said he was "a bit of a fan of El Chapo," Guzman, who faced the men and women who would reach a final verdict, smiled.
The judge, prosecutors and Guzman's defense have vetted at least 60 potential jurors. They expect to come up with a group of 12 and six alternates who will be part of a four-month-long trial. Armed U.S. marshals will escort them to and from the courthouse, the Post said.
Guzman made headlines after escaping from Mexican prisons twice. In 2015, he fled in a motorcycle during a mile-long ride. Six months later, local authorities apprehended and subsequently extradited him to the United States.