Opening Statements in Trial for Cops Connected to George Floyd's Death Come Monday
On Thursday, jury selection concluded after just one day in the federal trial for three Minneapolis police officers charged in George Floyd's death.
Opening statements in the trial are scheduled for Monday. Some evidentiary issues will be addressed Friday.
J. Kueng, Thomas Lane, Tou Thao, and Derek Chauvin, another former Minneapolis police officer who was convicted for Floyd's death, are charged with willfully depriving Floyd of his constitutional rights while "acting under color of law," according to the federal indictment unsealed in May last year. The indictment says the three men are also charged with failing to aid Floyd with medical care despite knowing he needed it.
Additionally, Kueng and Thao are charged with failing to stop Chauvin from using unreasonable force that resulted in Floyd's death, according to the indictment.
In videos from bystanders, Kueng and Lane are seen helping to restrain Floyd as Chauvin knelt on his neck for over nine minutes in the attempted arrest on May 25, 2020. Thao managed the crowd of bystanders, keeping them away from Floyd. Floyd was handcuffed and lying flat on his stomach, saying he couldn't breathe multiple times.
Jury selection was swift, unlike Chauvin's state trial, which took over two weeks for a jury to be selected.
The AP reported the jury appeared mostly white. Chauvin's jury was half white, half nonwhite.
U.S. District Judge Paul Magnuson questioned potential jurors Thursday in St. Paul before final choices were made. Potential jurors had already filled out a questionnaire about where they live, their job history, education, military service, hobbies and families.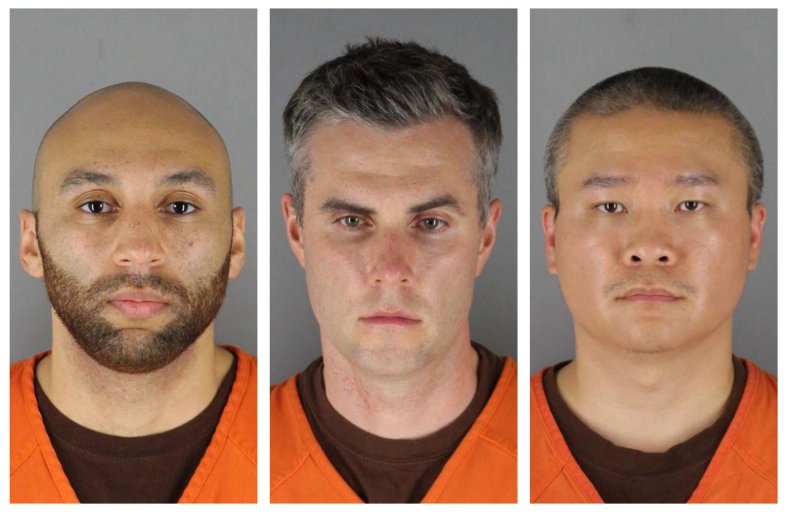 Magnuson continued his questions until 40 potential jurors were selected. The defense and prosecution were then allowed to use challenges to strike jurors. Out of the 40, 18 jurors, composed of six alternates and 12 to deliberate, were selected.
During the selection process, Magnuson told jurors they must disregard any information they may have learned in Chauvin's state trial and determine this case based on its evidence, according to AP. He asked several jurors if they could differentiate, singling them out by number. He said he was "harping and harping and harping" on the issue because federal and state law is different, and he wanted to ascertain the jurors could be objective.
Magnuson expects the trial to last four weeks. It will be more complicated than the state trial, though, legal experts say, because prosecutors must prove the officers deliberately violated Floyd's constitutional rights by unreasonably seizing him and depriving him of liberty without due process, legal experts say.
Violating constitutional rights, depending on the circumstances and any resulting injuries, could lead to a sentence of up to life in prison or even the death penalty, according to the Department of Justice.
The maximum penalty is extremely rare, though, USA Today reported. Federal sentencing guidelines have complex formulas that suggest the officers would get a lesser sentence if convicted.
Update 01/20 6:30 PM: This story was updated with a new headline details to reflect jury selection concluded, and minor edits.