Jussie Smollett Update: Actor's Google Data, Including Search History and Emails, Ordered in Search Warrant
Jussie Smollett's legal drama is continuing in the new year.
Nearly a year after the actor made headlines for allegedly staging a homophobic attack against himself in Chicago, an Illinois judge has now ordered Smollett's personal electronic data be handed over to a special prosecutor, according to reports published on Wednesday.
A judge signed a warrant on December 6 ordering Google to deliver all of Smollett's Google search and browsing history, Google Drive and Google Voice files, emails (included those drafted or deleted), photographs and geolocation data from November 2018 to November 2019. The warrant also extends to Smollett's manager, Frank Gatson.
According to The Chicago Tribune, when signing the warrants Judge Michael Toomin told Google not to disclose that they were ordered to give investigators the information. However, it is unknown if Google has complied with the warrants.
Google did not respond to Newsweek's request for comment.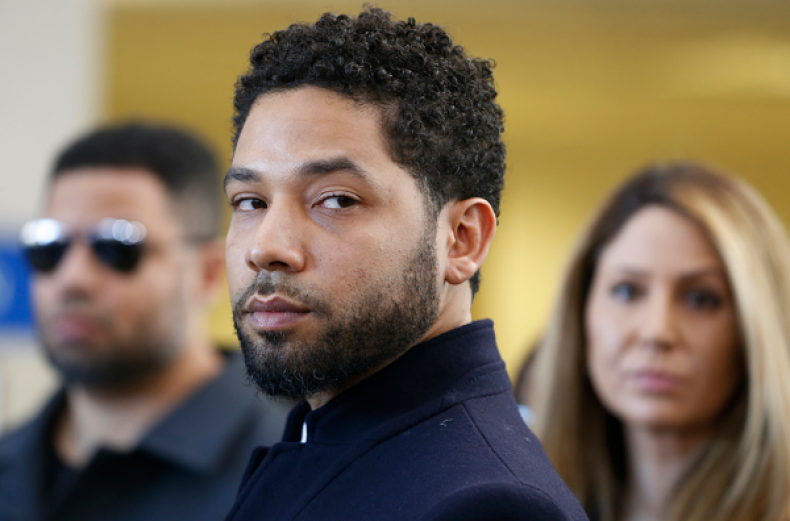 The search warrant is just the latest development in the ongoing investigation of Smollett. The actor, who rose to fame with his role of Jamal Lyon on Fox's hip-hop drama series Empire, was initially charged with 16 counts of felony disorderly conduct after he was suspected of paying the two men accused of assaulting him.
Smollett was taken to a hospital after being attacked by masked assailants near his Chicago apartment on January 29, 2019. In a police report, the actor and singer claimed the men doused him with an "unknown chemical substance" and wrapped a rope around his neck. He also reported his attackers yelled homophobic slurs and referenced President Donald Trump's campaign slogan, "Make America Great Again."
Brothers Olabinjo and Abimbola Osundairo were arrested for their suspected roles in the attack in early February. However, the men were released from police custody on February 15, 2019, without being charged, after which reports surfaced that the men had personal relationships with Smollett and worked on the set of Empire. The brothers claimed Smollett paid them to assault him, thus changing the course of the investigation.
Authorities quickly announced plans to interview Smollett a second time. Then on February 20, 2019, Smollett was hit with felony disorderly conduct charges. Smollett continued to maintain his innocence but turned himself in to authorities.
The case took a major turn in March when all charges against the actor were dropped, sparking outrage from the Chicago police department.
"[Smollett] was a victim who was vilified and made to appear as a perpetrator as a result of fake and inappropriate remarks made to the public causing an inappropriate rush to judgment," Smollett's attorneys, Tina Glandian and Patricia Brown Holmes, said in a statement at the time.
"Jussie and many others were hurt by these unfair and unwarranted actions. This entire situation is a reminder that there should never be an attempt to prove a case in the court of public opinion. That is wrong. It is a reminder that the victim in this case, Jussie, deserves dignity and respect," the statement continued.
The 37-year-old wasn't quite off the hook, though. In June 2019, an Illinois judge appointed a new special prosecutor to investigate Cook's County State Attorney Kim Foxx's handling of the initial case and the abrupt decision to drop the charges Smollett was facing. Should any incriminating evidence be found, Smollett could be facing new charges regarding the incident.
Smollett also faces a lawsuit from the city of Chicago for the $130,000 in overtime amassed by the Chicago Police Department to investigate the attack, though the actor has a counterclaim against the city which says that the investigation and accusations from the department have caused "humiliation, mental anguish and extreme emotional distress." Smollett's suit says the city should not be allowed to recover the overtime costs because Chicago accepted a $10,000 payment "as payment in full in connection with the dismissal of the charges against him."
The Osundairo brothers have also filed a suit against Smollett's attorneys for defamation after the team of lawyers argued that the two men lied about Smollett paying them for the attack in order to avoid charges.
Reps for Smollett did not respond to Newsweek's request for comment.