Jussie Smollett Says Attackers Did Not Wear MAGA Hats, Doesn't Need 'Cherry on Top of Some Racist Sundae'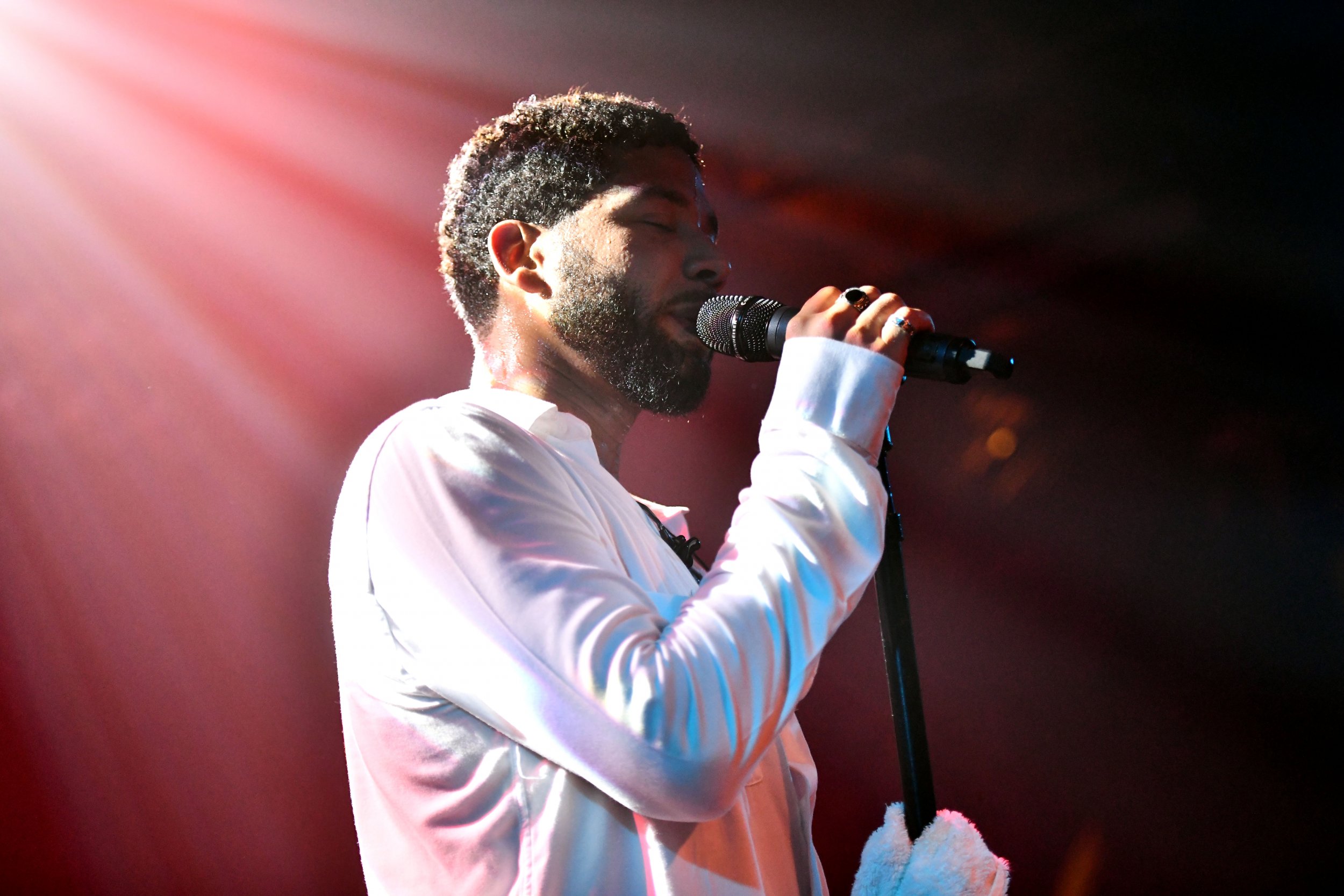 Empire star Jussie Smollett has revealed his attackers were not wearing MAGA hats. The assumption was a rumor, he alleged in his first interview about the attack with Good Morning America on Thursday.
"I never said that. I didn't need to add anything like that," he told host Robin Roberts of the rumored hats. "They called me a f*****. They called me a "n*****." There's no which way you cut it. I don't need some MAGA hat as the cherry on top of some racist sundae."
Smollett revealed he can positively identify his attackers from a surveillance photo the Chicago Police Department released at the end of January. The actor and musician was assaulted near his Chicago apartment on January 29 when two men put a noose around his next and poured a chemical substance on him, according to the police report.
When asked what motivated the attack, Smollett responded. "I can only go off of their words. Who says 'F*****, Empire n*****. This MAGA country n*****," ties a noose around your neck and pours bleach on you? And this is just a friendly fight?"
The actor is positive the two men in the released photograph are his attackers. "I was there. For me, when that was released I was like 'Okay we're getting somewhere,'" he said. "You know what I'm saying? I don't have any doubt in my mind that that's them."
It might not be that simple. Even now, they're not considered suspects by the Chicago Police Department, according to TMZ, only persons of interest. In cooperation with police, Smollett learned a camera was stationed on a light pole just above where he was attacked, he explained. Though he was given hope by the discovery, police revealed the camera inside was facing the opposite direction. The camera did not reveal anything about Smollett's attack.
Immediately after the attack, Smollett transported himself to a Chicago hospital. As for why he didn't call the police right away, he noted his pride. "There's a level of pride there. We live in a society where, as a gay man, you are considered somehow, to be weak. And I'm not weak. I am not weak. And we, as a people, are not weak."
Smollett gave details on the aftermath of the attack, and his injuries. "So, during that time before they came—it took them about a half hour to come—I was looking at myself, just checking myself out. I saw the bruise on my neck, the little rope burn, but I smelled bleach. I know the smell of bleach. And I saw on my sweatshirt, it had marks on it like spots on it like when you have a bad bleach job. So, then I was like 'there's bleach on me too.'"
He kept the stains and noose until police had seen him. "When the police came, I kept the clothes on," Smollett explained. "I kept the rope. It wasn't like wrapped around, but I wanted them to see. I told them everything."