Jussie Smollett Had Brothers Do a 'Dry Run' of 'Attack' to Practice Beforehand: Prosecutor
Actor Jussie Smollett allegedly had two brothers perform a "dry run" to practice a fake hate crime attack that he staged against himself in 2019, prosecutors said Monday.
The trial against Smollett began this week in Chicago after the 39-year-old former Empire actor was accused of staging the fake attack and filing false police reports. Smollett, who is Black and gay, made national headlines in 2019 when he said he was the victim of a violent hate crime by two Nigerian brothers who supported then-President Donald Trump.
But the two brothers told police the incident was staged, and investigators arrested Smollett shortly after. Smollett has since been charged with six counts of felony disorderly conduct.
On Monday, Special Prosecutor Dan Webb told a jury that Smollett devised a "secret plan" with the brothers, who he says were his friends, and gave them supplies to perform a practice run of the attack.
According to Webb, Smollett met with one of the brothers ahead of the "dry run" to tell him specifically how he wanted them to shout racial slurs and yell "MAGA!" to make it seem like they were racist supporters of Trump.
"I want you to attack me, but when you hit me, I want you to kind of pull your punches a bit because I don't want to get seriously hurt," Smollett told the brothers, according to Webb, as reported by the Chicago Tribune.
The actor also allegedly instructed them to put a rope around his neck to "make it look more like a lynching, like a hate crime," Webb said.
During the practice, Webb added that the three men were partly captured on a surveillance camera and that Smollett's car could be seen circling the intersection where he wanted the attack to occur. In total, Smollett allegedly gave the brothers $3,500 to fake the attack and buy supplies such as a ski mask, rope, and a MAGA hat.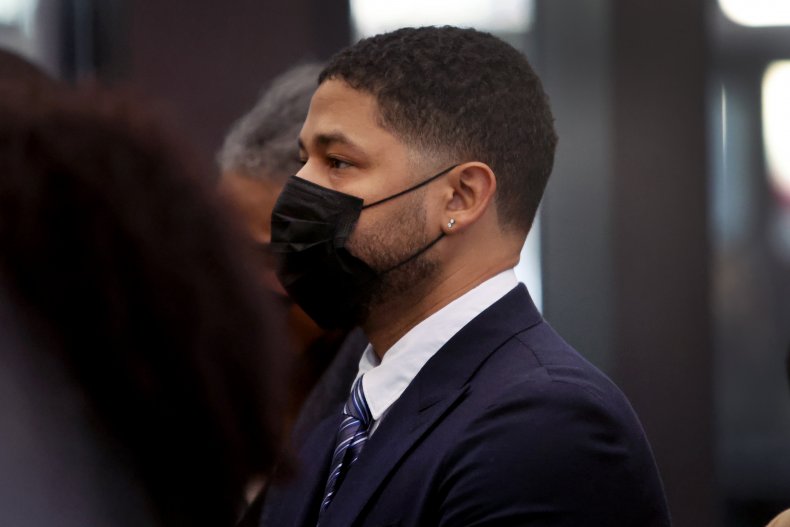 In response to Webb's statements, Smollett's defense team argued that the actor planning the crime himself was illogical and that he indeed was a real victim.
"From the very first moment, Jussie's truth, what he said happened, has remained constant, it has remained consistent, it has not changed. There has not been a Part 1, there has not been a Part 2 ... because it's the truth," attorney Nenye Uche said in his opening statement, per the Tribune.
Uche went on to say that the two brothers were "sophisticated, highly intelligent criminals," who carried out the crime against the actor.
Newsweek has reached out to Smollett's defense team for additional comment.