Jussie Smollett Hate Crime Hoaxers Speak: "He Wanted to be the Poster Boy"
The brothers who said they were paid to hoax an attack on actor Jussie Smollett to make it appear he had been assaulted by racist and homophobic supporters of former President Donald Trump have spoken out.
"He wanted to be the poster boy for activism. He wanted to be the hero for gay people," said Abimbola Osundairo of the motives of Smollett, who was found guilty of disorderly conduct over the 2019 incident just over a year ago, a conviction against which the actor is appealing. Newsweek reached out to Smollett through his representatives, but they made no immediate response.
Before it was labelled a hoax, celebrities had leapt to condemn the attack as part of an alleged pattern of growing hatred under Trump by supporters of his Make America Great Again (MAGA) campaign.
Abimbola, known as Bola, was speaking while seated next to his brother, Olabinjo, known as Ola, in video supplied to Newsweek ahead of a five-part docuseries that drops on Fox Nation March 13. The brothers "were part of an elaborate plot to perpetrate a staged hate crime on actor Jussie Smollett but have never spoken to the media about their role in the hoax," Fox Nation says in a press release. The brothers had testified against Smollett.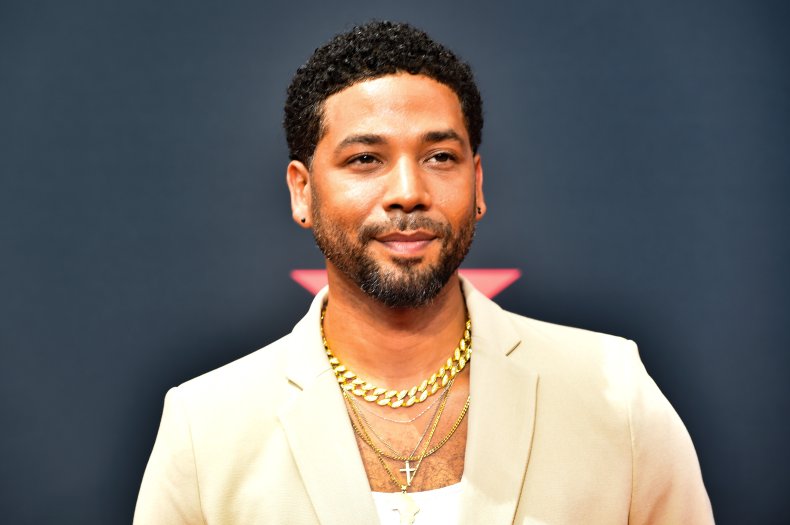 In one clip, the Osundairo brothers, who like Smollett are Black, revisit the scene of the crime and describe how they say they pretended to attack Smollett, who was a rising actor at the time due to his role on the hit TV show, Empire.
"This is where we waited for Jussie to come before we attacked him," Bola says while pointing to an empty spot on a Chicago street where a bench existed the night of the faked attack. "It was cold as balls."
At one point, the brothers reenact how they pretended to chase down Smollett — aware that security cameras were capturing the ruse — while uttering "the famous slurs he wanted us to yell," says Abimbola. "This is MAGA country!"
Bola says he threw the first punch, holding back so he didn't injure the actor. "He wanted to make it look like he fought back. That was very important for him," he says before explaining how he "gave him a noogie" with his knuckle to make it look like "he got his ass beat." Then he "fake-kicked him," Bola adds.
"That's when I came around with the bleach," his brother says, before explaining that he then placed a rope on his face, though Smollett told police it was a noose around his neck.
In another clip, former superintendent of the Chicago Police Department Eddie Johnson says he knew the moment he saw the surveillance video that it wasn't "two white guys" who perpetrated the supposed crime. "They were walking like two Black guys from the neighborhood," says Johnson. Both brothers are then shown taking issue with Johnson, with Ola saying, "We was in character the whole time."
On January 19, 2019, Smollett reported to police that racist homophobes attacked him outside his home in Chicago. His claims of a hate crime perpetrated by two men, one wearing a MAGA hat, made worldwide news and many opinion writers and celebrities used the incident to bolster their allegations of systemic bigotry in the U.S. and especially under Trump's presidency.
"Homophobia existed before Trump, but there is no question that since he has injected his hatred into the American bloodstream, we are less decent, less human, & less loving," tweeted director-actor Rob Reiner.
"I am disgusted and horrified to hear of the homophobic and racial attack on Jussie Smollett last night. Unfortunately, these hateful attacks happen way too often," tweeted Mindy Kaling, a star of The Office.
"GOP goes down with the ship," tweeted Cher
"We have a media that says it's a debate that whether or not what happened to Jussie Smollett is a hate crime. It's absurd. It's not a f***ing debate," actor Elliot Page, at the time Ellen Page, said in a TV interview.
"This is a racist hate crime and disgusting and shameful to our country," tweeted Katy Perry.
The Federal Bureau of Investigation's hate crime statistics show a total of 8,052 single-bias incidents involving 11,126 victims in 2020, the last full year of Trump's presidency, compared to 6,063 such incidents with 7,509 victims in 2016.
Smollett's story began to unravel quickly, and the home of the Osundairo brothers was raided three weeks after Smollett reported the alleged crime. During the search, police discovered evidence that the two were paid $3,500 by Smollett, whom they knew through their work as extras on Empire.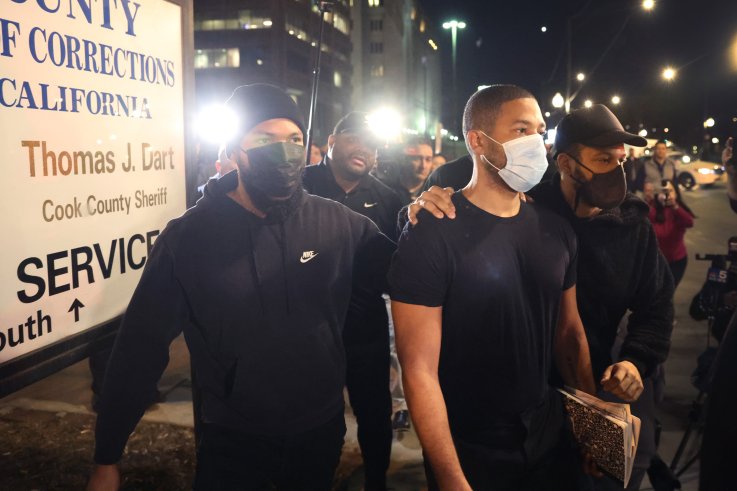 Jussie Smollett is released from the Cook County Department of Corrections detention center on March 16, 2022 in Chicago, Illinois.
Photo by Scott Olson/Getty Images
Smollett pleaded not guilty to orchestrating a hoax on March 14, 2019, and all charges were dropped 12 days later. Chicago Mayor Lori Lightfoot said at the time that the question of whether or not Smollett faked a hate crime "doesn't rank as a matter of any importance to me."
Smollett was tried a second time, and in December, 2021, he was convicted on five counts of felony disorderly conduct. He was sentenced to five months in jail, released on bond a few days later and attorneys filed his appeal a week ago.
The Fox Nation show is dubbed: Jussie Smollett: Anatomy of a Hoax and was developed and produced by Lionsgate's Pilgrim Media Group, the company behind shows like Wicked Tuna, Bring It! and Ghost Hunters.
The show "takes a deep dive into a scam that reverberated through the worlds of entertainment, pop culture and politics," said Fox Nation executive vice president John Finley.