Jussie Smollett Says He 'Nearly Lost Hope' After Being Released From Jail
Jussie Smollett said he "nearly lost hope in our constitutional system" before being released from jail six days into his 150-day sentence.
On March 9 the Empire actor was sentenced to serve time in jail and fined almost $150,000 after being found guilty on five counts of disorderly conduct for making false reports to police. His team lodged an appeal against the conviction and an appeals court agreed that he should be released from jail pending the appeal of his conviction.
Smollett's lawyer Nene Uche said his client hadn't eaten for the entire six days he was in jail.
Describing the first thing he did when he discovered he was being released early, Uche said: "He pushed his hands on the glass, and his eyes got teary. I've never seen that because he's been very strong in there. And he said, 'I nearly lost hope in our constitutional system.' He did say that."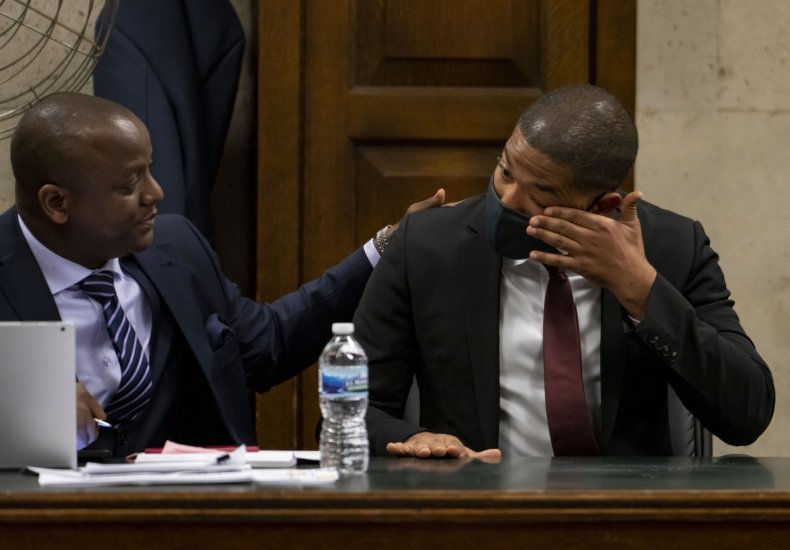 Smollett was sentenced to serve 150 days in jail on March 10 after lying to police and staging a racist and homophobic hate crime against himself. His legal team maintain his innocence and criticized the judge who sentenced Smollett last week.
Uche said: "The judge spent a great deal of time chastising, berating my client. I've never seen that and thought it was unprofessional. That's my personal opinion. Not happy with that."
The judge sentenced Smollett to 30 months of felony probation, with 150 days served in Cook County Jail, and ordered that he pay $120,106 in restitution to the city of Chicago and a $25,000 fine. He was initially charged and fined for the incident in 2019 and Smollett's legal team argued that the recent case amounted to double jeopardy.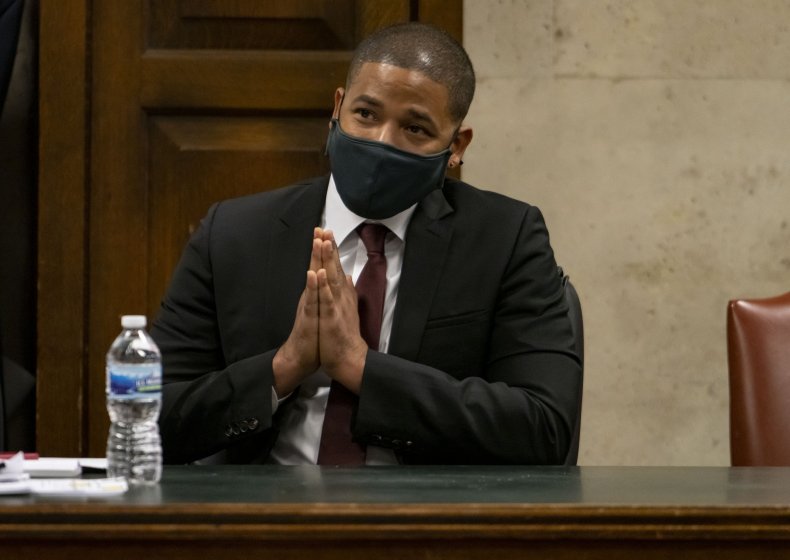 "He's been here for how long, six days? That's scary. He hasn't eaten. Guys, he hasn't eaten for six days. Maybe he knew spiritually something we didn't know. So he hasn't eaten for six days." When a reporter asked Uche why Smollett hadn't eaten for six days, he replied, "I'm gonna find out from him. But maybe being in a cage for a Class 4 [felony] is enough to make you not eat."
After being sentenced in Chicago last Thursday, the 39-year-old actor stood up and addressed the court. "Your honor, I respect you and I respect the jury, but I did not do this, and I am not suicidal, and if anything happens to me when I go in there, I did not do it to myself, and you must all know that," he said.
Smollett claimed in January 2019 that two men attacked him, tied a rope around his neck and poured bleach on him and said, "This is MAGA country." It later emerged that Smollett had paid brother Abimbola and Ola Osundairo to stage the attack.
Uche confirmed the next stage of the appeal will be for him to file an appeal against the verdict.