Jussie Smollett Sues Chicago, and Here's What the Osundairo Brothers Think of The Lawsuit
Jussie Smollett is suing the city of Chicago, but he doesn't have the backing of Abel and Ola Osundairo. Gloria Schmidt, the attorney for the two brothers allegedly involved in a staged attack on the actor, issued a statement that claimed Smollett's case lacks merit.
Schmidt told TMZ Wednesday that the brothers didn't lie about their relationship to Smollett's attack. "This is just another sad attempt by Jussie Smollett to try and falsely smear the Osundairo brothers, the city of Chicago and the Chicago Police Department," she said. "There is no legal merit to his claims, and [they] could be sanctionable."
Schmidt added: "The brothers were open and honest with the Chicago Police Department, testified under oath in front of a grand jury, and stand ready to do so again, in open court, if and when called upon to do so."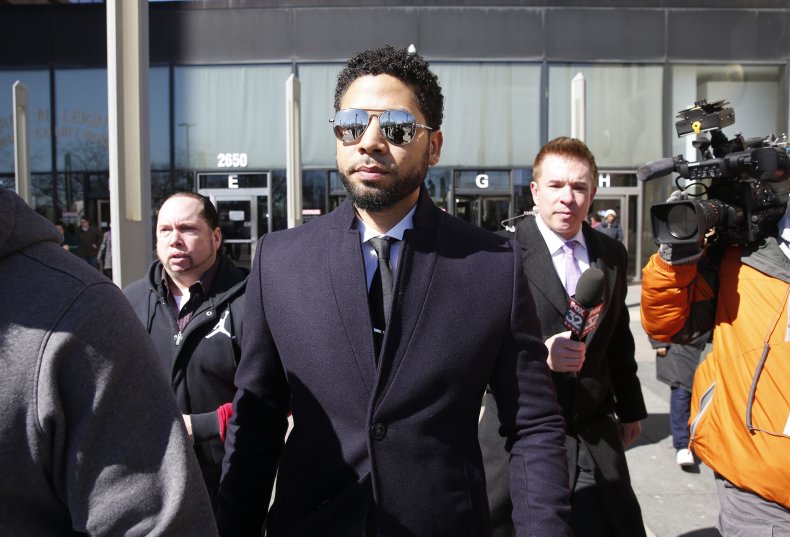 Smollett is best known for his role on the TV show Empire. Last January, he claimed he was assaulted in Chicago by two men who threw a noose around his neck and covered him with bleach. But Chicago investigators said Smollett staged the attack, which he claimed was a hate crime because of his race and sexuality. The actor is black and openly gay.
In April, the city of Chicago filed a lawsuit against Smollett. The suit revealed that Smollett and the brothers had known each other for a few years. It also claims that Smollett gets drugs from the brothers and that they exercise together. The lawsuit asks to be compensated for the costs of investigating what it claims was a false attack.
Smollett's lawsuit, meanwhile, shot back at the "narrative" he claims the city has created. The suit points to the brothers' 47-hour interaction with Chicago authorities, claiming they originally denied being connected to the attack until they were promised immunity. Smollett is seeking damages for "malicious prosecution that caused humiliation and extreme distress," according to Fox News.
Earlier in the year, Smollett was charged with 16 counts of disorderly conduct in connection with the attack, but in March they were dropped by Cook County State's Attorney Kimberly Foxx. She said the decision was a "just outcome based on the circumstances," according to news station KABC.
However, in a press conference the same day as Foxx's announcement, Chicago Mayor Rahm Emanuel and Police Superintendent Eddie Johnson called the dropping of the charges a "whitewash of justice," WBBM-TV reported.
Emanuel cited Smollett's fame as a factor, asking, "Where is the accountability in the system? You cannot have, because of a person's position, one set of rules apply to them and another set of rules apply to everybody else."