Jussie Smollett Supporters Rally Outside Cook County Jail, Demand He Be Freed
A dozen Jussie Smollett supporters gathered outside Chicago's Cook County Jail on Sunday to protest his incarceration for faking a hate crime against himself.
The Empire star, 39, was on Thursday sentenced to 150 days behind bars, after he was found guilty of lying to police about what he had initially described as a racist and homophobic attack on the streets of Chicago back in January 2019.
According to local Fox affiliate WFLD, the supporters of Smollett have branded the judicial system racist, while also stating that the actor should not serve any jail time.
Smollett's sentence includes 30 months of felony probation with no travel restrictions, an order to pay $120,106 in restitution to the city of Chicago and a $25,000 fine.
The screen star, who was convicted on five of six charges in December 2021, is currently being held in a cell by himself, with constant monitoring by guards and cameras, per an approved request by his attorneys.
Meanwhile, the actor's sister, Jurnee Smollett, expressed her support for her brother in an Instagram post emblazoned with the hashtag "#FREEJUSSIE."
"Black Americans are incarcerated in state prisons at nearly five times the rate of White Americans," wrote the Eve's Bayou star. "Jussie is innocent. And…you don't have to believe in his innocence to believe he should be free."
She rounded out her post with the hashtags "#FreeJussie" and "#StopLockingUpOurPeople."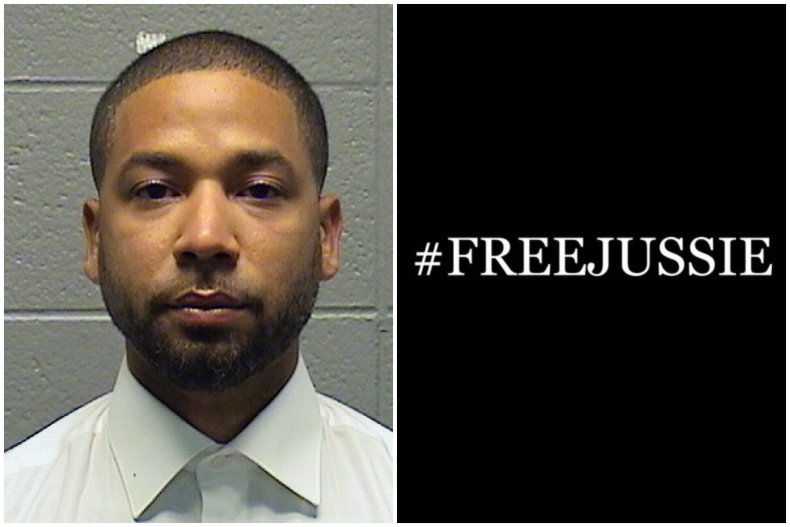 Jussie Smollett's Empire co-star Tarari P. Henson—who portrayed his mother in the Fox TV drama—has also spoken out in the actor's defense.
Henson compared Smollett's sentence to the plight of Chicago native Emmett Till, the 14-year-old African American who was lynched in Mississippi in 1955 after he was accused of whistling at a white woman.
Sharing the same "#FREEJUSSIE" image posted by Jussie Smollett's sister, Henson wrote in an accompanying caption: "I am not here to debate you on his innocence but we can agree that the punishment does not fit the crime.
"Emmett Till was brutally beat and ultimately murdered because of a lie and none of the people involved with his demise spent one day in jail, even after [Till's accuser] Carolyn Bryant admitted that her claims were false.
"No one was hurt or killed during Jussie's ordeal. He has already lost everything, EVERYTHING! To me as an artist not able to create that in itself is punishment enough. He can't get a job. No one in Hollywood will hire him and again as an artist who loves to create, that is prison."
"My prayer is that he is freed and put on house arrest and probation because in this case that would seem fair. Please #freejussie," the Oscar-nominated actress concluded.
Also using the "#freejussie" hashtag, Pose star Indya Moore added her name to the list of people throwing support behind Smollett over the weekend.
Posting a photo of Smollett, Moore wrote: "I recognize that You are so strong, beyond measure and external foresight. you are so brave. I believe in your ability to Stay rooted in the truth, and to listen to your own inner voice at this time.
"You will survive this and you will Thrive bigger and brighter than ever before. I believe you and I believe in you to salvage life saving, spiritual wisdoms of abundance, power and truth- out of this bafflingly unjust, and detrimental challenge. You should not be in Jail."
"#Free Jussie," she added. "Bless you, you got community here."
At Thursday's court hearing, Judge James Linn issued a damning assessment of the series of events leading up to Smollett's sentencing, calling the actor a "charlatan" whose "hypocrisy is just astounding."
Smollett reiterated his stance that he was innocent at the end of the hearing, repeatedly stating that he was "not suicidal."
"If I did this, then it means that I stuck my fist in the fears of Black Americans in this country for over 400 years and the fears of the LGBT community," he said.
"Your Honor, I respect you and I respect the jury but I did not do this. And I am not suicidal. And if anything happens to me when I go in there, I did not do it to myself. And you must all know that."
Following Smollett's sentencing, Chicago Mayor Lori E. Lightfoot issued a statement in which she expressed vindication after the city's resources were used to investigate his "malicious and wholly fabricated claim."
Lightfoot's statement read: "The criminal conviction of Jussie Smollett by a jury of his peers and today's sentencing should send a clear message to everyone in the City of Chicago that false claims and allegations will not be tolerated.
"The malicious and wholly fabricated claim made by Mr. Smollett resulted in over 1500 hours of police work that cost the City over $130,000 in police overtime. The City feels vindicated in today's ruling that he is being held accountable and that we will appropriately receive restitution for his actions."