Jussie Smollett Testifies About Fighting Back During Attack, Denies It Was a Hoax
Jussie Smollett took to the stand on Monday to deny that the attack he faced in 2019 was premeditated, the Associated Press reported.
The actor recounted the night he was attacked. He said that he was walking home after buying a sandwich when he heard someone yell a derogatory remark at him. However, when he went to confront the harasser, he said his opponent "towered" over him.
"I would like to think I landed a punch," Smollett said while on the stand. "But I don't know if it landed."
He claimed he slipped on the ground and was beaten by his attacker. He also saw a second person approach and begin kicking him. When he got up, he found that he had a noose around his neck from the attack. Once arriving at his apartment, his friend called the police and reported the ambush, according to the AP.
When asked if he had planned the attack, Smollett said, "there was no hoax."
The prosecution still maintains that it was. Smollett was accused by brothers Abimbola and Olabingo Osundairo of paying them to orchestrate a fake hate crime for publicity. The actor testified on Monday that he gave Abimbola a check for $3,500 in order to pay for food and a workout regime while he was out of town, not payment for the attack. Abimbola, along with his brother Olabingo, was supposedly about to fly to Nigeria for undisclosed reasons. However, Smollett said that Abimbola would be able to get him a herbal steroid "on the low" while in the country.
Smollett claimed on the stand that the attack against him was real and might have been spurred by a one-time fling. He and Abimbola officially met in 2017 at a Chicago nightclub. During that night, Smollett testified that he and Osundairo did drugs together before eventually leaving the club to go to a bathhouse. From there, he said that the two "made out" and that "there was some touching" during their encounter.
The two began regularly hanging out and having a sexual relationship, although Osundairo claimed last week during testimony that they were never together. According to Smollett, things took a turn for the worse upon meeting Olabingo, saying that the brother "freaked [him] out" and that he didn't trust him. If accurate, this new information could shine a new light on the case.
Security guard Anthony Moore and Empire producer Brett Mahoney also took the stand on Monday. Moore testified that he had felt pressured to change his story of the events leading up to Smollett's attack, while Mahoney detailed extra security measures taken on the show's set after the actor received a threatening letter.
For more reporting from the Associated Press, see below.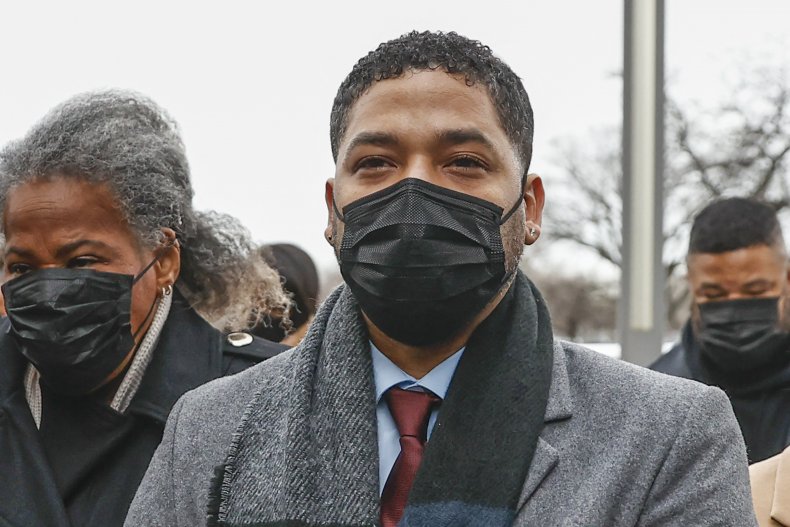 They said Smollett, who is gay and Black, orchestrated the hoax to get publicity, giving them $100 for supplies and instructing them to place a noose around his neck and yell homophobic slurs.
Standing up in the Chicago courtroom, Smollett demonstrated how he said the man walked quickly toward him, then pointed to his left temple to show the jury where the man hit him.
Smollett said he assumed the person who attacked him was white because he used a racial slur and shouted it was "MAGA country," an apparent reference to then-President Donald Trump's campaign slogan, "Make America Great Again." The brothers, who are Black, testified last week that Smollett instructed them to yell "this is MAGA country" during the fake assault.
Smollett said he was upset police had been called because he would never have done so.
"I am a Black man in America. I do not trust the police," Smollett said. "I am also a well known figure at that time and I am an openly gay man."
Smollett said after news broke that everyone — including Trump — had an opinion about what happened, and that he hated the attention.
"I've lost my livelihood," he added.
"We were obviously all very upset about the letter," Mahoney said, adding that law enforcement was contacted and the letter turned over to authorities.
Also Monday, security guard Anthony Moore said that around the time of the alleged assault, he saw a person on the ground at the end of the block and two men running, one of whom was white. Moore testified that he signed a statement that said the person was "possibly" a Black man, but that he felt "pressure and threatened to put something out there that I didn't see."
Under cross-examination, Moore said he only saw the man for one to two seconds. He also said he thought the men were fooling around, and that the two men were laughing as they ran by him.
Smollett, 39, is charged with six counts of felony disorderly conduct for making what prosecutors say was a false police report about the alleged attack—one count for each time he gave a report—to three different officers. The class 4 felony carries a prison sentence of up to three years, but experts have said if Smollett is convicted he likely would be placed on probation and ordered to perform community service.