Jussie Smollett's brother has insisted "there is absolutely no evidence" that his sibling staged a hate crime attack, as the actor embarks on a five-month jail sentence following a conviction for lying to police.
The Empire star, 39, who in December 2021 was convicted on five of six charges, was on Thursday sentenced to 150 days behind bars after falsely claiming that he was the victim of a racist and homophobic attack on the streets of Chicago in January 2019.
After the actor reiterated his claim of innocence during a dramatic Chicago courtroom outburst, his brother, Jocqui Smollett, stated in a series of Instagram posts that his sibling was convicted and jailed without any concrete evidence.
Taking to his Instagram Stories on Sunday, the former child actor wrote: "I want y'all to Google right now the long list of 'wrongful convictions' in the United States. There were 150 exonerations in 2018 alone aka the government realizing they wrongfully convicted someone.
"Y'all blindly believe in our criminal justice system so much that you think a guilty verdict means the crime was committed—there is absolutely no evidence linking Jussie to staging his own hate crime besides the testimony of two brothers... That's 'he said she said,' not litigation."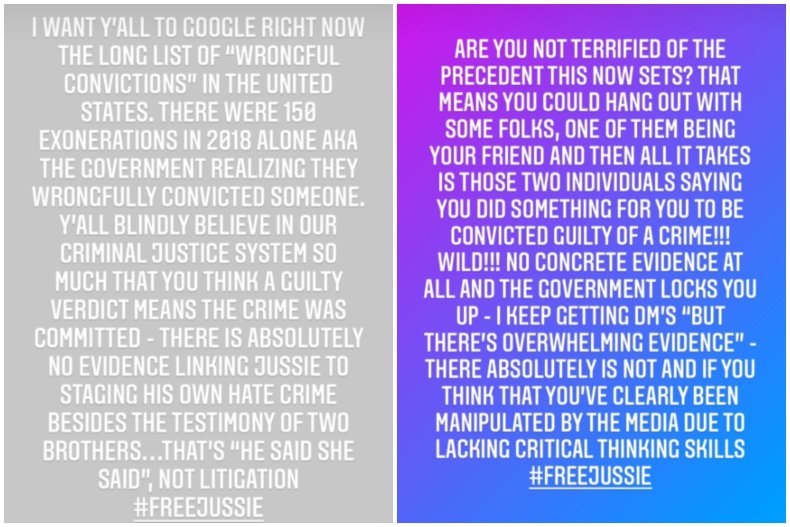 Jussie Smollett had initially claimed that two male supporters of then-President Donald Trump had hurled racist and homophobic slurs at him as they tied a noose around his neck and poured a substance believed to be bleach on him.
He was later accused of paying brothers Abimbola and Olabinjo Osundairo $3,500 to pose as his assailants in a staged attack. The siblings were accused by Jussie Smollett's defense of attempting to extort $1 million each from the actor in exchange for not testifying in court.
Continuing in his Instagram statement on Sunday, Jocqui said: "Are you not terrified of the precedent this now sets? That means you could hang out with some folks, one of them being your friend and then all it takes is those two individuals saying you did something for you to be convicted guilty of a crime!!! Wild!!!
"No concrete evidence at all and the government locks you up—I keep getting DM's 'But there's overwhelming evidence'—there absolutely is not and if you think that you've clearly been manipulated by the media due to lacking critical thinking skills."
Jocqui Smollett, who promoted the "#FreeJussie" hashtag, also posted photos of a number of notable public figures, including Angela Davis, Danny Glover and Linda Sarsour.
Adding a caption, he wrote: "They all publically stated Jussie was innocent years ago—this should not be controversial to say."
Jussie Smollett's actress sister, Jurnee Smollett, also expressed her support for the beleaguered actor and musician over the weekend.
Sharing with the hashtag "#FREEJUSSIE," she wrote: "Black Americans are incarcerated in state prisons at nearly five times the rate of White Americans. Jussie is innocent. And...you don't have to believe in his innocence to believe he should be free."
Rounding out her post, the Eve's Bayou star added the hashtags "#FreeJussie" and "#StopLockingUpOurPeople."
A group of Jussie Smollett supporters gathered outside the Cook County Jail, where the actor is currently serving his sentence, demanding his release.
On Thursday, Jussie Smollett was additionally sentenced to 30 months of felony probation on with no travel restrictions, and ordered to pay $120,106 in restitution to the city of Chicago and along with a $25,000 fine.
Before handing down the sentence, Judge James Linn condemned the actor as he went over the events leading up to his conviction and sentencing.
Jussie Smollett, who repeatedly stated that he was "not suicidal" on Thursday, said in court: "If I did this, then it means that I stuck my fist in the fears of Black Americans in this country for over 400 years and the fears of the LGBT community.
"Your Honor, I respect you and I respect the jury but I did not do this. And I am not suicidal. And if anything happens to me when I go in there, I did not do it to myself. And you must all know that."
Per a request by his attorneys, Jussie Smollett is under constant monitoring by cameras and guards as he serves out his custodial sentence.