Jussie Smollett's Lawyer Says Judge Lunged at Her During Exchange Over Homophobic Slur
Tamara Walker, the defense attorney of openly gay actor Jussie Smollett, accused Cook County Judge James Linn of "physically lunging" at her after Linn questioned Walker's cross-examination of a prosecution witness' past use of homophobic language in his social media posts.
The trial questions whether Smollett lied to Chicago police on January 29, 2019, about being victimized in a racist and homophobic attack. Prosecutors allege that Smollett paid $3,500 to two brothers, Abimbola and Olabinjo Osundairo, to stage the attack against him. Smollett has denied the charges.
Under cross-examination, Walker asked Olabinjo Osundairo about his past use of homophobic slurs on social media.
In past tweets, Olabinjo Osundairo referred to gay singer Frank Ocean as "that [n-word] gay." Olabinjo Osundairo said he didn't consider the tweet "problematic," but just as a joke between friends, Chicago Tribune reporter Megan Crepeau wrote via Twitter.
In a text change, Olabinjo Osundairo referred to a person as "a fruit" and a "gaylord." Olabinjo Osundairo said he used the terms out of anger.
In earlier testimony, he denied being homophobic.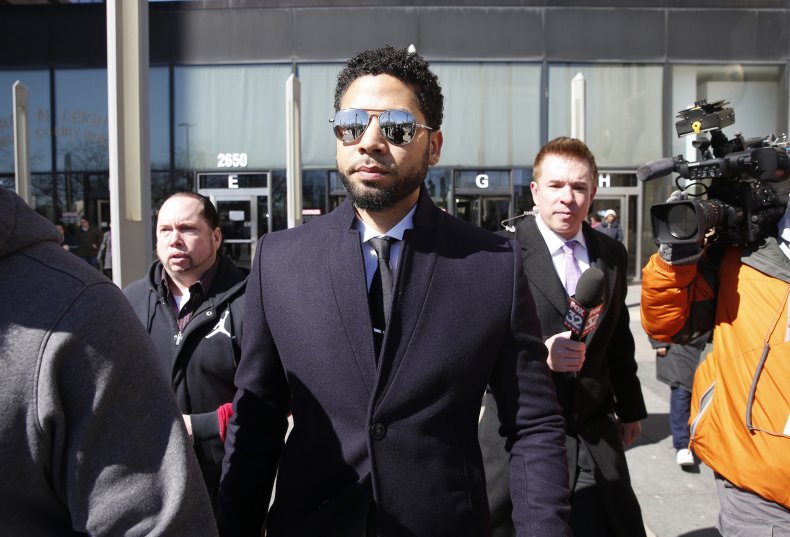 Olabinjo Osundairo rode atop a Chicago gay Pride parade float in 2015 dressed as a Trojan warrior, he said under questioning. He also worked as a bouncer at a Boystown gay bar for nearly three years, during which he treated "all the people with respect," he said.
However, as Walker asked about his past social media posts, Linn stopped the lawyer and said "they were getting into 'collateral' territory," Chicago news station WBBM-TV reported. Walker then asked for a sidebar conversation with Linn.
When Walker returned, she accused Linn of "physically lunging" at her. Linn seemed furious and outright denied the accusation, Crepeau wrote.
Walker said that "demonstrating (Olabinjo Osundairo's) homophobia is central to their case" and that Linn shouldn't have called it "collateral" in front of jurors, the journalist added. Walker then asked for a mistrial. Linn denied her motion for a mistrial.
Walker also accused Linn of snarling and making nasty faces on the bench "anytime objections from the opposing counsel are sustained."
"I noticed snarls multiple times," she said, according to the aforementioned journalist.
Linn later addressed the jury, telling them not to consider his use of words like "collateral" as being for or against any given testimony. "I don't want you to consider it one way or another," Linn added. "It's just me talking to lawyers."
Earlier in her cross-examination, Walker asked Olabinjo Osundairo whether his Nigerian roots make him biased against gay people. Nigeria criminalizes homosexuality with 14 years in prison.
Walker also alleged that Olabinjo Osundairo had a sexual relationship or at least felt sexual tension with Smollett. He denied any such relationship or feelings.